Chicken and Rice Soup: Easy 10 Minute Recipe
This quick and easy homemade chicken and rice soup is a simple and hearty meal that comes together in 5 minutes, and is ready in 10.
This homemade "from scratch" chicken rice soup has a rich broth full of hearty vegetables, chicken, and rice. It's perfect for a quick weeknight meal when you want to provide a healthy, nourishing meal, but don't have much time, and it's way faster and healthier than going through the drive through.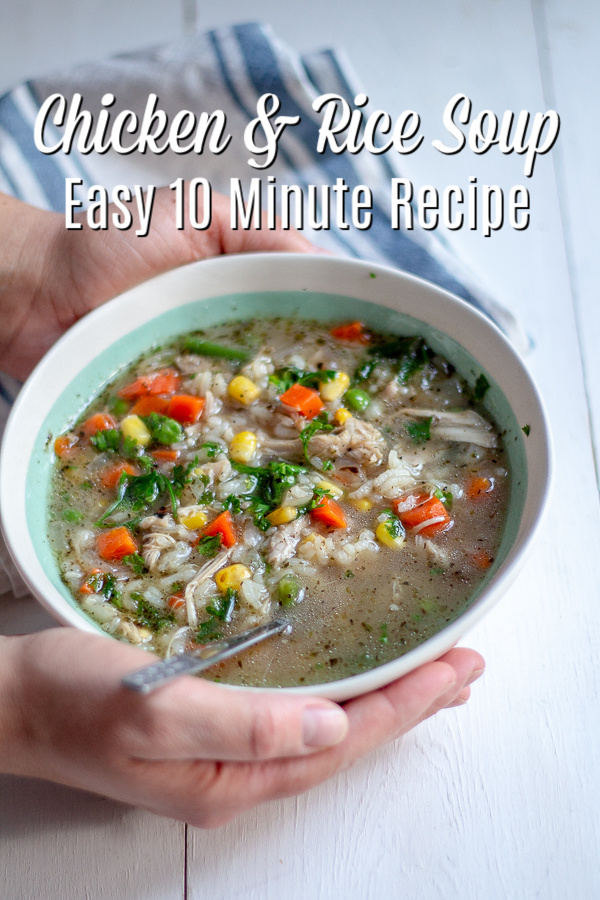 For this recipe you will need: a bag of frozen mixed vegetables, frozen rice, pre-cooked chicken, parsley, and seasonings.
Soup is my love language. Something about a warm mug (because bowls are overrated) of hearty soup touches my soul deeply. Maybe it is because as a child, my mom would make the best chicken noodle soup all the time. My mom and I are like two peas in a pod. So much so that when my husband and I first got married, he would always wonder where I would get a quirky habit or personality trait. Then we would visit family, and he would instantly be like "yep, you got that from your mom!" Like eating everything out of a mug: soup, yogurt, ice cream, fruit… you name it, it can be eaten out of a mug. 😂
Or when we go to a local cafe, we both order chicken soup, low on the noodles, naturally, with extra butter for our bread. Who does that? We just really like broth, ok? She still makes me a pot of soup just about every time we go to visit. She gets me.
Usually when I think of homemade soup, I think of a big pot happily bubbling away all day long. Yea, this momma doesn't have the time commitment for that. Thankfully, with the help of the Instant Pot and some ready-made ingredients, we can have amazing soup in no time at all.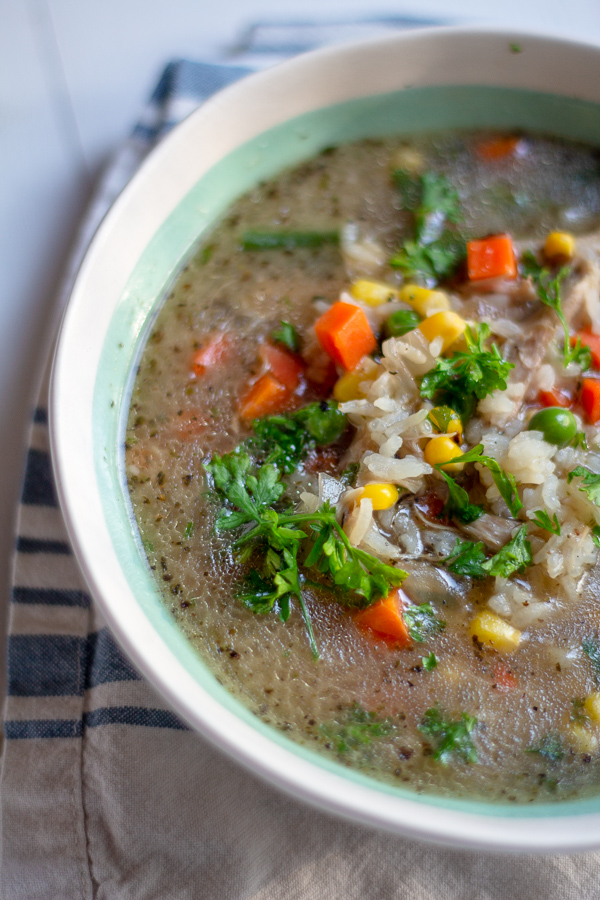 Homemade Broth
This soup starts out with the most important thing: broth. Now you can use homemade bone broth (use these recipes to make it in the Instant Pot or in the Crockpot) which has great health benefits, or you can also buy store bought broth. I find that homemade broth has much better flavor than the packaged stuff, but I'm definitely not above buying it on occasion. Sometimes you need some broth and don't have time to make it, and that's totally fine. You'll still have a great soup!
Since we make soup on a weekly basis, I usually just cook a whole chicken and make broth in the instant pot every week. This not only gives me broth, but then I also have a whole chicken to make other quick meals with (like this chicken salad recipe, these Thai noodles, or a quick stir fry)
How To Make Bone Broth In The Instant Pot
If you just want to make bone broth in the Instant Pot, throw in the bones from 2 cooked chickens, a few carrots, onion, celery, salt, pepper, bay leaves, and a couple tablespoons of apple cider vinegar, and enough water to fill up the pot about 3/4 of the way. Set it to manual high pressure for 90 minutes. Let it natural release and strain the bones out. Boom – delicious, healthy, homemade bone broth. You can use this immediately in your soup, or you can store it in the refrigerator or freezer for later use.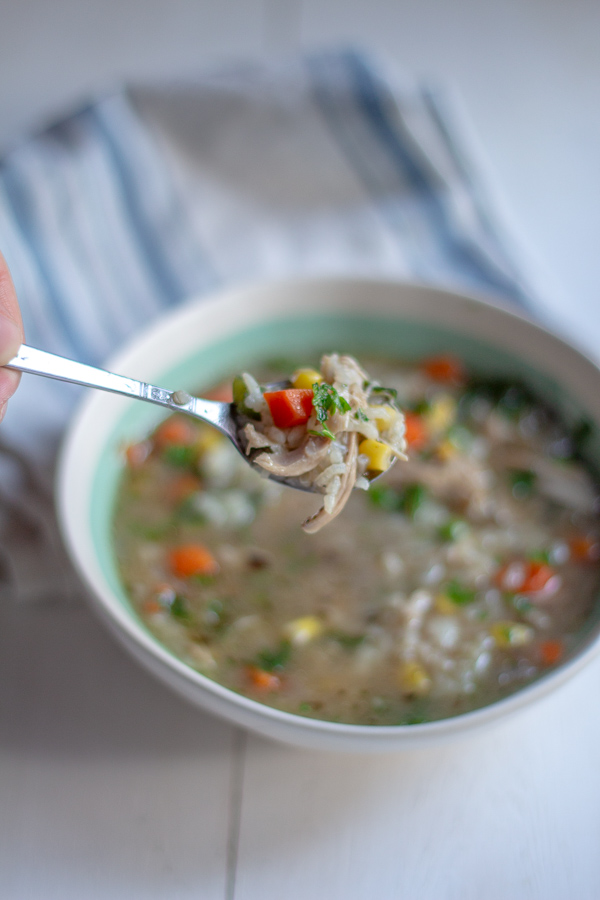 Tips For Making The Fastest Soup
The best tip for making soup fast is having most of the ingredients already prepared and cooked. This cuts down on cooking time immensely.
Use premade or store bought broth. Check out this quick recipe I use all the time to make fast broth and chicken.
Use cooked chicken or a rotisserie chicken.
Skip chopping by using a bag of frozen mixed vegetables.
Frozen precooked rice is life changing. Ok maybe not life changing, but we use it constantly at our house. You can find it in the frozen section. Usually, I get ours at Trader Joe's.
Tools you may need: medium to large saucepan or Dutch oven (I have this one), ladle, knife and cutting board, and maybe some bowls for soup storage (I like these Pyrex bowls).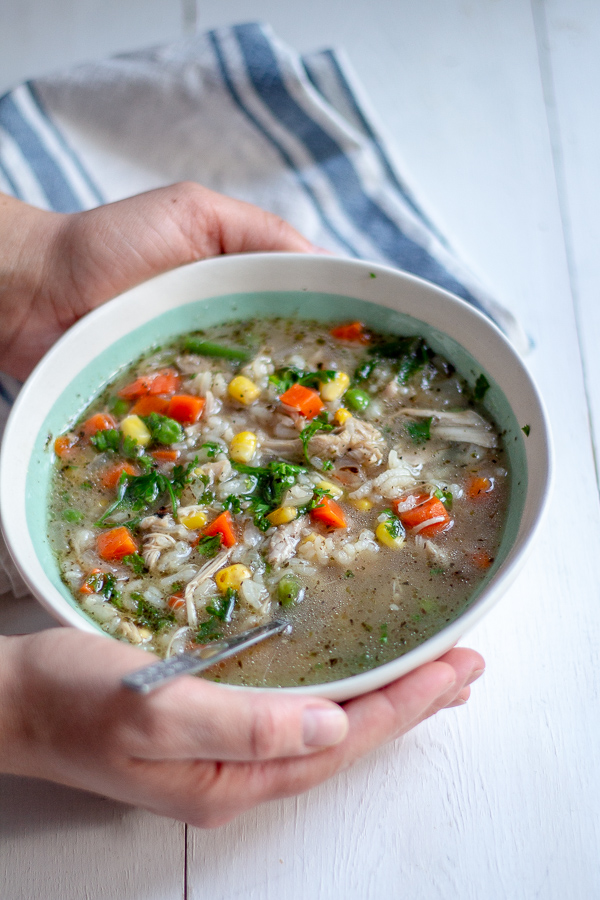 Chicken And Rice Soup Recipe In 10 Minutes
I use this recipe as a base and like to change it up in occasion. You could add a can of tomatoes if you'd like.
You could also add zoodles instead of rice. It's your soup! Add what you please. Omit what you don't like. Anyone else do that? I look up recipes just to do whatever I want with it anyway.
The basic idea for this soup is you assemble your ingredients in a pot, let all the ingredients come to temperature (or cook through, in the case of the vegetables), and serve it up. Easy peasy. I always make sure I have these ingredients on hand to throw this soup together on crazy nights when I have nothing else planned for dinner, and let me tell you, I'm almost always grateful for my lack of planning. This (mostly) homemade chicken and rice soup is so good!
Also, I highly recommend you serve this with your favorite homemade rolls or sourdough skillet bread (with extra butter).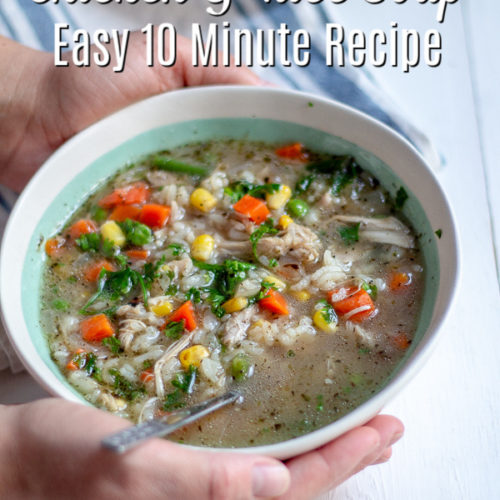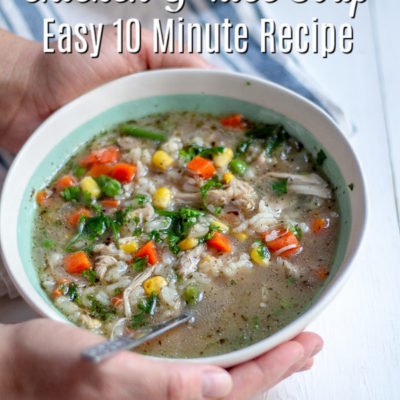 Chicken And Rice Soup
This quick and easy homemade chicken and rice soup is a simple and hearty meal that comes together in 5 minutes and is ready in 10.

Print
Pin
Rate
Ingredients
6-8

Cups

Chicken broth

1

10-12 oz

Frozen mixed vegetables

1-2

Cups

Shredded pre-cooked chicken

2

Cups

Precooked frozen rice

Handful

Chopped fresh parsley

or 1 Tbs dried parsley - it's better with fresh though

1/2

Tbs

Italian seasoning

1.5

Tsp

Garlic powder

Salt and pepper

To taste
Instructions
In a medium to large saucepan over medium high heat, add frozen vegetables, rice, diced chicken, and seasoning. Add in broth and bring to a boil. Toss in fresh parsley and boil

for about 3-5 minutes until everything is cooked.
Nutrition
Serving:
1
g
|
Calories:
260
kcal
|
Carbohydrates:
51
g
|
Protein:
7
g
|
Fat:
2
g
|
Cholesterol:
6
mg
|
Sodium:
870
mg
|
Potassium:
285
mg
|
Fiber:
1
g
|
Vitamin A:
20
IU
|
Vitamin C:
16.6
mg
|
Calcium:
38
mg
|
Iron:
1.2
mg
What is what is your favorite soup?
Need more soup inspiration?