Hair mousse lovers, rejoice, because you now have a natural product to keep your hair curly all day! I always get excited about creating a new product. This time around, I'm even more excited! This is super easy to whip together and works great for curly hair. I have been trying to figure out a good replacement for mousse. Naturally, my hair is wavy curly, and the only thing that would work to hold the curls together without making it crunchy was mousse. Problem was, making a natural version seemed impossible. I've been marinating on the idea for 3 years now… seriously, 3 year. One day, I saw my aloe vera gel on the counter and thought "why not make a spray gel?" And, voilà! That's how ideas are made.
DIY Natural Spray Gel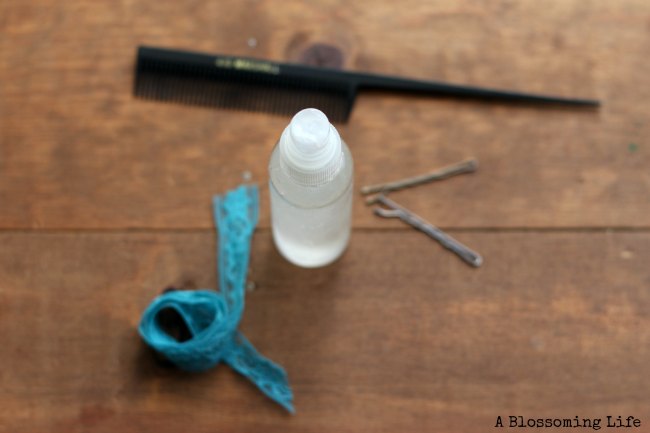 Ingredients
Directions:
Dissolve sugar in warm water and allow to cool (place in the fridge for a few minutes to speed up the process). Once cooled, combine aloe vera gel, sugar water, vitamin E oil, and essential oils. Place in a fine mist spray bottle.
To use: After washing your hair or wetting it down, comb it through. Then, apply spray gel, rubbing it through your hair. I usually like to allow my hair to air dry for a few minutes before applying the spray gel. Then, I let my hair air dry until it is almost completely dry, finishing it by using a blow dryer and scrunching it. But, everybody's hair is a little different, so do what you know works for your curly hair.
On the second day after I've worn my hair curly, I refresh the curls by lightly wetting my hair and spraying it with a little more spray gel, working it through with my hands, and blow drying it on low while scrunching.
Side note: This is powerful stuff, so you don't need to go crazy spraying a ton on. Once you use it a few times, you will get the hang on how much to use for your hair.
The best part about this spray gel is you know all the ingredients that are going into this product and don't have to worry about harmful chemicals. Even if it's just your hair, your skin still absorbs around 80% of what you put on it, so if you're using harmful chemicals in your hair and they get on your skin, then your skin will absorb some of those chemicals.
Are you a hair mousse lover? Ready to give a natural product a shot?
This post contains affiliate links to help support my blogging efforts.