DIY Sugar Scrub: Ultimate Guide To Making Sugar Scrubs
Learn how to make a DIY sugar scrub with just a few natural and simple ingredients to help exfoliate and moisturize while promoting softer, smoother skin. Follow my tips below to make the best sugar scrub recipe and other fun ideas.
You will need: sugar, oil, and essential oils (optional). Check out other variations below.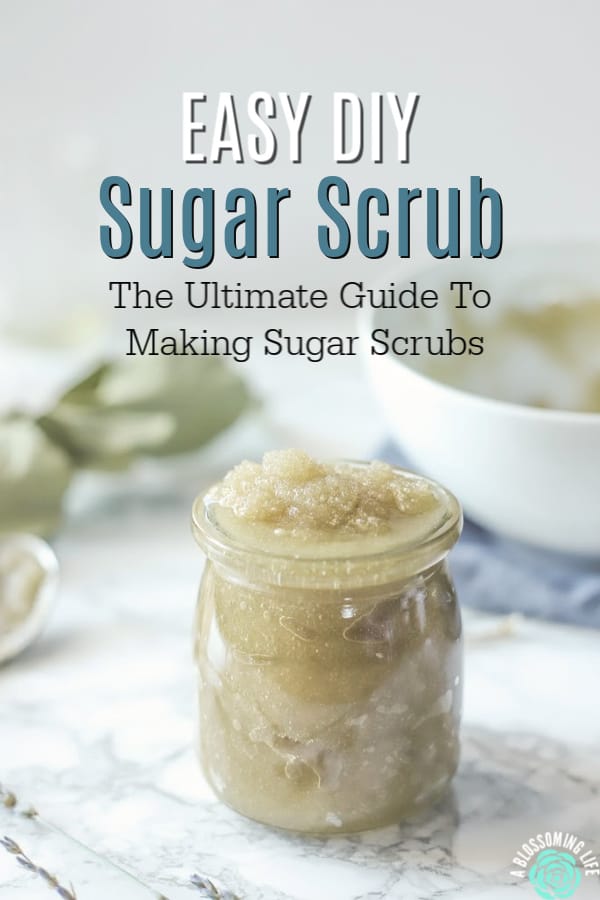 Since it is the holiday season, I thought it would be a great time to talk about one of my favorite DIY skincare products: sugar scrubs! They are so easy and take less than 5 minutes to make, and they make a great homemade gift idea.
This DIY sugar scrub may have been my first ever DIY skincare product. Growing up, I loved creating and making new things. To me, these creations were like a science experiment, and you just never knew what you may come up with. My mom worked as a sales rep assistant to a woman who went around to different salons selling makeup and body care, so we always had a plethora of the newest products.
This is how my love for makeup, skincare, and beauty really came about. But of course, that stuff wasn't natural… it was the 90's and early 2000's, after all. I remember one year getting a DIY lip gloss kit, and thought that was the greatest thing ever. I would spend hours creating terrible colors and parading them around like they were pretty.
One thing I made that pretty much always turned out well was sugar scrubs. It is just so simple to make, and you probably have all the ingredients in your pantry.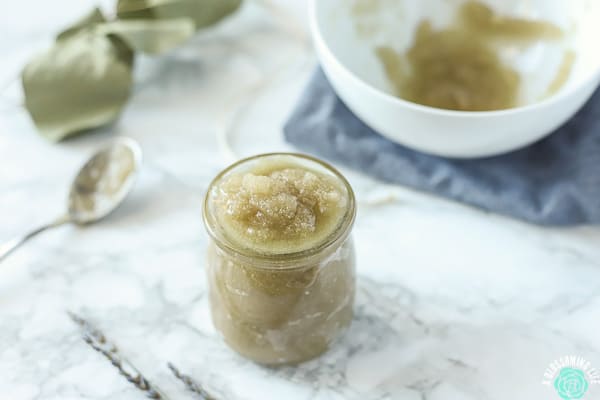 Benefits Of A Sugar Scrub
So sugar may not be so good for your diet, but it is great to use topically. The main goal of a scrub is exfoliation. Sugar is a great exfoliator, and when used in a sugar scrub, can help remove dead skin cells, clean clogged pores, and make your skin feel amazing. You can use it as a hand scrub, face scrub, lip scrub or foot scrub.
It is a natural humectant, which means that it draws moisture from the air to the skin. It also has much smaller granules than salt, which can be harsh and drying.
Sugar is also a natural source of glycolic acid, which helps encourage cell turnover and can help reveal younger-looking skin, and promote firmness of skin (source). Glycolic acid is used in many chemical peels to help reverse signs of aging.
Since scrubs help remove the top layer of skin, they can help other products you use on your skin to work better.
The following are affiliate links. We are a participant in the Amazon Services LLC Associates Program, an affiliate advertising program designed to provide a means for us to earn fees by linking to Amazon.com and affiliated sites.
Sugars to use for Sugar Scrub Recipes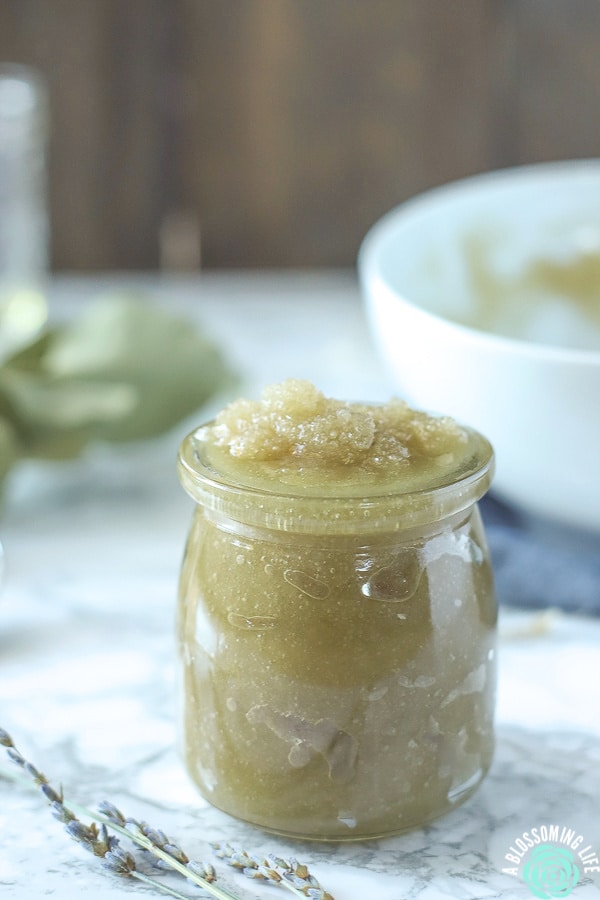 Sugar Scrub Recipe Ingredients
How To Make Sugar Scrub Video
Mix ingredients together in a bowl. Transfer to a jar with a lid. Sugar scrub will keep at least 2 months as long as no water gets in.
How To Use A Sugar Scrub
I like to do this in the shower. Take out 1-2 tbs of sugar scrub, dampen body, and then rub sugar scrub all over. I will even use this as a face scrub; just make sure you rub gently, since you don't want to be too abrasive.
Other DIY Recipes
Sugar Scrub FAQ
What kind of sugar to use?
Depending on what you are using your sugar scrub for, will depend on what type of sugar to use. Just a body scrub? Then go with any of the three suggested above. Face scrub? Use brown sugar or white sugar.
How long does a DIY sugar scrub last?
It will last at least two months, possibly longer. As long as your don't get any water in the scrub, then it should last quite a long time. Any water can cause it to spoil and get moldy.
What type of sugar should you use for your face?
Brown sugar or white sugar would be best for your face, because the granules are smaller and less abrasive compared to raw sugar.
How many times per week should you use a scrub?
Just 1-2 times per week. It is not good to exfoliate more than that. You don't want to damage your skin trying to exfoliate too much.
What type of oil should I use?
You can pick whatever oil you want depending on what properties you need. If you need a hydrating oil, try olive oil. If you're going to make a face scrub, you could even use a little bit of Rosehip oil, which is amazing and high in vitamin C. For more ideas on what oil to use, check the ingredients list above.
DIY Sugar Scrub Recipe
Easy DIY made from simple ingredients and can be customized for every need.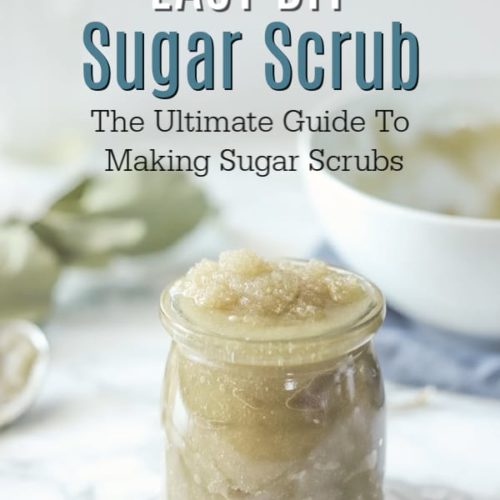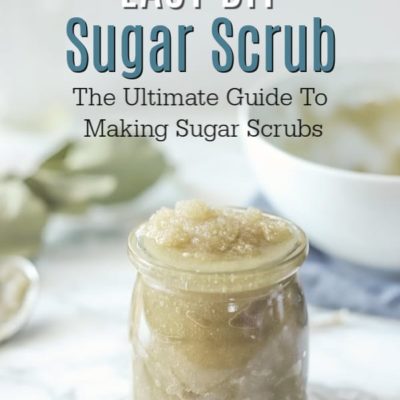 Homemade Sugar Scrub Recipe
Simple recipe for homemade scrub to help reveal smoother, exfoliated, and moisturized skin.
Print
Pin
Rate
Ingredients
1

cup

sugar

<1/2

cup

oil

I like to use a little less than a half cup but if you want it really moisturizing than use a 1/2 cup

essential oils

optional

few

drops

vitamin e

optional
Instructions
Mix ingredients together in a bowl and place in a sealable dish.
Notes
See other sugar scrub ideas above.
Want more DIY Skincare ideas? Check these out.
These sugar scrubs make such wonderful and easy homemade Christmas gifts, especially if you need something last-minute.
This post was updated September 2019