Slow cooker pot roast is a delicious and hearty weeknight meal. Juicy pot roast that is so tender that it just falls apart and cooked with carrots and potatoes in savory juices. This will become a family favorite in no time. Follow my tips below to make the most delicious crock pot roast with carrots and potatoes.
Ingredients you will need: onion, carrots, potatoes, garlic, chuck roast, Italian seasoning, salt, and pepper.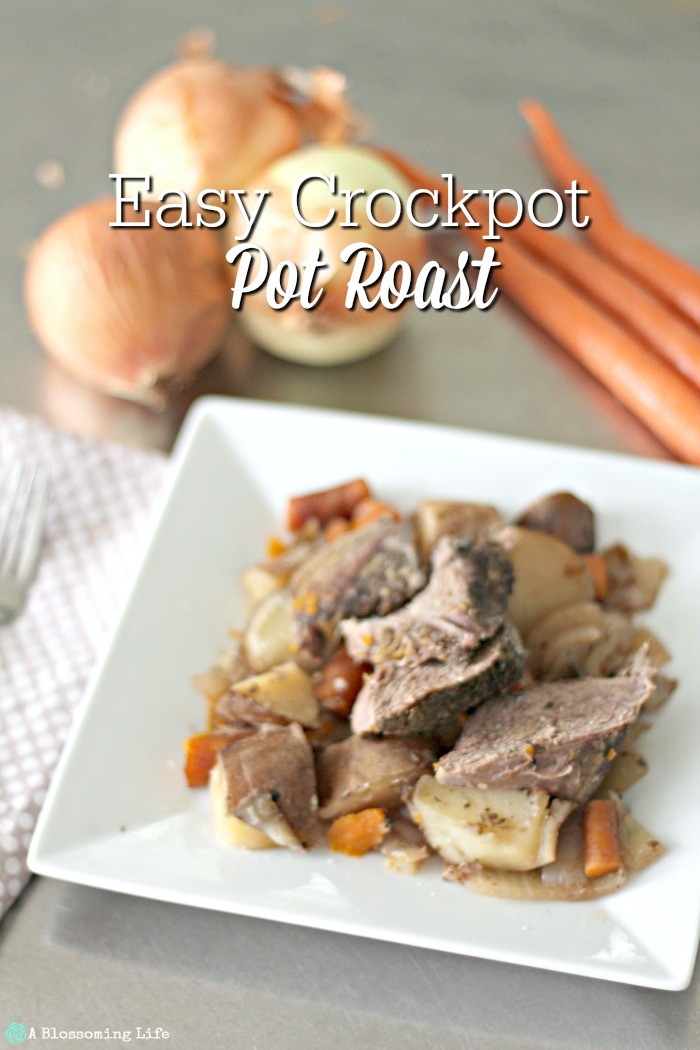 This post was updated December 2018.
This slow cooker pot roast my friends, is the easiest dinner and it is really delicious. Oh and healthy because that is important. Just chop up the ingredients, throw in slow cooker, add some seasoning, and leave it to cook. Come back to delicious tender food…. My favorite kind of recipe. Perfect for busy week nights or for lazy cooks like myself. I'm busy all day taking care of the baby, cleaning, tending the mini homestead, doing mom things, and blogging. By the end of the day I don't have a lot of excitement or motivation to cook dinner, but I still want to eat delicious and tasty food.
You know when you are just in a food rut? You feel like you eat the same thing all. the. time. Yes that is me. But I'm over it. I'm over food just being okay. I want real food to be delicious and exciting. Not boring. Vegetables aren't boring. They are delicious in their own unique way. Every one of them is different and delicious in their own way. Except beets, they taste like dirt. Sorry beet lovers. I. just. can't.
How To Get The Most Out Of Your Slow Cooker Pot Roast
We always try to buy grass fed beef whenever possible, but this can be expensive. So we try to stretch out the meat.
One of the best things about this slow cooker pot roast is that our family can get 2-3 meals out of it. We try to fill our plates up with veggies and only add a little meat so we can stretch it. We then use the leftover roast to make tacos or nachos, Italian beef sandwiches, top a salad, or add the beef to some quinoa and veggies. One easy meal can make lots of other easy meals. Double score!
The following are affiliate links. We are a participant in the Amazon Services LLC Associates Program, an affiliate advertising program designed to provide a means for us to earn fees by linking to Amazon.com and affiliated sites.
Tools you may need: slow cooker (like this one or you could use the slow cooker function on the Instant Pot), knives, tongs are useful, and a cutting board.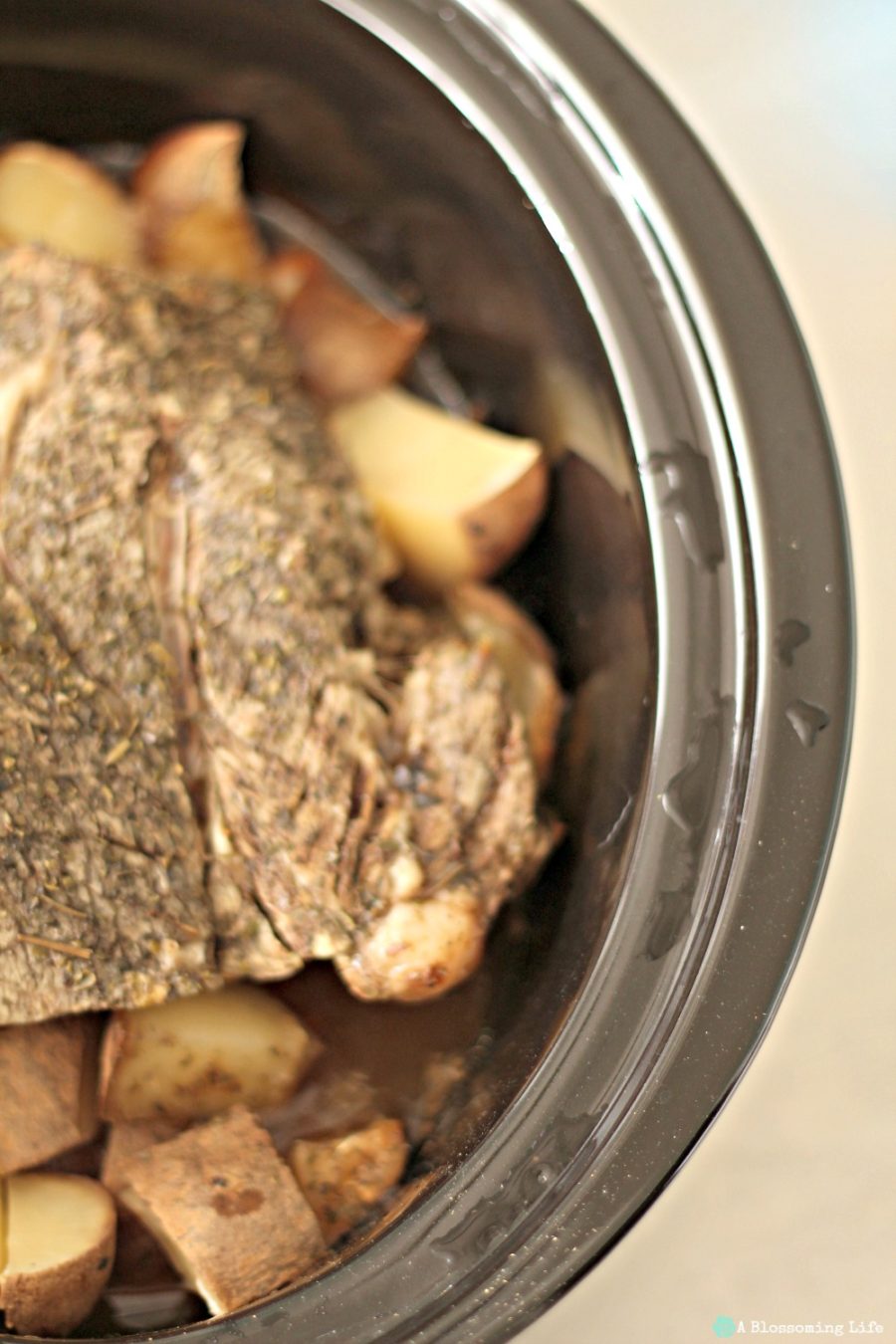 Tips For Making Slow Cooker Pot Roast
Sear beef before putting it in the slow cooker to give it a richer deeper flavor.
Season the meat and vegetables well. I personally like a good amount of salt. You can always add more later to taste.
Add fresh herbs on hand like rosemary, oregano, or thyme if you have them on hand.
If you want to make a thicker gravy, thicken the sauce with corn starch. In a separate cup, add spoonful of cornstarch with about double the amount of water, stir well and a little bit at a time to the broth (while the slow cooker is set to high) with the meat and vegetables removed. Just add a little at a time until thickness is achieved.
Easy Slow Cooker Pot Roast Recipe
Try this simple and delicious crock pot pot roast and it will definitely become a family favorite.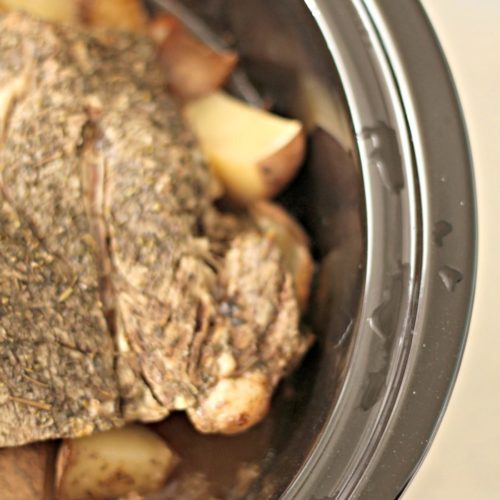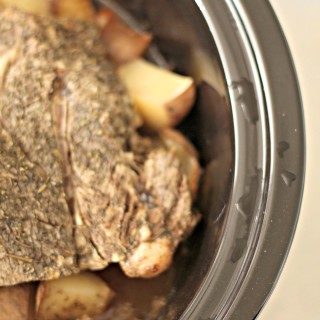 Slow Cooker Pot Roast
Slow cooker pot roast is a delicious and hearty weeknight meal. Juicy pot roast that is so tender that it just falls apart and cooked with carrots and potatoes. This will become a family favorite in no time.
Print
Pin
Rate
Ingredients
1

onion chopped

6

carrots chopped

6

potatoes chopped

5

cloves

of garlic minced

2-3

pound

chuck roast

1

tsp

of Italian seasoning

Salt and pepper to taste

1/2

cup

of water
Instructions
Place chuck roast in crock pot and surround with first 4 ingredients (chopped veggies). Add Italian seasoning, and season with salt generously and some pepper. Pour in water. Set crockpot on high for 6-8 hours or low for 10-12 hours. Enjoy.
Notes
You can add a richer flavor by searing the chuck roast on a hot pan before adding it to the crockpot.
Nutrition
Calories:
323
kcal
|
Carbohydrates:
26
g
|
Protein:
26
g
|
Fat:
13
g
|
Saturated Fat:
5
g
|
Cholesterol:
78
mg
|
Sodium:
140
mg
|
Potassium:
1210
mg
|
Fiber:
5
g
|
Sugar:
2
g
|
Vitamin A:
7660
IU
|
Vitamin C:
22.5
mg
|
Calcium:
89
mg
|
Iron:
7.7
mg
Slow Cooker Pot Roast FAQ
Do you have to brown the roast before adding it to the slow cooker?
No, you don't have to brown the pot roast before putting it in the slow cooker, but searing it in a pan gives it a more complex flavor and help the meat stay together. Do I do this… most of the time no because I'm a lazy cook.
Do you put water in a crock pot to cook a pot roast?
Yes. Or you could use beef broth for more flavor.
How long do a cook a beef roast in the crock pot?
Cook a beef roast for 6-8 hours on high or 11-12 hours on low.
You may also like…