Homemade Natural Hair Detangler Spray
Homemade natural hair detangler spray makes combing through hair simple and stress-free. With just a few simple ingredients, you can create this homemade detangler at home. Follow my tips below to make brushing your (or your kid's) hair easy.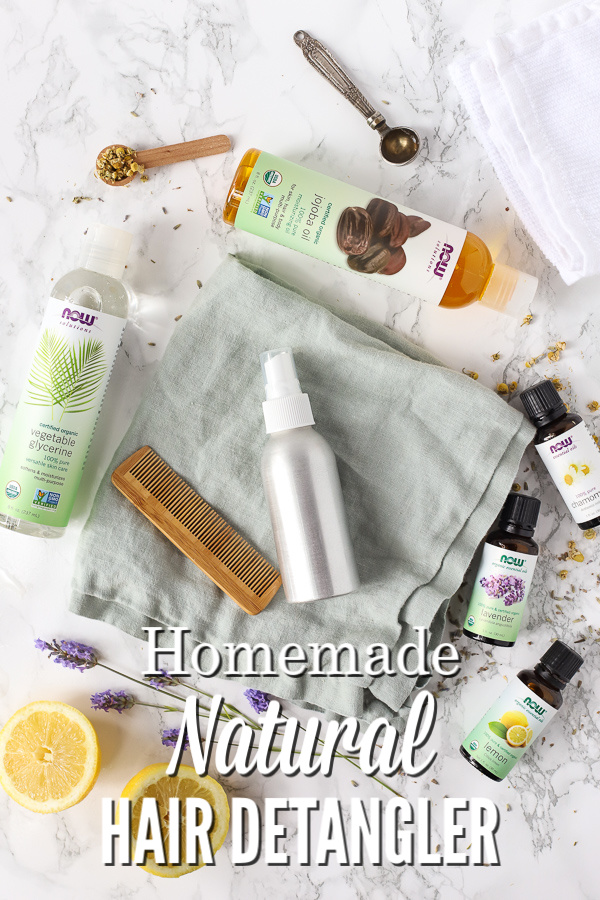 This post is sponsored by NOW® Solutions. All opinions are 100% my own.
Homemade Detangler = Anti-Fight Spray
When I had a little girl, I had no idea about the true joy combing said little girl's hair would bring.
Just kidding. I feel like everyone who has little girls knows what a pain it is to comb through their hair.
Fighting, squirming, and asking "are we are done yet?" happens constantly. I'm always amazed at the tangles that get into her hair, and how long it takes to get them out.
August has mostly straight hair, unlike me with my wavy curly hair, and still, knots are a common occurrence.
Usually, she gets these huge knots in the back of her head from all her playing outside, indoor gymnastics, and regular daily life activities, and getting them out was a hard process for both of us.
I knew there had to be a better way without resorting to the fragrance-filled detanglers at the store.
So we decided to create this natural hair detangler to combat the fighting, and it works amazingly well.
Maybe we really should call this anti-fight spray. Because truly, that is what it is.
It's one of those moments I really understand and appreciate my mom. My hair as a kid was crazy curly, long, and unruly, and I remember the fights my mom would have over it.
She would have to braid it at night just to keep it tame.
I think things would have been much easier if we had this homemade hair detangler!
Spritzing on this homemade detangler gives hair a soft, smooth feeling without being greasy, and helps those knots come out so much easier.
Everyone will be happier. It's a win-win.
Why I created my own recipe:
Some conventional detanglers contain toxic ingredients like fragrance, methylisothiazolinone, polysorbate-80, cetrimonium chloride… things I wouldn't want to be using around my children.
This recipe just contains a few simple and natural ingredients.
My favorite brand to shop for natural products has to be NOW ® Solutions. I've been using and recommending their products for years, and love their commitment to quality.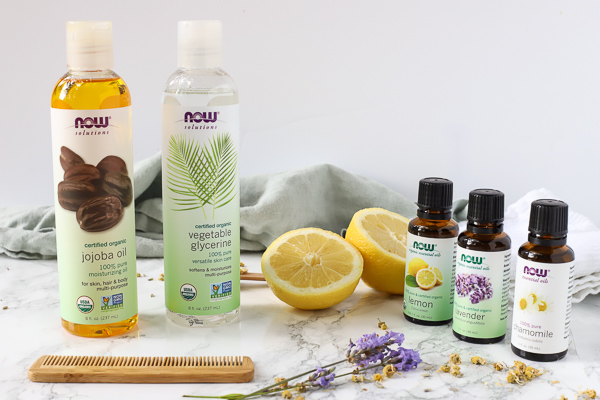 Homemade Natural Hair Detangler Ingredients:
Water: when using any water in a product, there is a potential for spoilage. For best results, I like to use distilled water, or water that has been boiled and cooled.
Vegetable glycerin: this is used to pull moisture from the air into the hair. I love NOW® Solutions Vegetable Glycerin because it is naturally sourced from non-GMO palm, grapeseed, and coconut oil.
Apple cider vinegar: can help add shine and condition hair.
Jojoba oil: is full of vitamins and minerals. It is an amazing moisturizer, and may help soften hair and scalp dryness. NOW® Organic Jojoba Oil has been a favorite of mine for a long time. It is such an amazing product, and I use it for multiple skincare products, like my Homemade Makeup Remover.
Essential oils: while completely optional for this recipe, essential oils can really benefit your hair. In this recipe, I use lemon, chamomile, and lavender. See below for the best essential oils for hair. NOW is committed to providing the best and purest quality essential oils for amazing prices.
Tips For Detangling Hair:
Brush hair when it is still really wet. The more dry hair gets with knots in it, the harder it will be to comb them out.
Use a wet brush or special detangling comb. Getting a wet brush was game changing in our house.
Distract little ones with books, a show, or another person while combing through their hair.
Use this detangling spray to get the knots out with ease.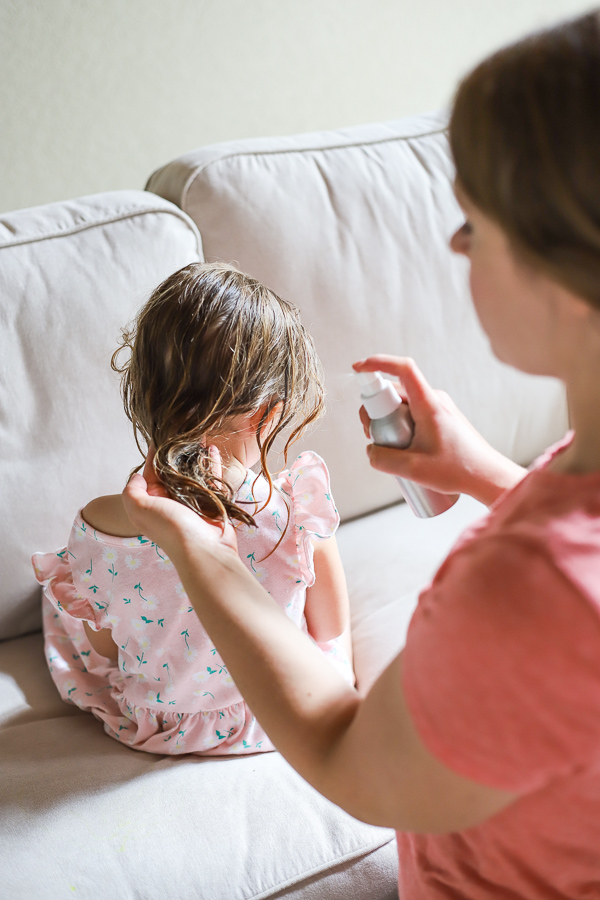 Best Essential Oils For Hair:
Chamomile: can soften hair and add shine. (source)
Rosemary and Peppermint: They are not safe for young children, so if you're making this recipe for children, skip these oils.
Lemon
*There is always a concern for phototoxicity when using citrus oils, but since this recipe contains a very small amount and you are not overdoing it, it should be fine. If you are concerned, forgo lemon essential oil in this recipe, or use it at night.
Note: diffusing lavender, chamomile, and lemon is a magical combination. So magical that the first time I used this on my 4 year old she said "Wow! That smells heavenly!"
Watch The Tutorial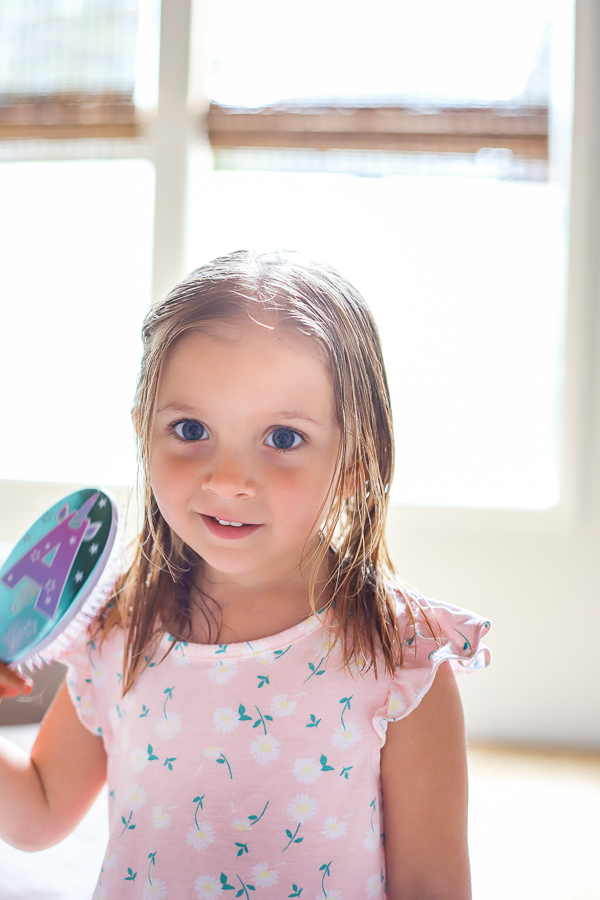 How To Make Homemade Natural Hair Detangler Spray
In a jar, add ingredients together (minus essential oils) and mix.
If using, add your chosen essential oils to the mixture.
Pour into spray bottle and shake before each use. Or just mix in the spray bottle.
Store at room temperature.
How To Use:
While hair is wet, gently shake spray bottle and spritz onto hair.
Comb hair, starting from the bottom and gradually going up to the root. I recommend using a Wet Brush. They make detangling hair way easier.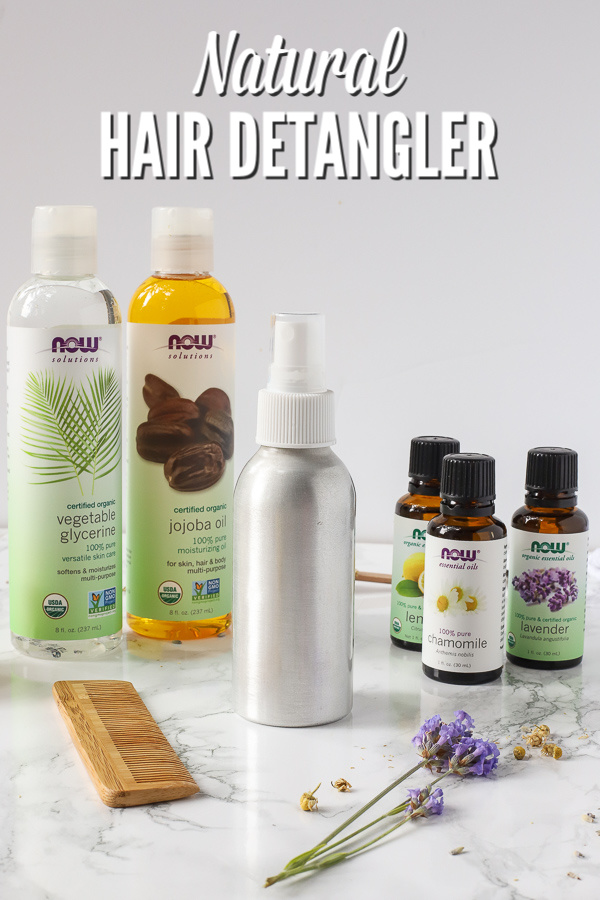 Check out our favorite homemade natural products:
If you try this recipe and love it, I would appreciate you coming back and giving it 5 stars. Please and thank you!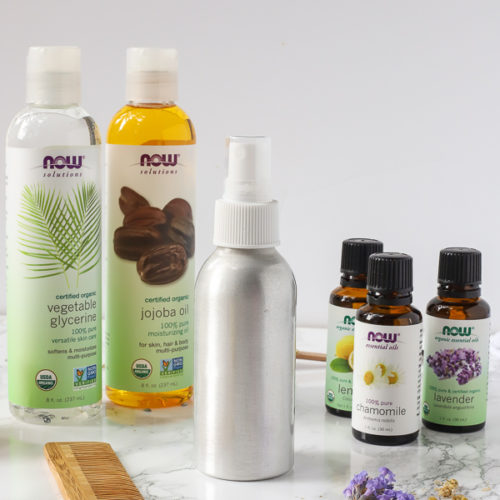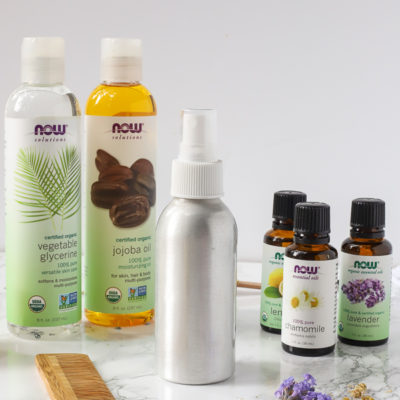 Homemade Hair Detangler
Homemade natural hair detangler spray is made with just a few simple ingredients and is effective way to detangle knotty hair.
Print
Pin
Rate
Instructions
Mix ingredients together in a small bowl. Or skip this step and pour ingredients straight into spray bottle.

Pour into a spray bottle.
To use:
Shake homemade detangler before use.

Sprints on wet hair and comb through.
Notes
Spray detangler when hair is still pretty wet. The more dry hair gets with knots in it, the harder it will be to comb them out.
Use a wet brush or special detangling comb. Getting a wet brush was game changing in our house.
Brush in small sections.
Have you tried making your own homemade hair products? What are some of your favorites?
Thank you so much to NOW® Solutions for sponsoring this post. Check out NOW's wide range of amazing products, from essential oils, oils, and butters to even food and supplements.