Homemade Natural Liquid Dishwasher Detergent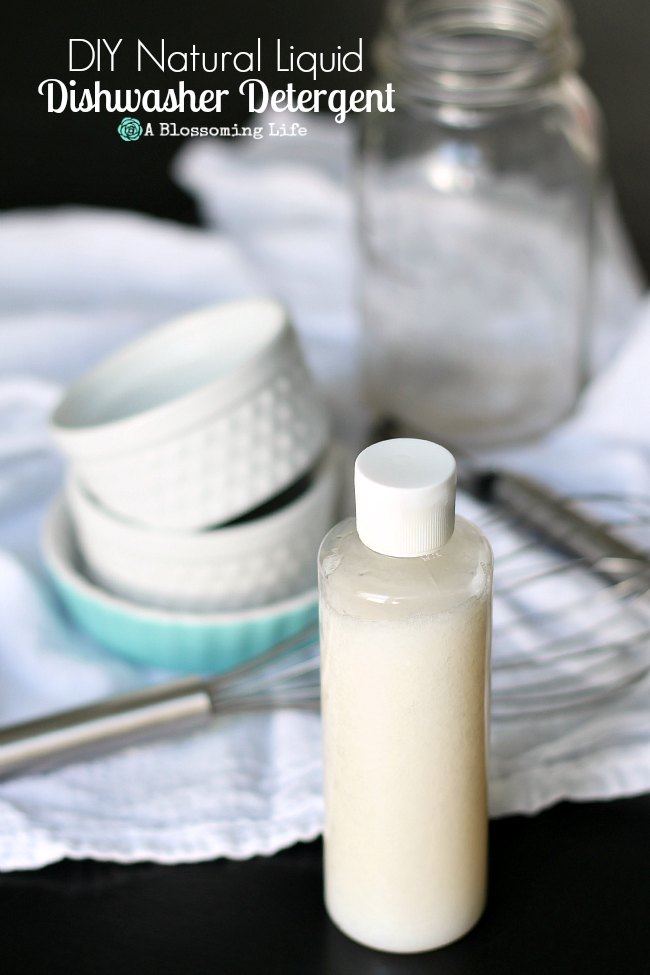 It has been long while since I've shared some DIY natural cleaning recipes. Like to long. At our house we don't buy any cleaners. Ok so I take that back… when we first moved into our new house, 9 months ago, we did buy bathroom cleaner for deep cleaning. We learned three things: it sucked and totally didn't work, the chemicals were awful (you literally couldn't breath), and it gave me the worst allergy attack. Lessoned learned! 99.9% of the time we exclusively use homemade products. They are so much cheaper, work great, and you can feel good about what your putting in and around your house.
This recipe includes 4 simple ingredients: castile soap
, water, washing soda
, and lavender essential oil
. Can't get much easier then that! This recipe works great and the lavender acts as an antibacterial to help sanitize.
Notes: To get extra sparkly dishes use vinegar as a rinse aid. Everyone has slightly different water and may get different results. So if your dishes are becoming cloudy then add a small squirt of natural dish soap to the dishwasher detergent in the detergent compartment.
Homemade Natural Liquid Dishwasher Detergent
All natural liquid dishwasher detergent that is super easy to make and works great.
Print
Rate
Instructions
Mix hot water and washing soda until dissolved. Add in castile soap and lavender essential oil and allow to sit overnight to thicken (it should become very thick). Store in an easy to squeeze bottle or a mason jar.
Notes
To use: Shake liquid dishwasher detergent before each use. Add 1-1.5 Tbs of detergent to dishwasher in proper compartment. For super sparkly dishes add vinegar as a rinse agent. As stated before, everyone has different water so if your dishes are coming out cloudy, add a squirt of natural dish soap to the dishwasher detergent in the dishwasher detergent compartment.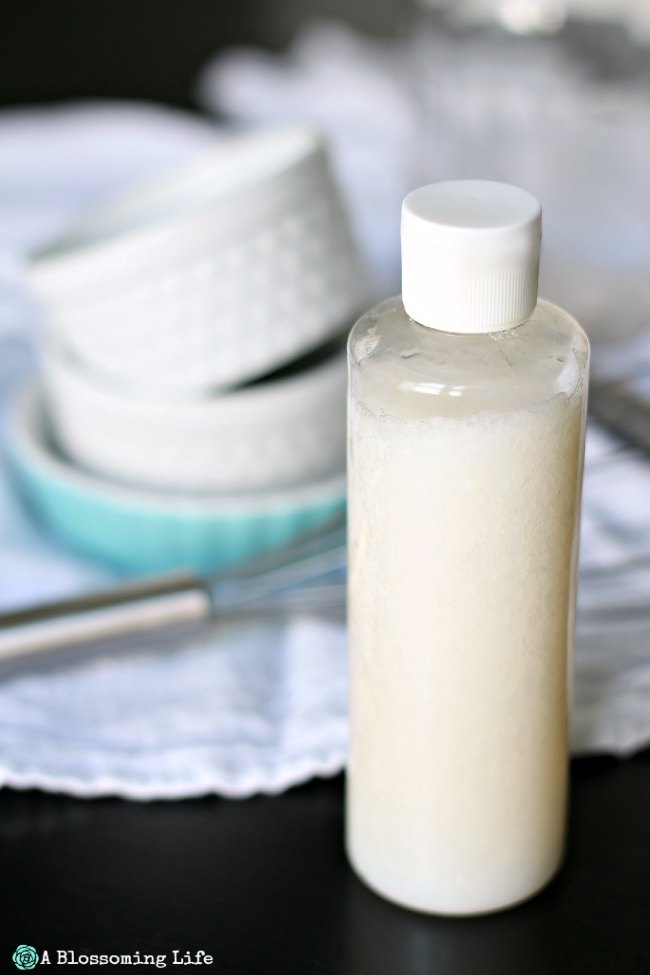 What is your favorite DIY homemade cleaner you have made?
Need some more DIY cleaning ideas?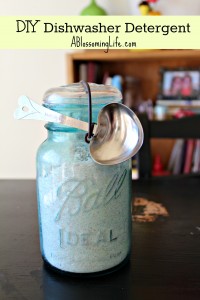 DIY Powdered Dishwasher Detergent