How To Make Sweetened Condensed Milk
Learn how to make sweetened condensed milk that is thick, creamy, and sweet. Perfect for those holiday recipes, this homemade version can be made without refined sugar. Follow all my tips and tricks below.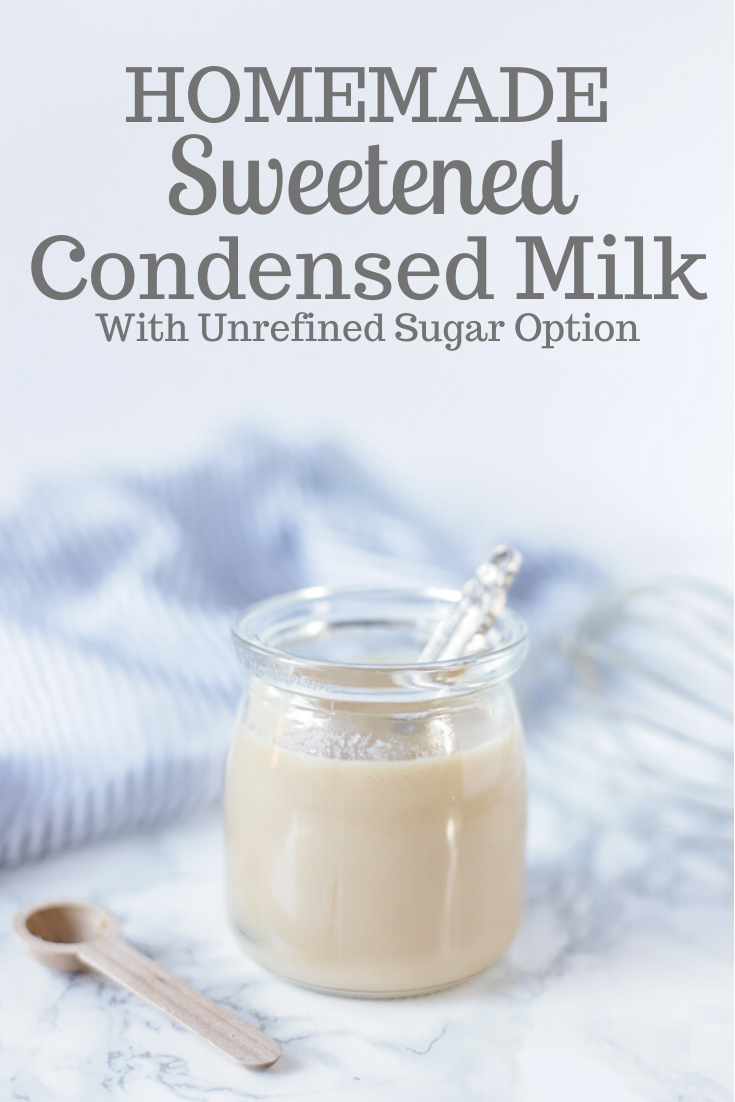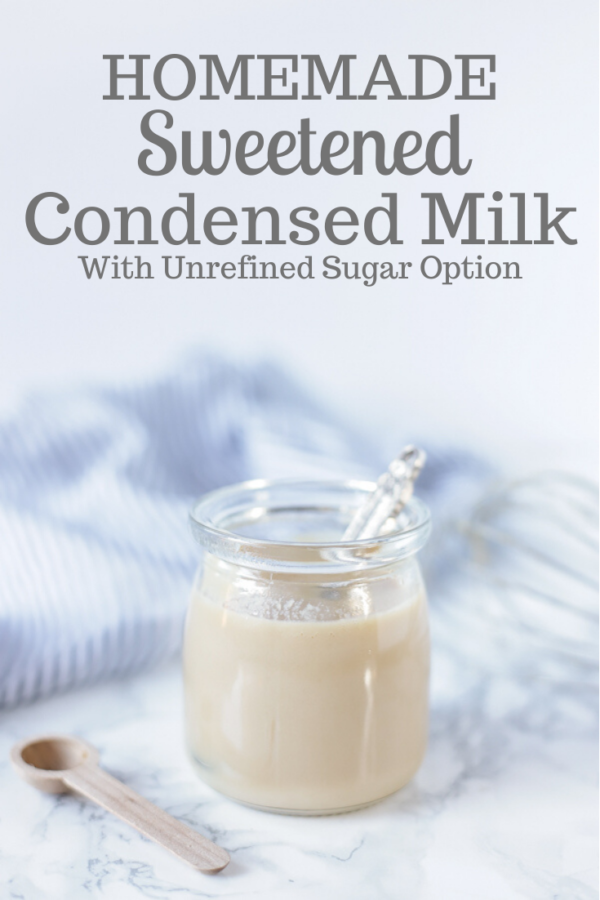 Recently, I was about to make some homemade pumpkin pie for a work event for my husband. It calls for evaporated milk, which the post goes into detail how to make it.
But that had me thinking of all the recipes that call for the sweetened kind and thought I needed to share this simple tutorial with you all.
With the holidays right around the corner, I thought it was the perfect time to share how to make sweetened condensed milk.
This thick and creamy sweetened milk is a staple in many dessert recipes and many times that forgotten at the grocery store ingredient. So for all those times you've needed it on hand and you didn't have it, you can easily whip up this homemade sweetened condensed milk.
Honestly, I like making it myself for a few reasons. One, I get to control the ingredients used. Two, I can make it without refined sugar. Lastly, it is cheaper.
Plus, it is really easy to make. It also tastes amazing. Not that I tried it with a spoon or anything.
Tips for making sweetened condensed milk:
A higher fat milk will give you a better texture.
Cooking slow and steady will be your friend. You don't want it to over boil or cook it too long. If you cook it too long it will start to get little chunky. Still tastes good but not as smooth as it should be.
Once you bring it to a simmer, you don't want to whisk it anymore because you don't want to sugar granules to mix in and crack the mixture.
This can be made with unrefined sugar and even with dairy free milk. See suggestions below.
If you don't have cream you can skip it and just replace it with more milk.
The following are affiliate links. We are a participant in the Amazon Services LLC Associates Program, an affiliate advertising program designed to provide a means for us to earn fees by linking to Amazon.com and affiliated sites.
Tools you may need:
Saucepan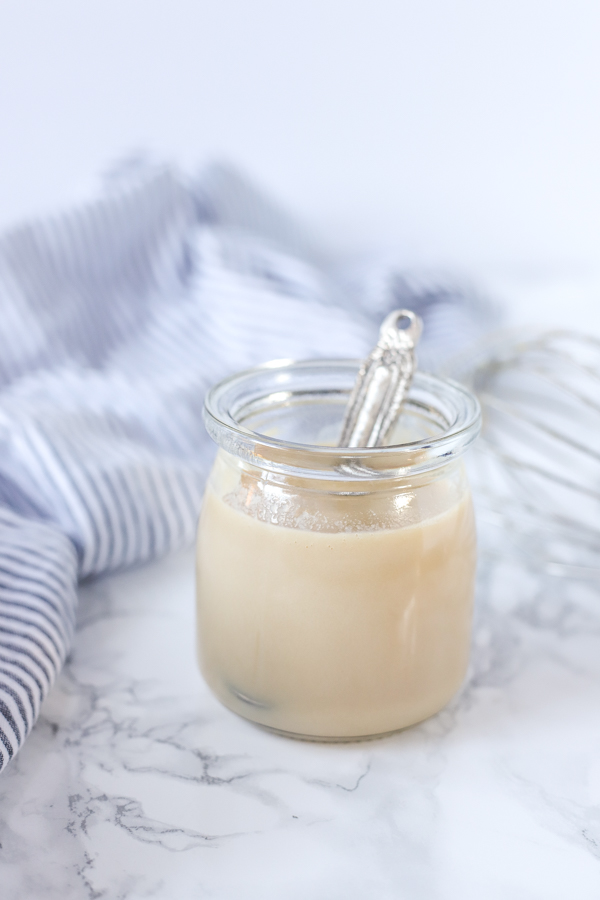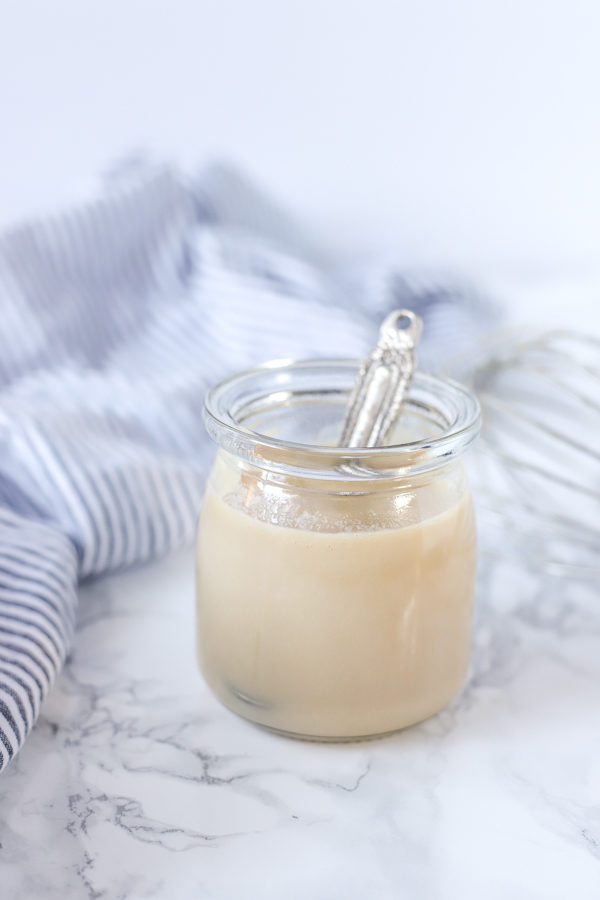 What's the difference between evaporated milk and condensed milk?
Sweetened condensed milk is milk that has been sweetened and cooked down. It is very thick and sweet. Whereas, evaporated milk is not sweetened and not quiet as thick since the sugar helps thicken it.
How do I turn evaporated milk into sweetened condensed milk?
You can add 1.5 cups of sugar per can of evaporated milk. Add ingredients to a saucepan and bring to a simmer. Whisk until the sugar has melted. Take off heat and allow to cool.
How do you use sweetened condensed milk?
It can be used in cookies, cakes, pies, and even ice cream. You can even use it to make homemade caramel sauce (you can also use this recipe).
Can I substitute milk for sweetened condensed milk?
No. Milk is very thin and not sweetened. They can not be substituted one for one. You can easily create this recipe.
What are the ingredients in sweetened condensed milk?
Milk – Whole or dairy free will work. Other lower fat milks should work just fine. If using dairy free milk, they will have a slightly different flavor depending on the type you use.
Cream – this gives it a little more fat which gives it more yummy flavor and better mouth feel. If you don't have it or using a dairy free milk, you can just use more milk instead.
Sweetener – For a natural unrefined sweetener (for those who stay away from refined sugar) use maple syrup or honey. I prefer the flavor maple syrup adds. You could also use regular ol' sugar. You cannot use any type of sugar substitute.
Salt – really brings out the sweetness.
Vanilla (optional) – Add some vanilla for a really delicious warm flavor. If using maple syrup you don't need to add vanilla because of the flavor the maple syrup adds.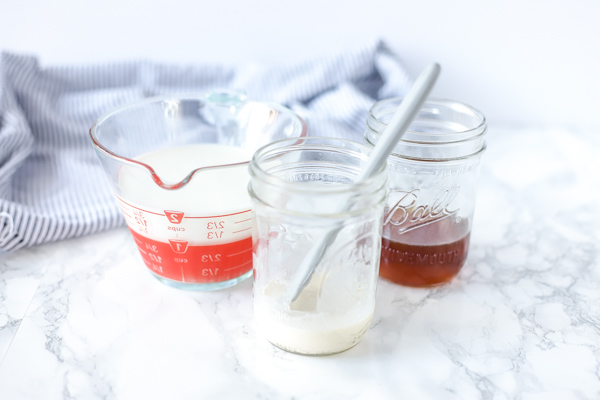 How To Make Sweetened Condensed Milk
Measure out ingredients and add to a saucepan.
Place on a medium low heat and bring up to a simmer. Stirring occasionally until sugar has dissolved.
Continue simmering, and do not stir, until it has reduced by around half. About 30-40 minutes.
Watch closely to make sure it doesn't boil over.
It is ready when it has thickened and reduced to half. Or 1.5 cups.
This can be stored in the fridge for up to a week. It will continue to thicken as it cools.
If you cook it too long, it will start to clump up a bit and almost turn into caramel, or at least taste like caramel. Ask me how I know.
Find more delicious recipes:
Homemade Sweetened Condensed Milk Recipe
If you try this recipe and love it, I would love if you could come back, commented on the post, and give it 5 stars! Please and thank you.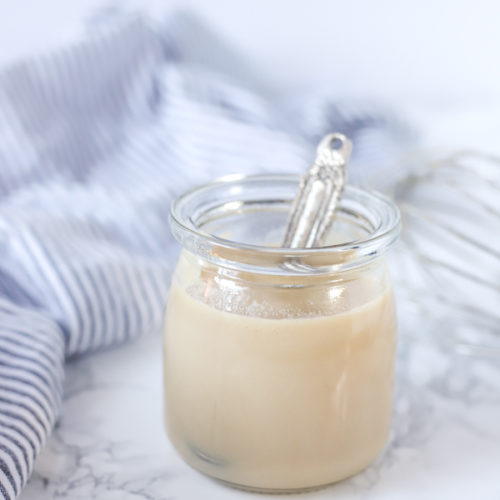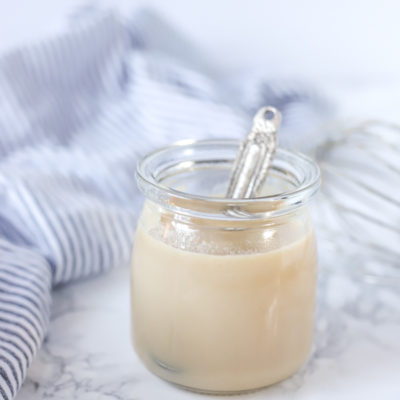 Sweetened Condensed Milk
Easy recipe for a real food homemade sweetened condensed milk
Print
Pin
Rate
Ingredients
2

cup

milk

whole or dairy free

1/4

cup

cream

or milk if you don't have it or if you are using dairy free milk.

3/4

cup

maple syrup

honey or sugar

1

tsp

vanilla extract

optional

dash

salt
Instructions
Add ingredients to a saucepan and bring to a simmer over medium low heat, stirring until sugar has disolved.

Simmer until the milk has reduced to half about 35-45 minutes. Do not whisk after the sugar has dissolved. Watching carefully that it doesn't boil over.

Set aside and allow to cool. It will thicken while it is cooling.

Store in fridge for up to one week.
Nutrition
Serving:
1
g
|
Calories:
233
kcal
|
Carbohydrates:
38
g
|
Protein:
3
g
|
Fat:
8
g
|
Saturated Fat:
5
g
|
Cholesterol:
26
mg
|
Sodium:
51
mg
|
Potassium:
246
mg
|
Sugar:
34
g
|
Vitamin A:
333
IU
|
Calcium:
171
mg
|
Iron:
1
mg
Pin It For Later