Easy homemade toilet bowl cleaner is a natural and effective way to clean toilets. This DIY toilet cleaner costs only pennies to make and you can feel good about the products you are using in your home. Follow my tips below to making this easy recipe.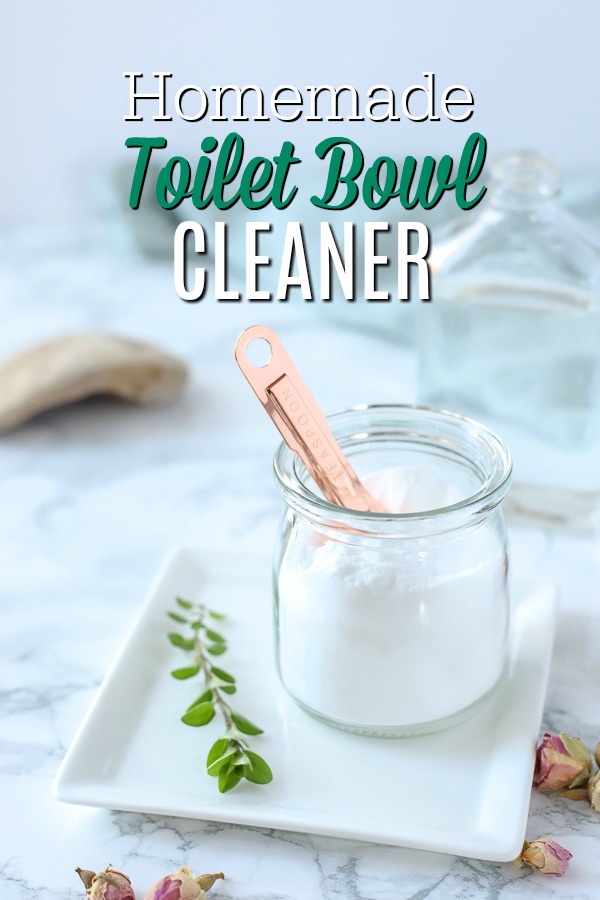 This post was updated July 2019
Homemade Toilet Bowl Cleaner Backstory
Toilets are gross! Can I hear an amen? I really hate cleaning them! You know what makes them extra gross… boys. I got two of them and one isn't even peeing in the potty yet and I'm mentally preparing myself. My husband is like the cleanest man in the world, next to my dad, and somehow it is still gross.
But it has to be done and I don't want to use toxic cleaners! What is one to do? Create a natural and effective homemade toilet bowl cleaner of course.
I've been using this recipe for years and have finally had the chance to share and update it. I really wish I could or would have calculated how much money we have saved over the last 8 years by creating our homemade cleaning products.
That doesn't even count all the toxic chemicals we have avoided over the years.
But seriously, the savings has probably been in the thousands of dollars. With just a handful of natural ingredients we can clean the house top to bottom. From our natural all-purpose spray to this simple three ingredient window cleaner, you can do so much with basically the same ingredients.
Why should you make your own toilet bowl cleaner?
Healthier option – this natural recipe doesn't contain any synthetic or toxic ingredients making it a healthier option.
Better for the environment. Conventional toilet bowl cleaners are full of harmful chemicals and fragrances that are not only unhealthy for you, but also the environment. Every time you use one of these chemicals you are flushing the toxic chemicals down the toilet to pollute the environment and our water systems.
It's Cheap! DIY toilet bowl cleaner costs penny's to make. Your wallet will thank you.
It's simple. Cheap, easy, and healthy is basically my motto in life. It would take you longer to walk down the cleaning isle to find your store-bought version than it will take you to make this recipe.
The following are affiliate links. We are a participant in the Amazon Services LLC Associates Program, an affiliate advertising program designed to provide a means for us to earn fees by linking to Amazon.com and affiliated sites.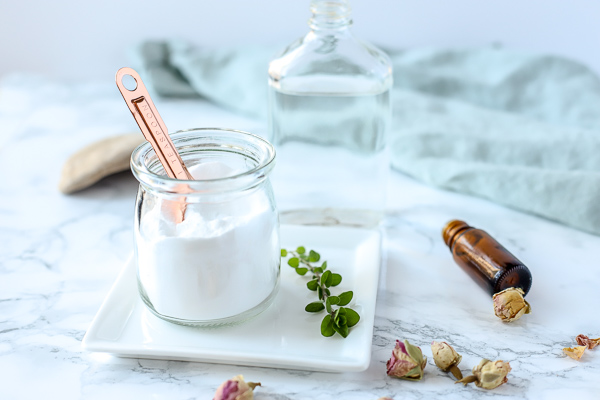 Tips for making your own toilet bowl cleaner:
Get a good toilet brush for cleaning, it can make a huge difference.
Use anti-bacterial type of essential oils like On Guard.
For the biggest bang for your buck get your baking soda at like Costco or Sam's Club.
If making the liquid version and using castile soap, don't use vinegar but rather use hydrogen peroxide. Vinegar and castile soap don't mix.
How do you deodorize a toilet naturally?
Baking soda is an amazing deodorizer. Simply spring baking soda into the toilet bowl and allow to sit for 10 minutes. Spray with all-purpose cleaner on the outside and on the inside of the toilet. Scrub toilet bowl with brush and wipe down rest of the toilet with a paper towel or reusable cloth. Make sure to clean the inside underneath rim of the bowl.
Tips for using the homemade toilet bowl cleaner:
Allow the baking soda and vinegar mixture to sit for a few minutes before scrubbing for extra deodorizing power.
Add essential oils to help disinfect, remove odors, and make it smell prettier.
The brush can make a big difference. Make sure to get a nice toilet brush that scrubs well.
You can also make a liquid version following my recipe below.
Use this along with my DIY all-purpose cleaner to get the whole bathroom sparkly.
Love natural cleaning products? Try some of our favorites..
DIY Furniture Polish – with 3 ingredients you can clean and protect your wood surfaces.
Homemade All-Purpose Cleaner has been my go to for years.
DIY Glass Cleaner… coming soon.
If you don't want to DIY, my favorite non-toxic cleaner is Branch Basics.
Homemade Toilet Bowl Cleaner Recipe
Ingredients:
1/4 cup baking soda
1/4 cup or more of vinegar
Few drops essential oils (optional)
Directions: Sprinkle baking soda around the bottom of the toilet bowl and on the really dirty spots. Pour in vinegar and leave for a few minutes.
Scrub with your toilet brush and flush.
Liquid DIY Toilet Cleaner Recipe
1/4 cup baking soda
1/4 cup natural dish soap – I like Ecos brand
2 tbs distilled water
20 or more drops essential oils
How do you make liquid toilet cleaner?
Mix together baking soda, natural dish soap, essential oils and water.
To use: Place in squirt bottle and squirt into the toilet. Add hydrogen peroxide or vinegar (don't use vinegar if using castile soap). wait a few minutes and then scrub with a toilet brush.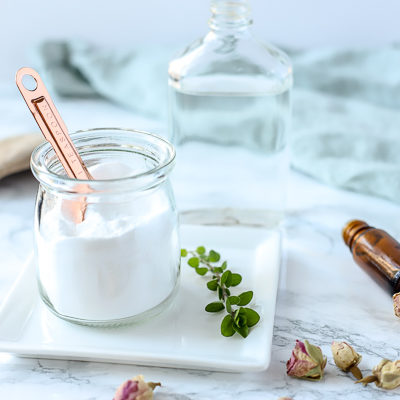 Homemade Toilet Bowl Cleaner
Natural toilet bowl cleaner is a safe, effective, and cheap way to clean your toilets.
Print
Pin
Rate
Ingredients
1/4

cup

baking soda

1/4

cup

natural dish soap

or more

2

tbs

distilled water

20

drops

essential oils

1/4

cup

hydrogen peroxide or white vinegar

add when cleaning toilet.
Instructions
Mix together baking soda, natural dish soap, essential oils and water. Place in squirt bottle.




To Use:
Squirt homemade toilet cleaner into the toilet. Add hydrogen peroxide or vinegar (don't use vinegar if using castile soap). wait a few minutes and then scrub with a toilet brush.
Notes
If you use castile soap don't use vinegar when cleaning. They don't mix.
Like always, easy as pie! Would I do anything more? 🙂