Homemade Laundry Detergent
Learn how to make homemade laundry detergent with this simple and natural tutorial. Natural, DIY laundry detergent is really inexpensive, and healthier for your family than most conventional options. See my tips below when using this natural recipe.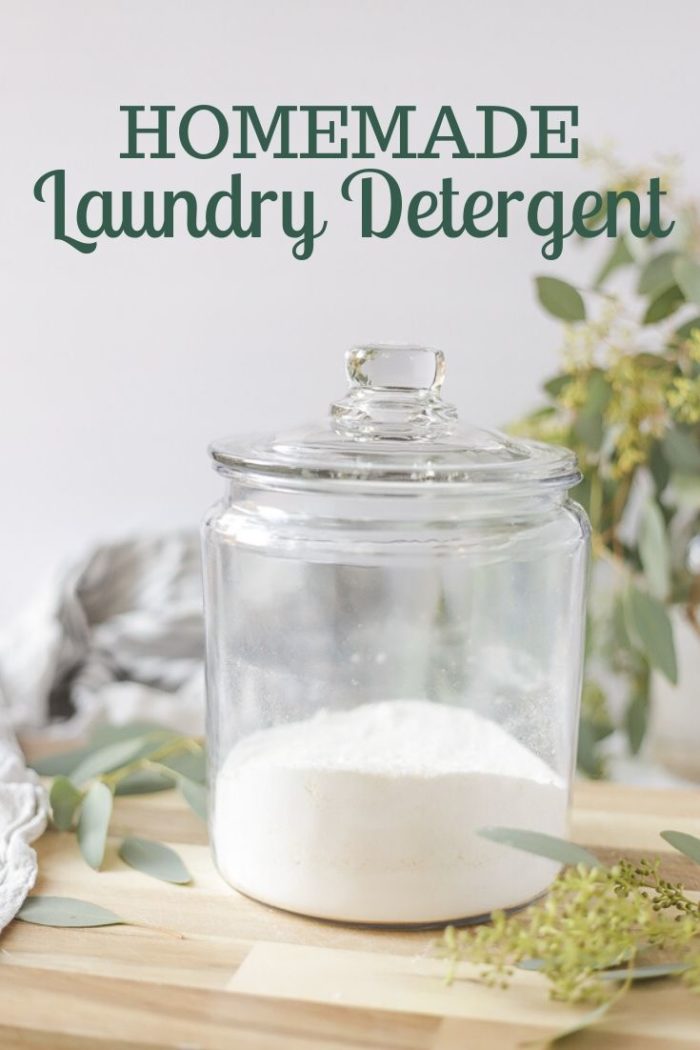 I started making homemade laundry detergent a long, long time ago, and since I talk about it a lot (and I mean a lot), I get so many questions about it. So I thought it may be a good idea to just write a post about it and answer all the questions you ever had about natural DIY laundry detergent. This was also really fun to write because I love it!
This recipe is super fast and super cheap (around 1-2 pennies a load)! For comparison, Tide is about $0.21 a load (huge savings, right?).
Since I make all our other cleaners, from furniture polish, to glass cleaner, to all-purpose cleaner, and even the dreaded toilet cleaner, I thought, why not make something that is natural and cleans your clothes?
When I first made this recipe so many years ago, there were basically no natural alternatives available, which was one of the reasons I started making my own. Thankfully, nowadays there are many options available, and you can find some of my picks below.
Simple, natural, and cheap. Basically my motto… well, minus the cheap part.
The following are affiliate links. We are a participant in the Amazon Services LLC Associates Program, an affiliate advertising program designed to provide a means for us to earn fees by linking to Amazon.com and affiliated sites.
Tips For Homemade Laundry Detergent:
If the laundry detergent is not dissolving well for you, try washing the clothes in warm water.
Use laundry balls as a natural fabric softener. You can also add vinegar to the wash to help soften clothes.
To help get rid of tough stains, you have to try my DIY Stain Remover. It is seriously amazing.
Keep in mind that I've used this recipe for years, and while it has worked lovely for us, it may not work for you. Every area has different types of water; some find if they add a tablespoon or two of Dr. Bronners Sals Suds, can help take get it extra clean and help get rid of any buildup many people experience.
Tools you will need:
Measuring cup
Storage container – I found the one used above at a thrift store for cheap.
Wool dryer balls – this is a great switch for those who want to use a something natural for fabric softener.
Why would you want to make the switch to natural laundry detergent?
You know how your clothes smell "so good" and it lasts sooo long after you wash them? That may not be a good thing. Most regular laundry detergents contain fragrance.
Now, I don't mean stuff that smells good. You can have natural fragrances, like essential oils. But when "Fragrance" shows up in an ingredient list, this is a general term for hundreds of potentially toxic chemicals. Many of the chemicals found in "fragrances" have been shown to be endocrine disruptors and carcinogenic.
With regular detergent, you are wearing those synthetic fragrances all day long on your skin. All these fragrances in our homes, laundry, and environment may have long-term health effects.
Not only that, but some store-bought detergents can also include some pretty icky chemicals linked to cancer, aquatic toxicity, and/or organ toxicity.
Is homemade laundry detergent HE safe?
Yes. Due to the low-sudsing action of this recipe, it is totally safe for HE washers.
Can I use baking soda instead of washing soda?
No! They are different products, even though they seem similar. Washing soda is sodium carbonate, whereas baking soda is sodium bicarbonate. Clear as mud? It is a totally natural product. You can actually make washing soda out of baking soda though.
You could add a little bit of baking soda to the recipe on top of the other ingredients. Baking soda can help brighten clothes and remove odors, but it can't replace the washing soda.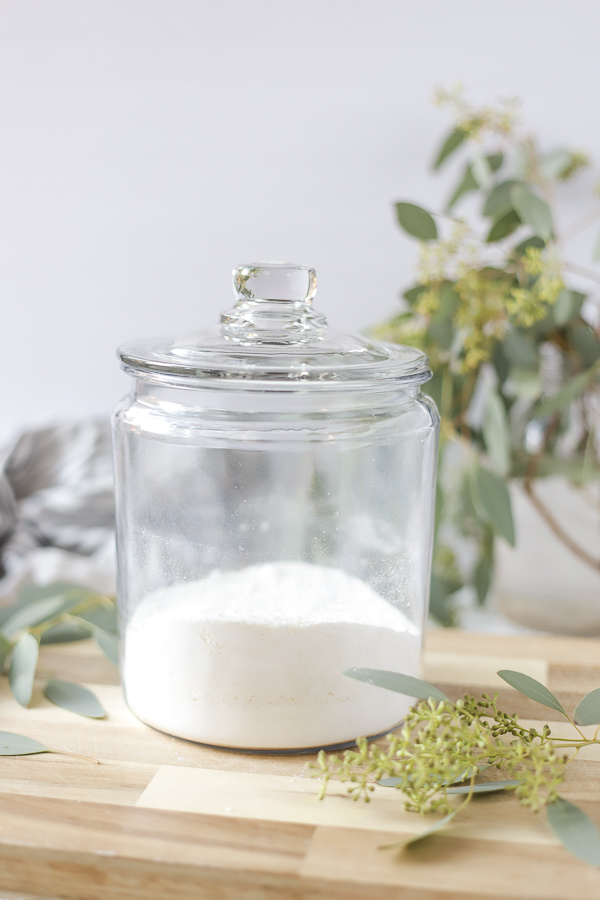 Is Borax safe to use in homemade laundry detergent?
Borax is a natural ingredient made up of sodium, boron, oxygen, and water.
While there are safety concerns with Borax, since it is used to wash clothes, you are not ingesting it, and it is rinsed, it should not be of concern.
You can read all about the safety of borax here.
How do you make liquid laundry detergent?
This recipe is very similar, but it makes it into liquid form.
My recommendation for natural store-bought laundry detergent:
Not everyone wants to make laundry detergent, and I totally get that. Here are some of the brands I would recommend that have a good rating on EWG website:
Ecover – gets an A from EWG and works great. We use this often when we run out of the homemade stuff and I haven't made a new batch.
EverSpring Free And Clear- Used this once on vacation and it seemed to work really well.
Branch Basics: This is a little pricey up front, but this natural cleaner can be used everywhere from laundry to the kitchen to the bathroom, and it is one of the best cleaners I've ever used.
Ones I have not personally tried, but have good ratings,
Aspenclean
Attitude
Common Good unscented
Seventh Generation Laundry Detergent Powder Free And Clear
Planet 2x
Homemade Laundry Detergent Recipe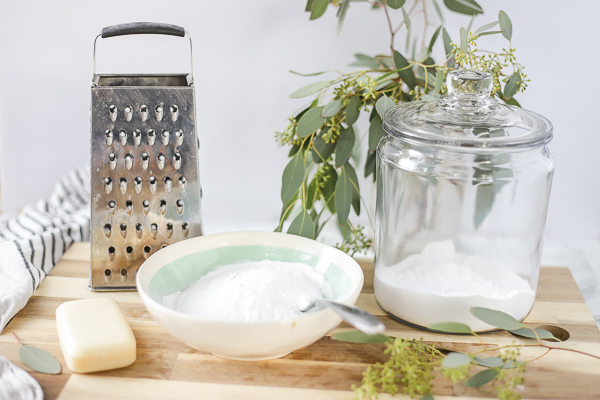 1 cup Borax
1 cup Washing soda
Bar of soap (I prefer an unscented castile soap). You can also use Fels-Naptha laundry soap and stain remover, but it contains artificial fragrances, so I personally chose not to use this).
How To Make Laundry Detergent:
Mix in borax and washing soda.
Grate bar of soap with fine cheese grater.
Add soap to container and mix.
Optional step: if you want a finer texture, you can run the mixture through the food processor or blender.
How to use:
Add 1-2 tbs of detergent to each load.
Some people say they have a hard time dissolving it in their washer. Personally, I don't, and I only use cold water. Using warm water could help fix this problem.
If you are the liquid kind of guy or gal, here's a recipe for liquid laundry detergent
Find More Of My Favorite DIY Natural Cleaning Products:
Natural Homemade Laundry Detergent Recipe Card:
Want a printable version so you always have it on hand? Find it below. If you try it and love it, make sure to come back and give it 5 stars. Please and thank you.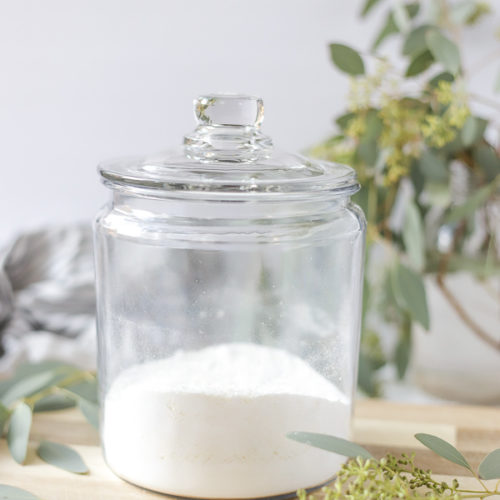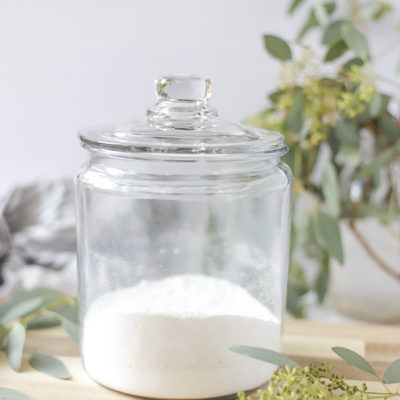 Instructions
Grate bar of soap with fine cheese grater.

Mix in borax and washing soda.

Optional step: if you want a finer texture, you can run through the food processor or blender.
To Use:
Add 1-2 tbs of detergent to each load.
Pin It For Later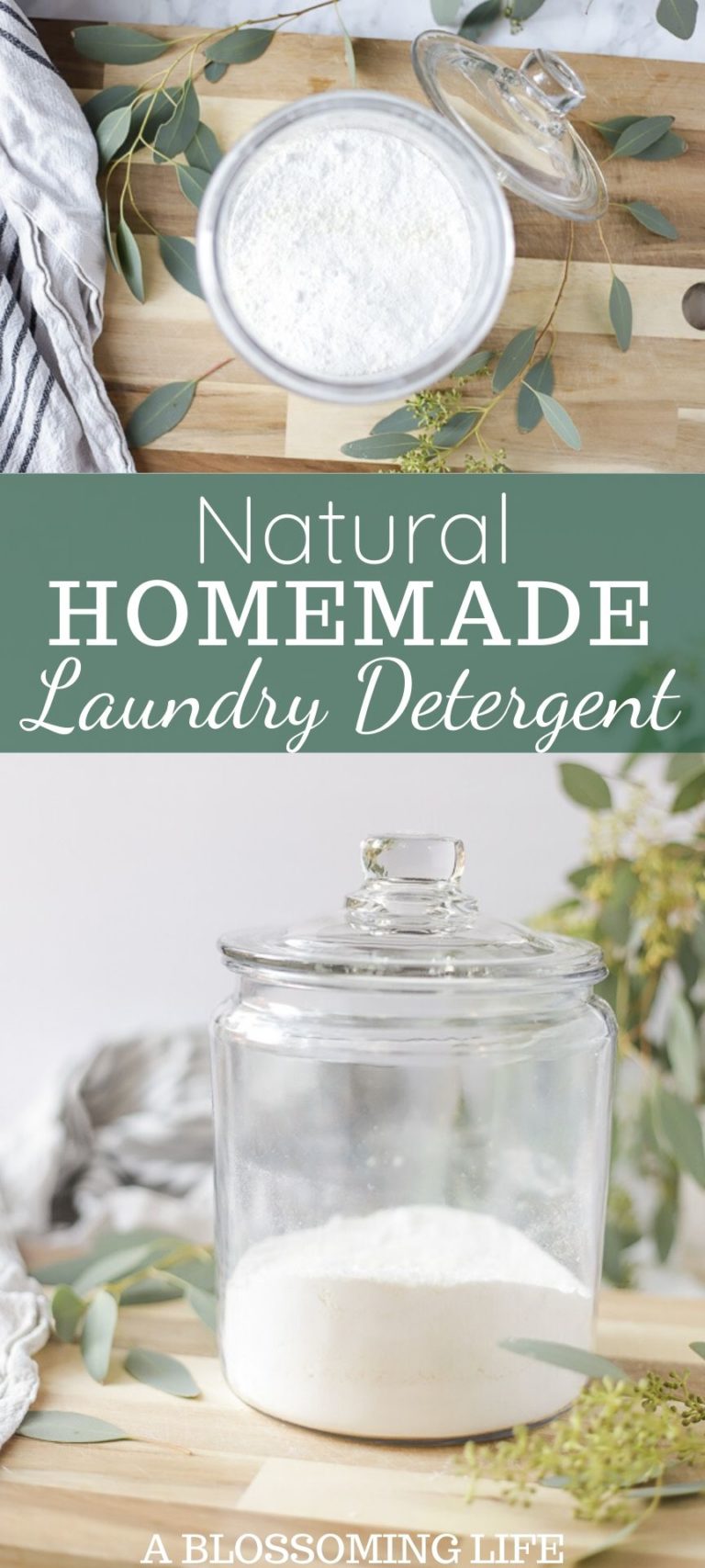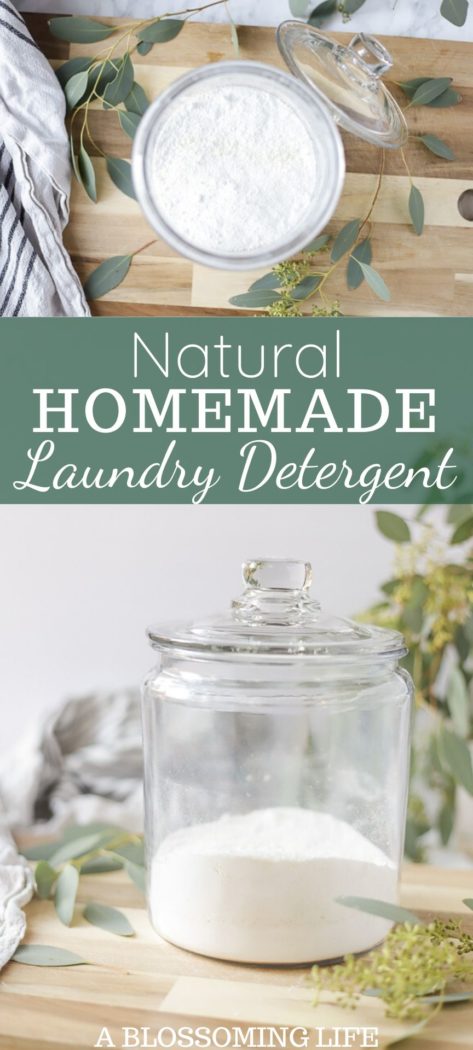 Happy saving money! Be joyful on laundry day 🙂
-Amy
This post was originally published in October 2011 and was updated November 2019.