This moisturizing recipe for the best all natural, DIY body wash is super simple. All you need are 3 ingredients and a few minutes of time to make it.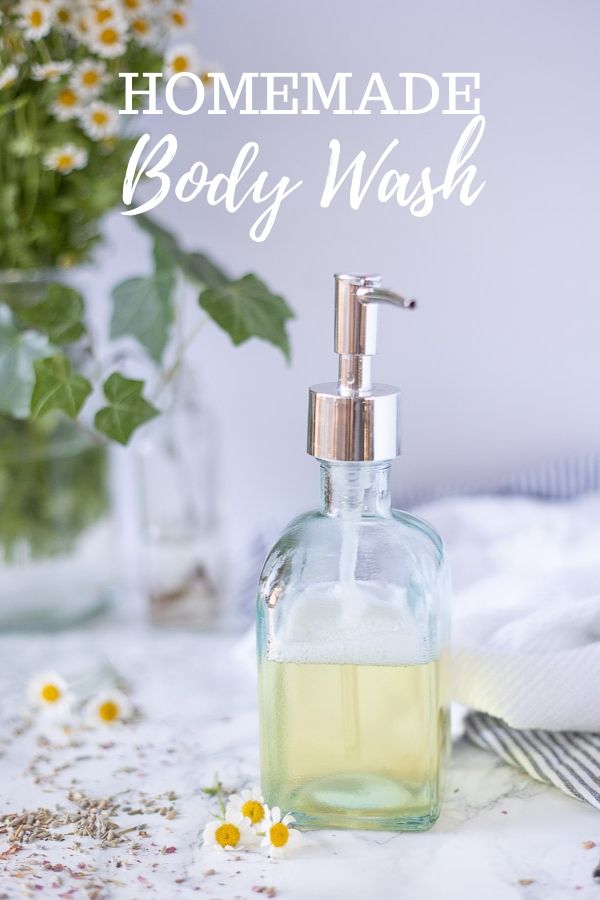 One of my favorite natural ingredients to use is castile soap. It is so versatile, and can be used in so many homemade products.
From foaming hand soap, to face wash, to cleaning your home, and so much more. It is a must-have in my arsenal of natural products.
This homemade all natural body wash is so incredibly easy to make, and it won't dry out your skin.
I love that it's super foamy, and you can completely customize the scent.
Not only does this recipe work amazingly, but it is really inexpensive. My favorite type of recipe: natural and cheap.
If you've used castile soap as body wash in the past, you might be wary of using this recipe, especially if you have dry skin. Don't worry! Adding glycerin makes this recipe super moisturizing.
My skin feels great after I use it – nice and clean, but not tight or dry. And because I almost always have the ingredients on hand, I'll never run out!
Win-win.
Tips For Making This Recipe:
Place in a foaming hand soap container to make the body wash last longer.
If you don't have a foaming hand soap dispenser, you can use a regular soap dispenser but I would recommend using a wash cloth or puffy mesh bath ball.
If you don't have vegetable glycerin you can swap it out for honey.
Have dry skin? This recipe is soothing and moisturizing, but you can also add in oil for extra moisture.
The following are affiliate links. We are a participant in the Amazon Services LLC Associates Program, an affiliate advertising program designed to provide a means for us to earn fees by linking to Amazon.com and affiliated sites.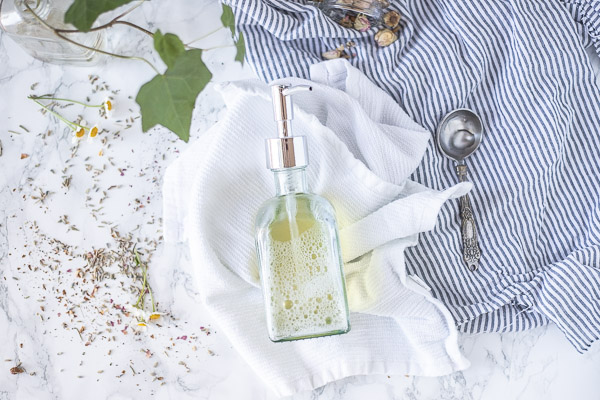 Homemade Body Wash Ingredients
Castile soap: This natural soap is my go-to for many homemade products. There are multiple brands out there to choose, make sure to use an unscented one so you can add your own.essential oils to it.
Vegetable glycerin: this helps the sudsing power and also adds moisture to the soap. You could also swap out the glycerin for honey.
Water: since it is this recipe contains water, I recommend using distilled water (or water that has been boiled and cooled) to help discourage bacteria growth. It is also made in small batches to help.
Essential oils: Are an amazing way to add aromatherapy benefits in an all natural way. See below for my favorite oils to add to this recipe. I use Doterra or Plant Therapy oils. See my whole post here.
Oils: Optional. If you have very dry skin, you may want to add a teaspoon of a nourishing oil like jojoba, apricot, almond, avocado, or olive oil.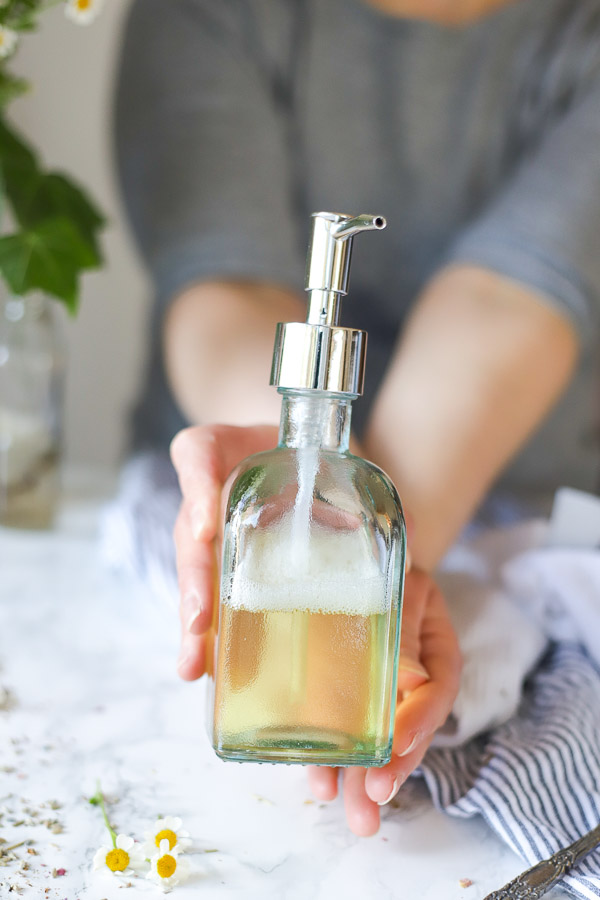 Best essential oils to use:
Lavender: this delightful floral scent is super relaxing and can even help you sleep better.Chamomile
Clary Sage: can be uplifting and have hormone balancing properties. It does have a stronger scent and I would recommend also adding lavender to brighten it up.
Tea Tree: antibacterial and antifungal properties, this is a great oil to add to natural body wash to help fight bacterial.
Peppermint: This can be a great oil to help you wake up in the morning. A little bit goes a long way so only add a little bit. Avoid if you are nursing.

Spearmint would be a better alternative for nursing moms. Avoid using citrus oils if you are planning to be outside in the next 12 hours because they can make your skin photosensitive.
Watch The Tutorial:
How To Make DIY Body Wash
Step 1: To a bowl or measuring cup, add water and castile soap.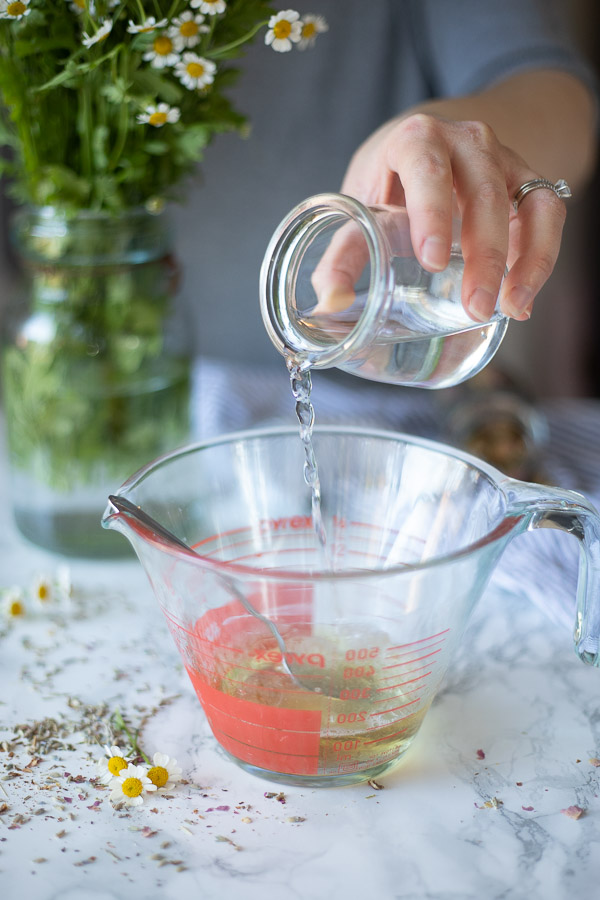 Step 2: Mix in vegetable glycerin until dissolved.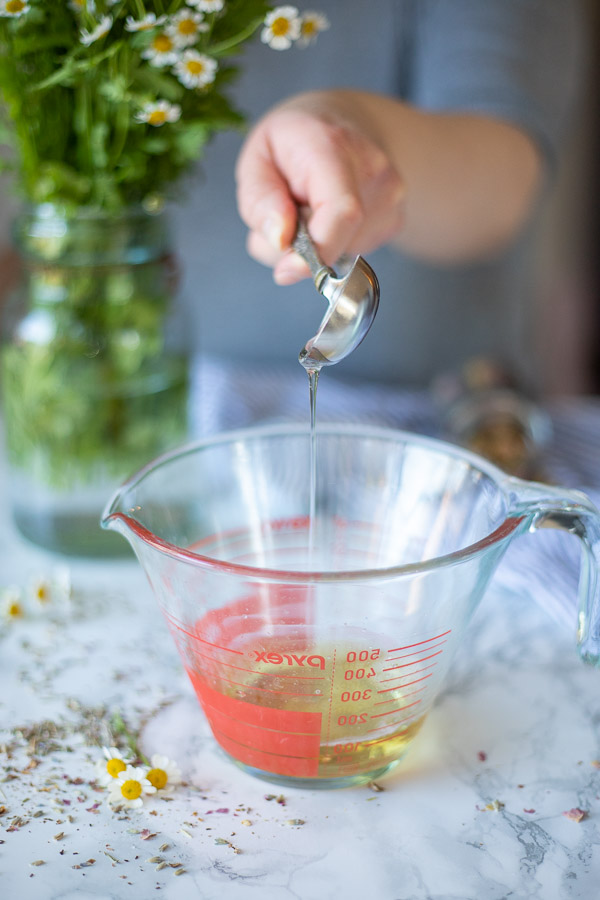 Step 3: Add in essential oil. I like adding 2 drops of spearmint and 5-10 drops of lavender.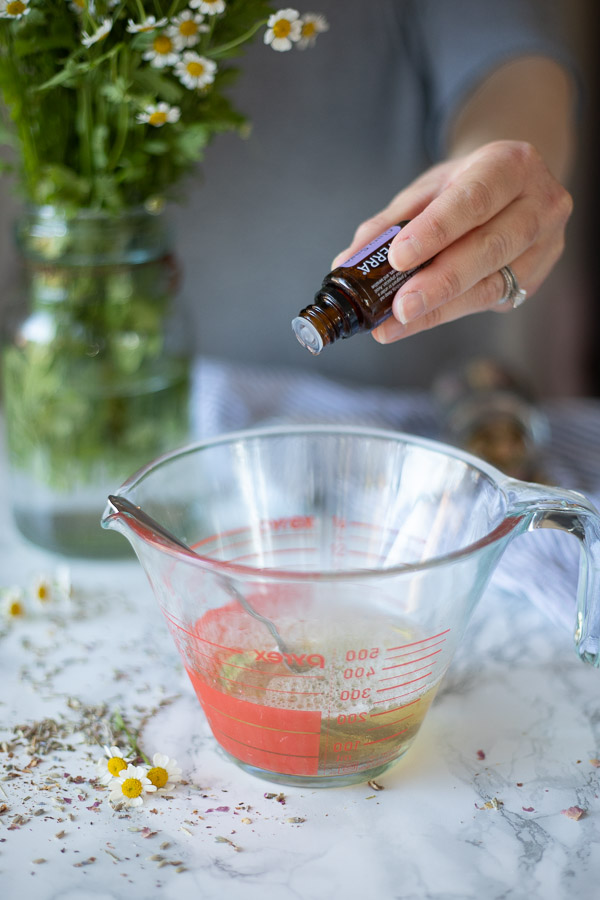 Step 4: Pour into a soap dispenser and you are ready to go. Super simple right?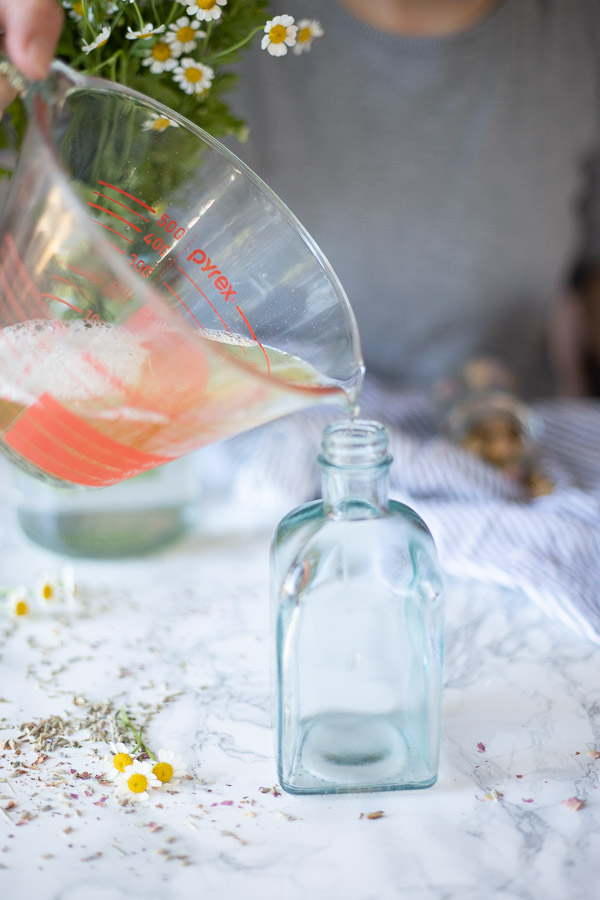 To use:
Use as you would normal body wash. Squirting some into you hand while in the shower or bath, rub on your body and rinse.
If you don't have a foaming soap dispenser I would recommend squirting some into a fluffy mesh pouf to make it sudsier and last longer.
Find More Natural Body Products:
If you try this recipe and love it, I would love if you came back and gave it 5 stars! Tag me on Instagram @ablossominglife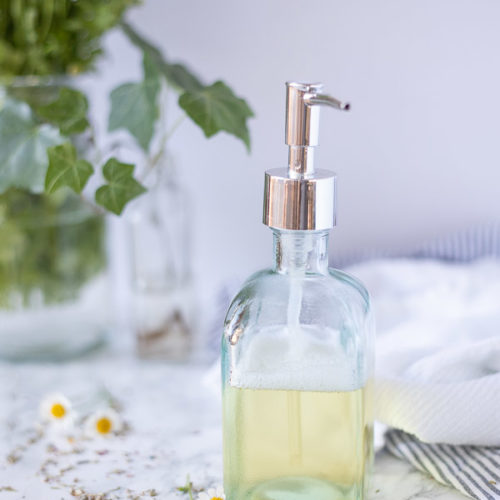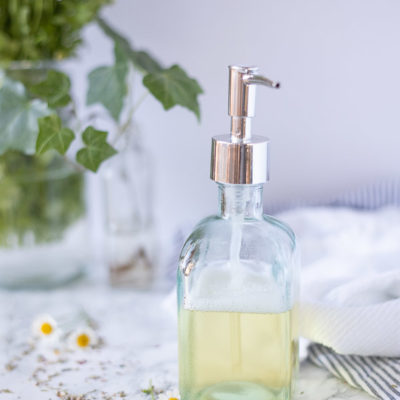 Ingredients
1/3

cup

distilled water

1/3

cup

castile soap

2

tbs

vegetable glycerin

10-15

drop

essential oils of choice
Instructions
To a bowl or measuring cup add water and castile soap.

Mix in vegetable glycerin until dissolved.

Pour into a soap dispenser and you are ready to go.