How to Make Elderberry Syrup – Cold & Flu Remedy
Homemade Elderberry Syrup contains potent immune-boosting compounds that have been shown to help shorten the length of time you're sick with a cold or the flu, and to reduce the severity of symptoms. This easy Elderberry Syrup recipe is a natural remedy to help fight the common cold, flu, and seasonal allergies. Follow this easy elderberry syrup recipe to help keep your family healthy this year.
Ingredients you will need: dried elderberries, water, raw apple cider vinegar, and honey.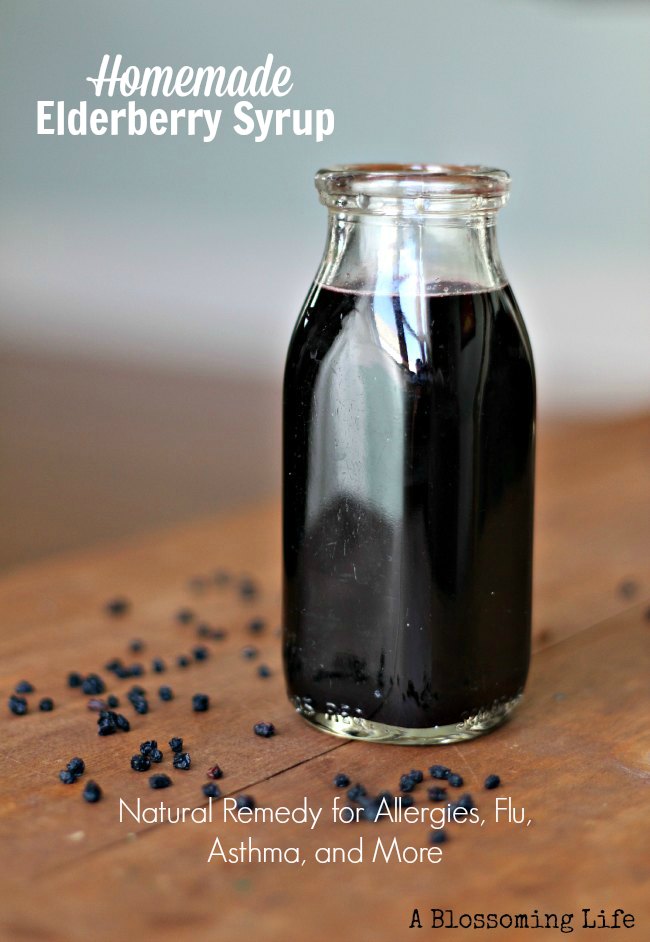 Growing up I had terrible allergies and asthma, which always lead to me getting sick. I was constantly sick as a child. About once a month, I would have a horrible seasonal allergy issue, which would inevitably lead to a sinus infection, and then I would be given antibiotics.
When I first wrote this article nearly 5 years ago, I had just been to the allergist to find out what I was allergic to, and they told me if there was a prize for being the most allergic, I would win. Sad, right? I'm pretty sure that's a trophy no one wants.
Constant allergies and illness have burdened my life for a long time. Thankfully, with diet changes and a switch to a more natural lifestyle, I rarely get sick now, and when it does happen, it doesn't last long.
When my family starts getting sick, we instantly make some of this elderberry syrup and start taking it. My family recently came down with a bug from traveling to visit my parents, of course, I got hit the hardest.
My mom got sick right about the same time. I think we all just shared our germs together… true family love. We started our elderberry syrup; she did not. She was sick for about two weeks, while we were sick for about 3-4 days.
You know what else? My mom even told me that every time she gets sick, it lasts about 2 weeks, and she couldn't believe how fast my family got over our illness.
Thankfully, there are natural remedies that we keep on hand when we start to get sick. Elderberry is a major one.
Benefits of Elderberries
The following are affiliate links. We are a participant in the Amazon Services LLC Associates Program, an affiliate advertising program designed to provide a means for us to earn fees by linking to Amazon.com and affiliated sites.
Elderberries Can Reduce Cold and Flu Duration
Elderberries have been shown to reduce cold and flu days when taken at the first sign of symptoms, within the first 48 hours of onset. This study treated patients suffering from the flu: one group got elderberry syrup and another group got a placebo.
The symptoms of the patients taking the elderberry syrup were relieved, on average, four days sooner than pf those taking a placebo. And, they were less likely to need rescue medication (Source).
In another study, travelers took elderberry syrup (or a placebo) 10 days before traveling, and stopped taking it 5 days after they came back. Those taking elderberry syrup had a statistically significant lower duration of a cold, and had less severe symptoms (source).
These little berries are full of nutrients, like vitamin A, vitamin B, vitamin C, iron, and potassium, that can help boost the immune system, and help prevent the cold and flu when taken regularly.
Elderberries can also help treat asthma and allergies, and decrease inflammation. This recipe in particular includes raw local honey and apple cider vinegar, which can help reduce the severity of seasonal allergies.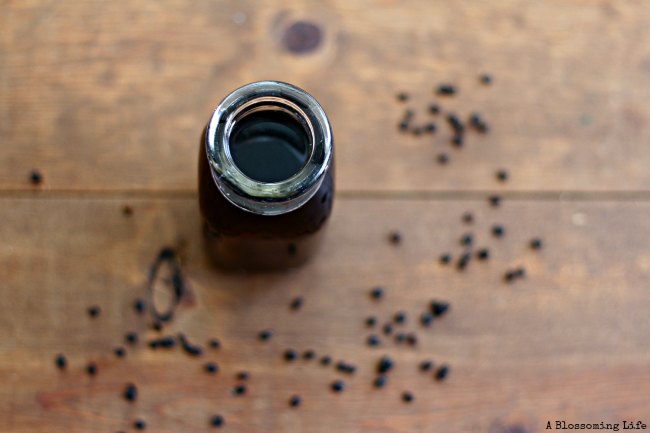 Elderberry syrup contains a concentrated form of elderberries, making it a more potent form. This tasty recipe also contains local raw honey, which has been shown to help boost the immune system and relieve seasonal allergies.
Honey is not recommended for children under the age of one. Always talk to a medical professional before giving any medicines to children or babies.
Substitutions For Elderberry Syrup
Since this recipe contains honey and it is not recommended for babies, you could substitute it with maple syrup, or just leave it out.
Apple cider vinegar is a strong flavor that many kids may not enjoy. You can also leave this out.
Sometimes I just use water and elderberries and leave out the other ingredients, making a more concentrated elderberry juice instead of syrup. It still has awesome immune-boosting properties.
Where Can You Find Dried Elderberries?
You can buy them online on Amazon (here), or Mountain Rose Herbs. If you'd rather buy local (awesome!), you can also find them in natural grocery stores. Many stores also carry pre-made elderberry syrup, but you will probably pay a pretty penny for it.
Can You Use Fresh Elderberries Instead Of Dried Elderberries?
Yes, but before you do, I would talk to a professional, as parts of the elderberry plant are dangerous (i.e. the stem, leaves, and green berries). Elderberries also should NOT be consumed raw. I prefer to stick to dry elderberries.
Elderberry Syrup Recipe Video Tutorial
You may also like:
Elderberry Syrup Recipe
Always talk to your doctor before taking any medications, including elderberry. I'm not a doctor, just a mom who likes to research natural remedies.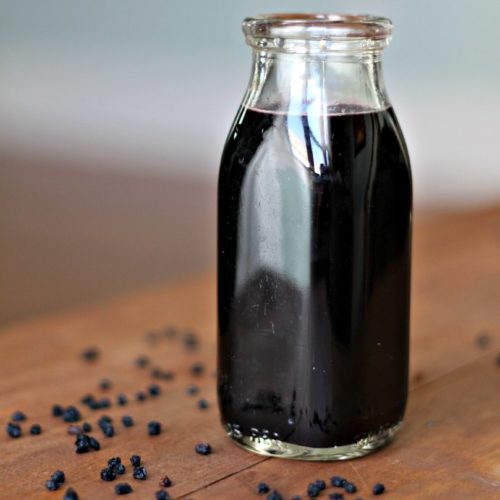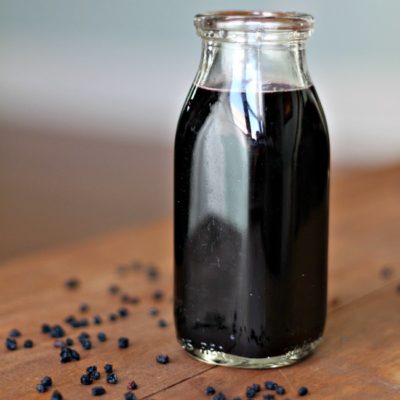 Elderberry Syrup
Homemade Elderberry Syrup is a natural remedy for cold, flu, seasonal allergies, and asthma. Elderberry syrup contains potent immune-boosting compounds that have been shown to help shorten cold and flu days and the severity of symptoms . Follow this easy elderberry syrup recipe below to keep your family healthy this year.
Print
Pin
Rate
Ingredients
1/2

cup

dried elderberries

3

cups

water

1

cup

local or raw honey

I chose local to get the allergy relief benefits

2/3

cup

Organic Raw Apple Cider Vinegar
Instructions
Fill a pot with water and dried elderberries. Bring to a boil and let boil for 30 minutes. Take off heat and mash elderberries up well (I used a potato masher). Strain out the liquid into a separate bowl using cheese cloth, a coffee filter, or something similar. Once strained, add honey to the elderberry liquid and stir well. Then, add apple cider vinegar. Place in a jar and put in the fridge for up 2 months or in the freezer up to 6 months.
Notes
To use:
Adults: 1 Tbs a day. During an illness you can take this every few hours. Children: 1/2- 1 tsp a day. You can take this straight or mix it with some water. If you're using this as a flu/cold medicine, you can take the same dose, but every hour instead of just once a day.
To use for allergies or cold/flu preventative:
Adults: 1 Tbs a day. During an illness you can take this every few hours.
Children: 1 tsp a day.
Babies: Do not give this to babies since it contains honey. Babies under one year are not advised to have honey.
You can take this syrup straight or mix it with some water.
* If you're using this during flu/cold, you can take the same dose, but every 2-3 hours instead of just once a day.
Cost-Effective Cold & Flu Remedy
This did not cost me very much to make. It was maybe $7 dollars for a large batch, and it makes me feel better that I am not ingesting a bunch of chemicals. I know exactly what is in it! Do you use other herbal treatments you take when you are sick?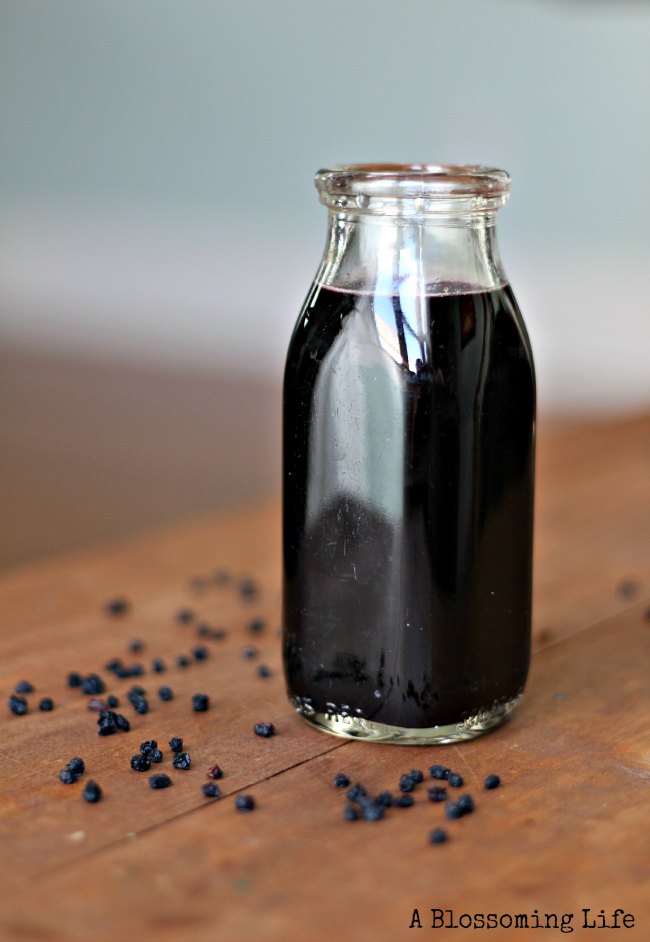 Have you used elderberry syrup before?
This post was updated November 2019