Healthy Pumpkin Pie Overnight Oats
This healthy pumpkin overnight oats recipe is a thick, creamy, and filling breakfast. Perfect for a quick grab and go breakfast when you are rushing out the door. It is made with simple ingredients and packed with nutrients and fiber to keep you full all morning.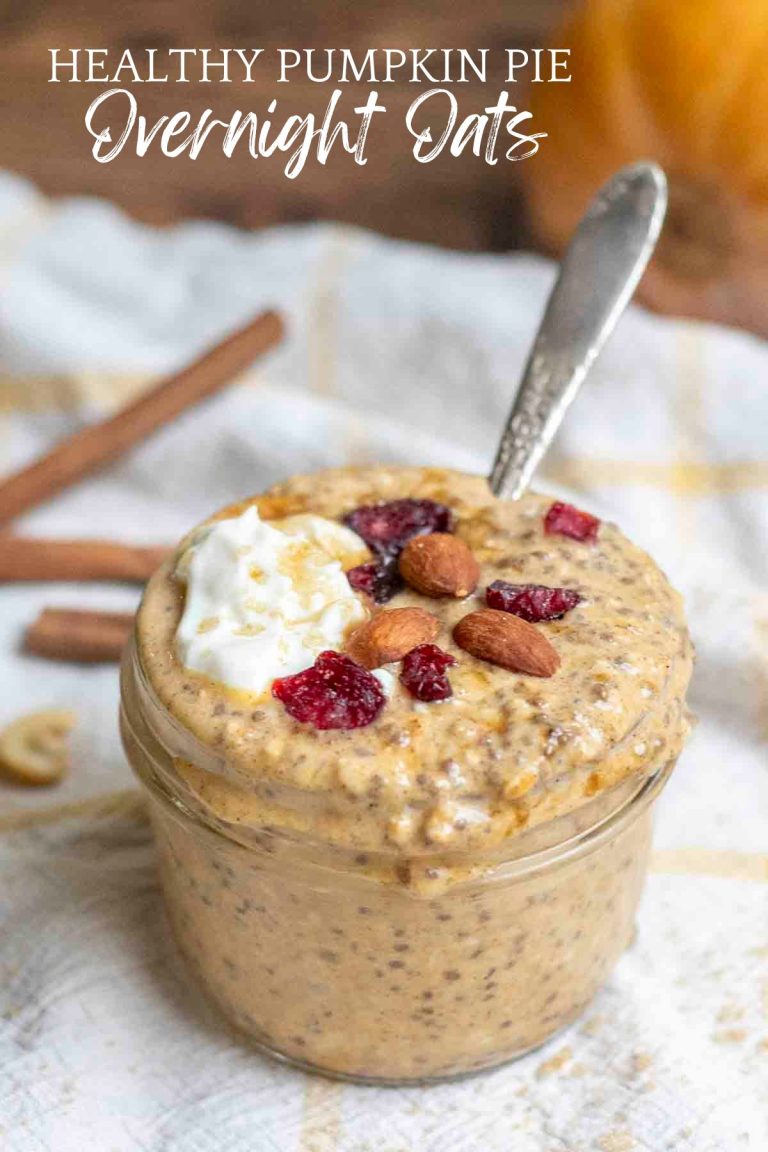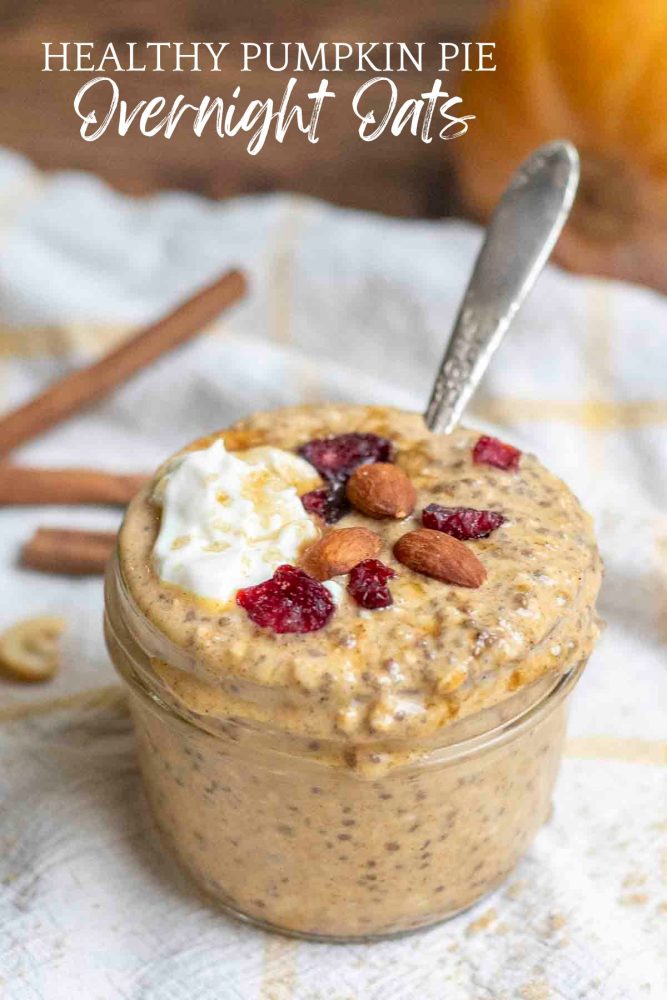 This morning, the air was downright crisp.
I put my jacket on and headed to the farmers market, where the sun and the air makes me excited for all things fall. I like to pretend it feels like fall earlier on, but this weekend really made it feel like fall is really here.
Now all we need is a million pumpkin recipes, like this pumpkin pie overnight oats.
I feel like I could bathe in pumpkin, which honestly, probably isn't a bad idea.
But, let's be honest. I need something easy. *Waving* Heyyy, new mom over here with a baby girl that has been anti-naps this last week or so! What a terrible thing. And mornings when I have to work can be rough.
So, eating something quick and easy is a must! Therefore, this recipe was born.
Yummy, creamy, and pumpkiny… Not a word, but you get the point. It's like eating a bowlful of fall.
Sweet and savory, this pumpkin pie overnight oats recipe is sweetened with banana and maple syrup. You could even add nuts for a little crunch. But that would give me a rash and swollen hands, so no nuts for me, please!
I hope you enjoy this delicious and creamy pumpkin spice overnight oats recipe as much as we do.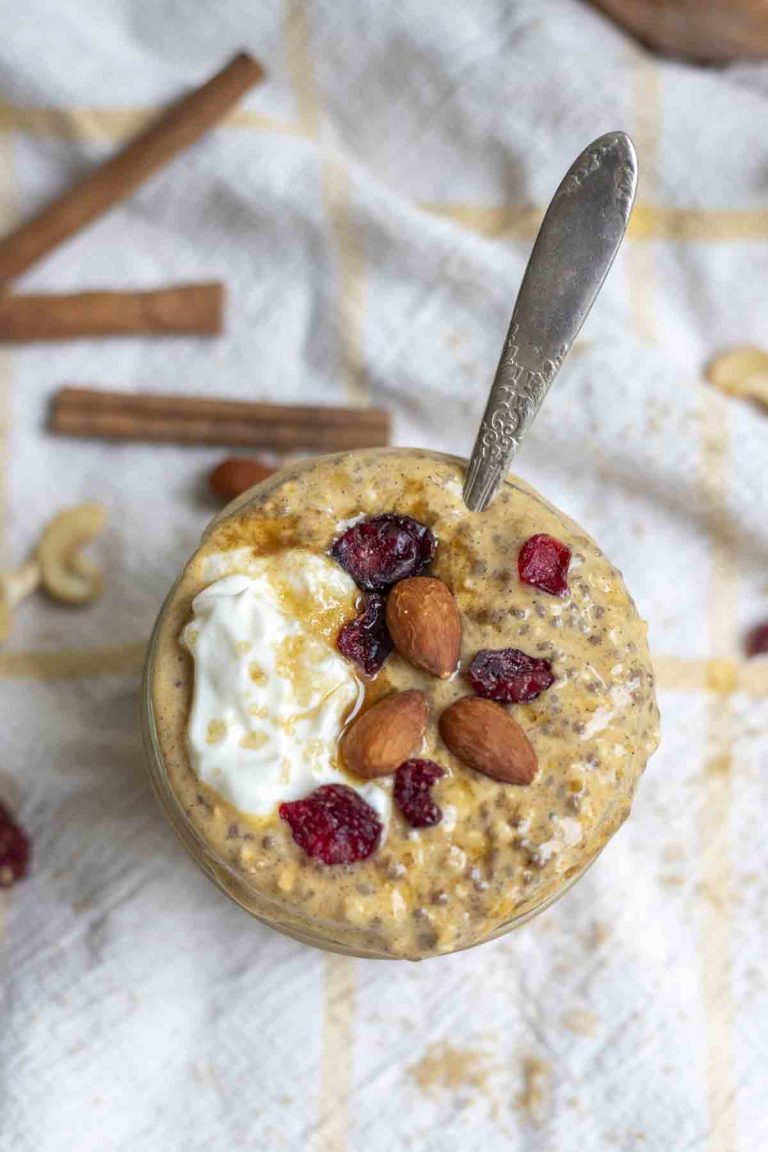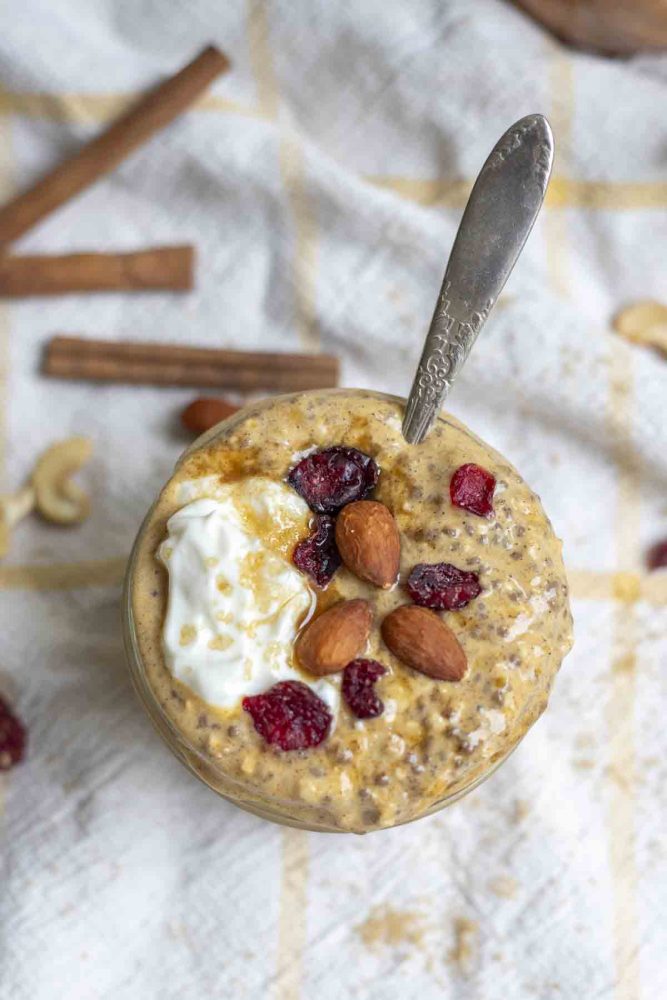 Recipe Highlights:
Super easy and delicious breakfast
Packed full of pumpkin flavor: If you are like me and obsessed with fall flavor this time of year, this recipe is perfect for you. Pumpkin pie spice gives this easy recipe a warm, yummy flavor.
Healthy: These vegan pumpkin pie overnight oats are rich in vitamins, minerals, and fiber.
Meal prep: Double or triple this recipe to meal prep for busy weekdays. Busy mornings will have nothing on you and you will feel a whole lot better eating this healthy breakfast option rather than stopping through the drive through or grabbing a granola bar.
The links in this post contain affiliate links and I will receive a small commission if you make a purchase after clicking on my link. See the full disclosure here.
Tips:
If the thought of cold oatmeal is not your cup of tea. You can definitely warm it up in a small saucepan or in the microwave.
This recipe is totally versatile for dietary and food preferences. Easily make it vegan, dairy free, gluten free, etc.
For a more complete breakfast that keeps you full all morning, add some protein. Collagen peptides, protein powder, and Greek yogurt are great options.
Tools you may need:
Mason jar
Measuring cups and spoons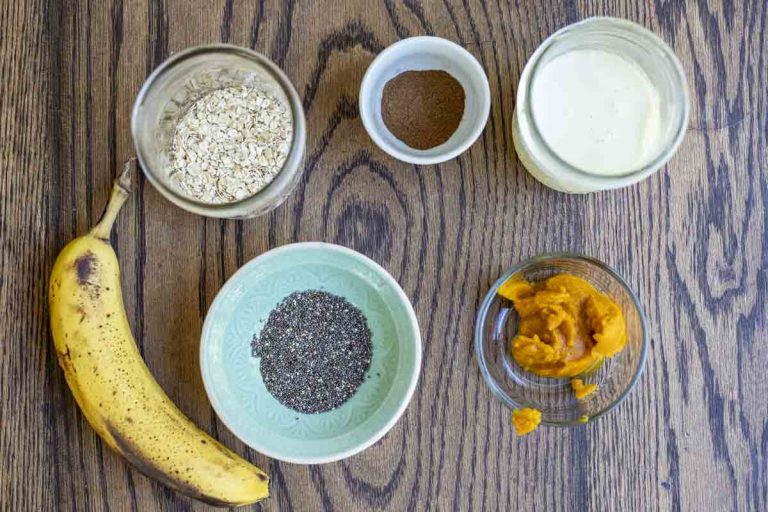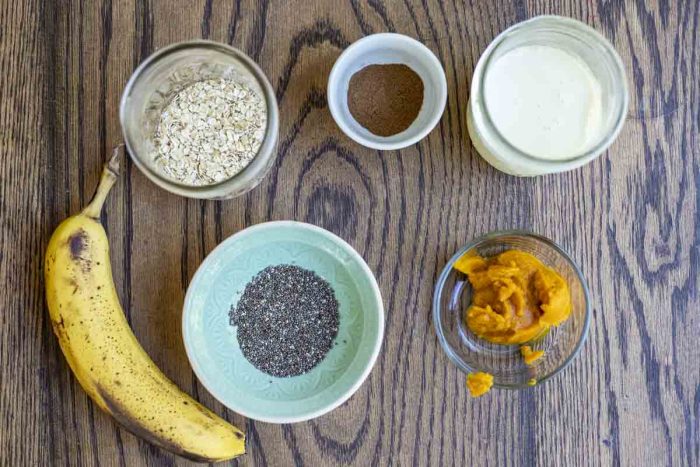 Ingredients:
Pumpkin purée: Canned or homemade pumpkin puree will work. You could also substitute with pumpkin pie filling, but you may not want to add as much maple syrup or brown sugar at the end.
Banana: The riper the better since they tend to be much sweeter.
Oats: Quick oats, rolled oats, and old-fashioned oats work best. If you want to use steel cut oats, I would recommend soaking them for 10 hours and then draining before starting this recipe. If you have celiac or gluten sensitivity, make sure to choose gluten-free oats.
Milk of choice: Choose a plant-based milk like Coconut milk, almond milk, oat milk, or cashew milk. Or use regular milk (I prefer whole milk). Whatever is your favorite.
Chia seeds
Pumpkin pie spice: If you do not have this, you can substitute with just cinnamon.
Sweetener: Touch of pure maple syrup or brown sugar (optional)
Salt: Just a dash of sea salt will do. This brings out all the flavors and sweetness.
Optional Add-Ins:
Give it a boost of protein: Add in a scoop of collagen peptides or your favorite protein powder. Protein + fiber is a magical way to keep you super full and satisfied.
Nuts or seeds: Almonds, walnuts, pecans, or whatever nuts you like.
Yogurt: I prefer whole milk. I'm not a fan of fat-free.
Swirl of nut butter
Fresh or dried fruit: I love dehydrating fruit from our homestead. Adding some dehydrated apples, plums, and blueberries would be delicious.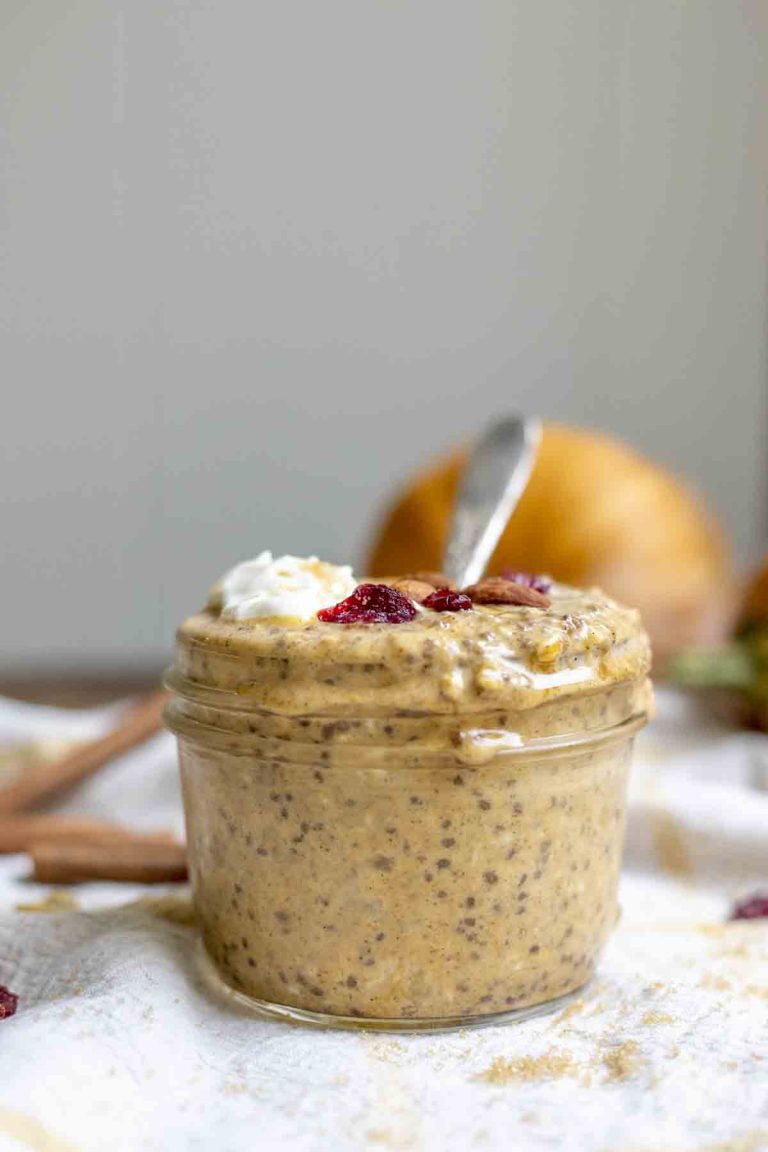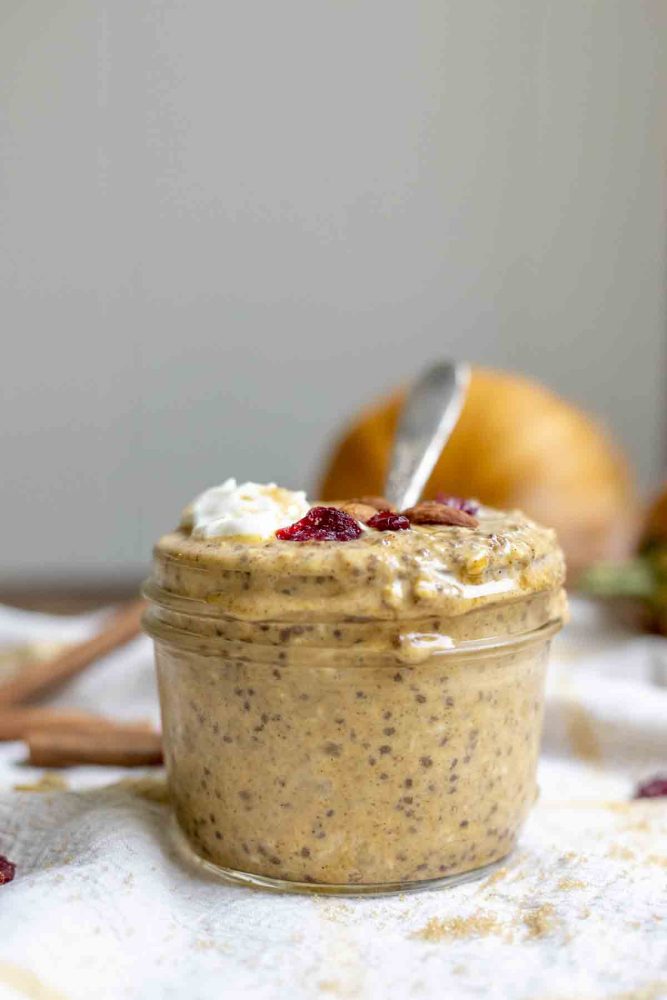 How To Make Pumpkin Overnight Oats:
In a bowl or jar, mash the banana with a fork.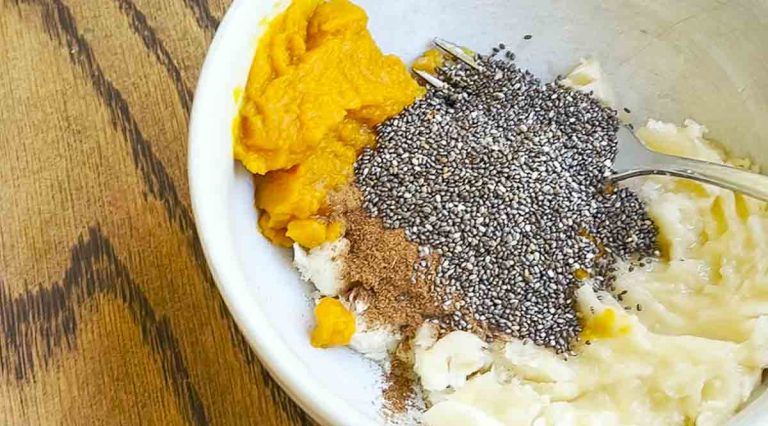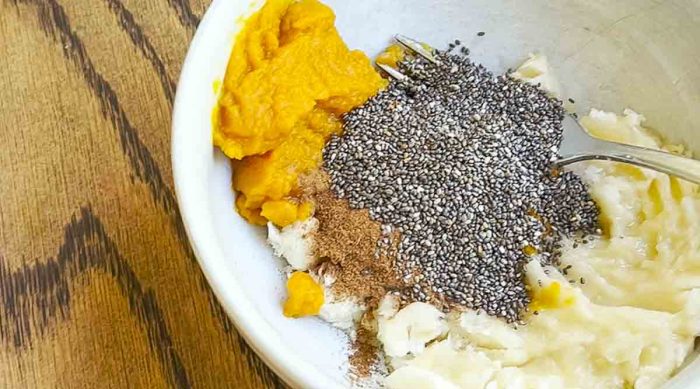 Mix together banana, pumpkin puree, and pumpkin spice until well combined.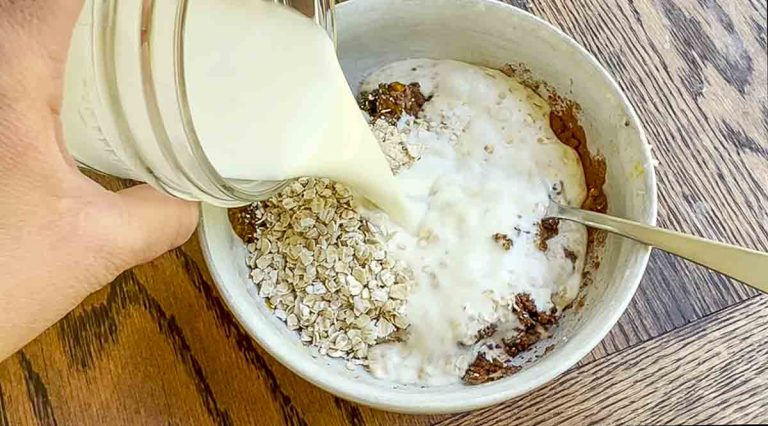 Add in chia seeds, oats, milk, and any other add-ins you would like.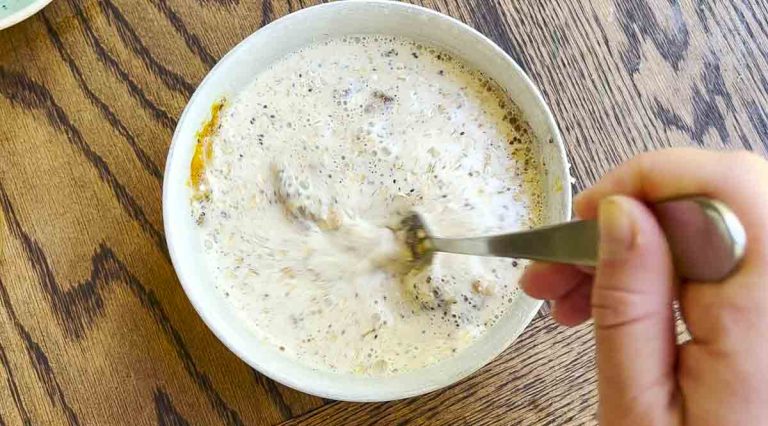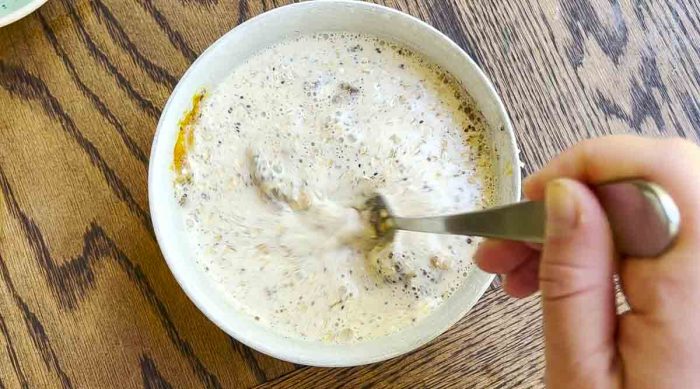 Mix well.
Cover and place in the refrigerator overnight or for at least 4-6 hours.
The next day, enjoy with your favorite toppings: a drizzle of maple syrup, a swirl of almond butter, nuts, seeds, fresh fruit, or some yogurt.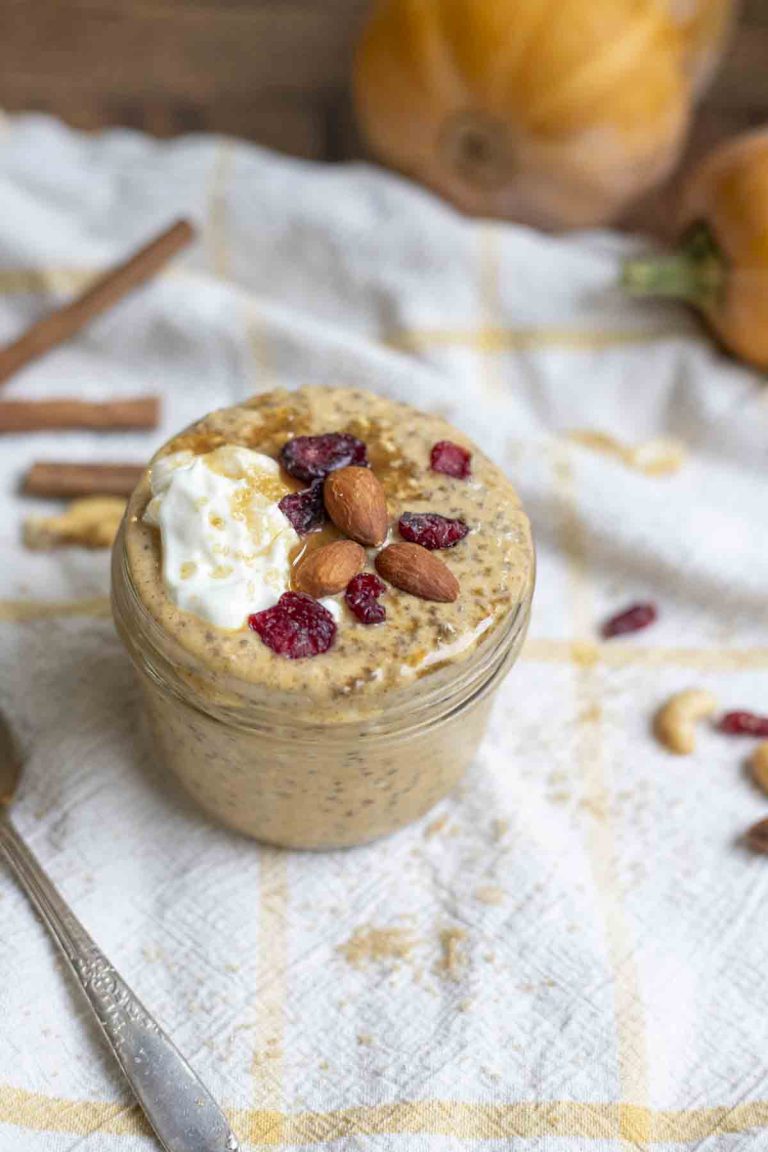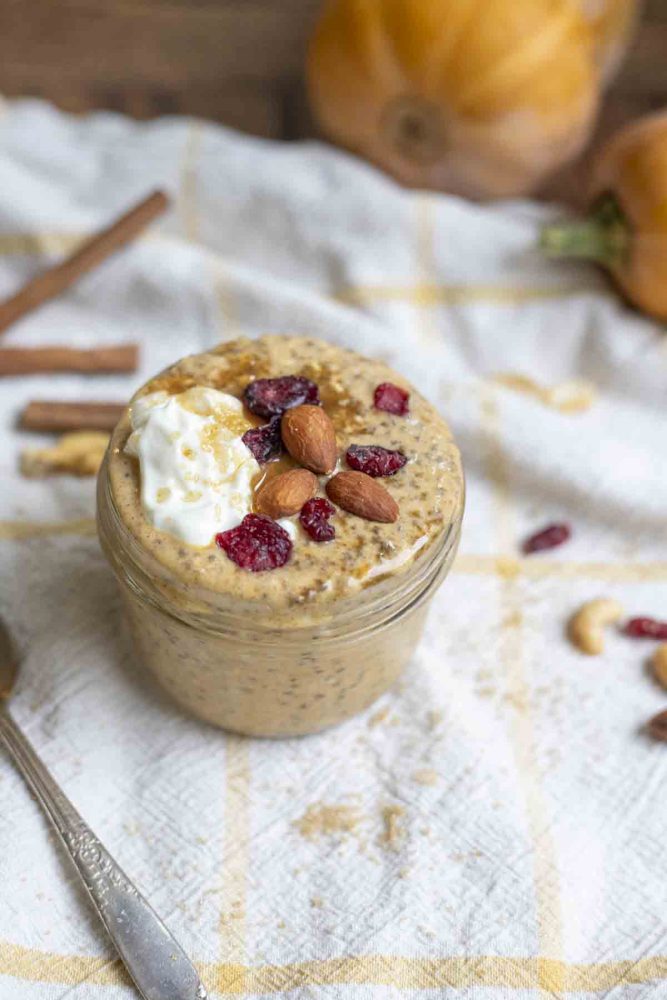 Storage:
Store in an airtight container in the fridge for up to 5 days.
You can also freeze overnight oats for up to three months. If storing the jar of oats in glass- make sure to leave at least a 1-2 inch headspace to prevent the jars from cracking.
FAQ: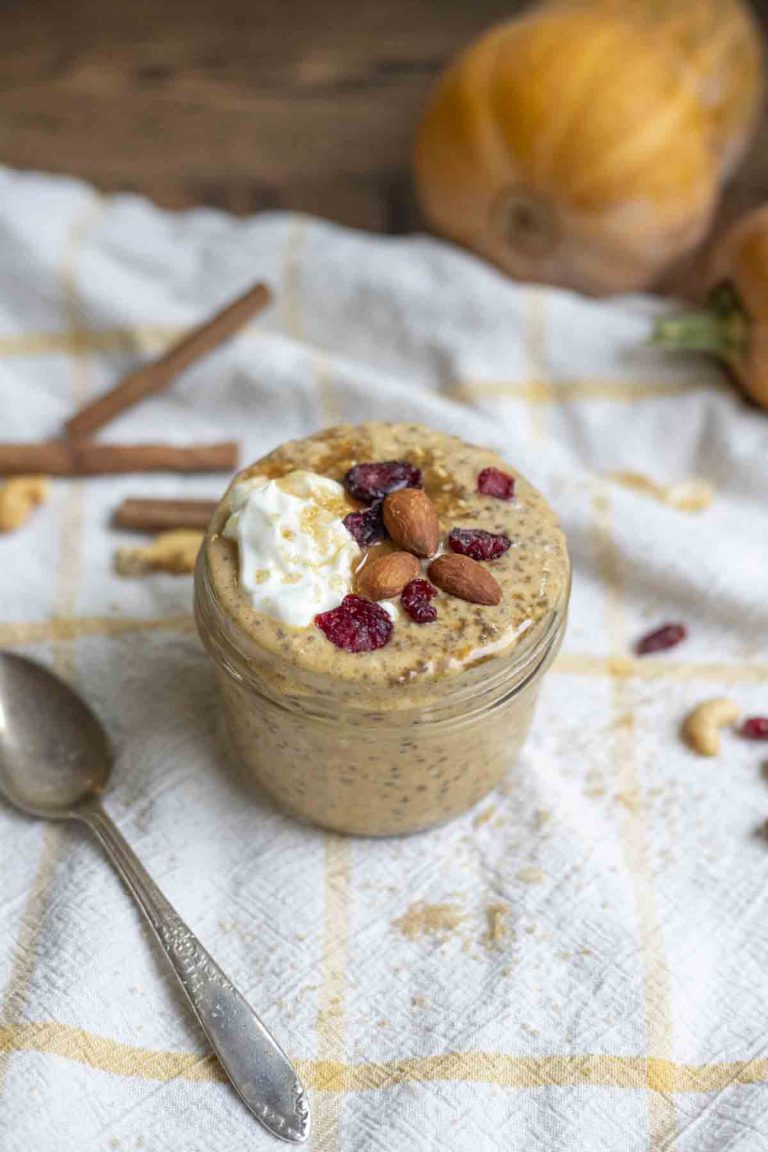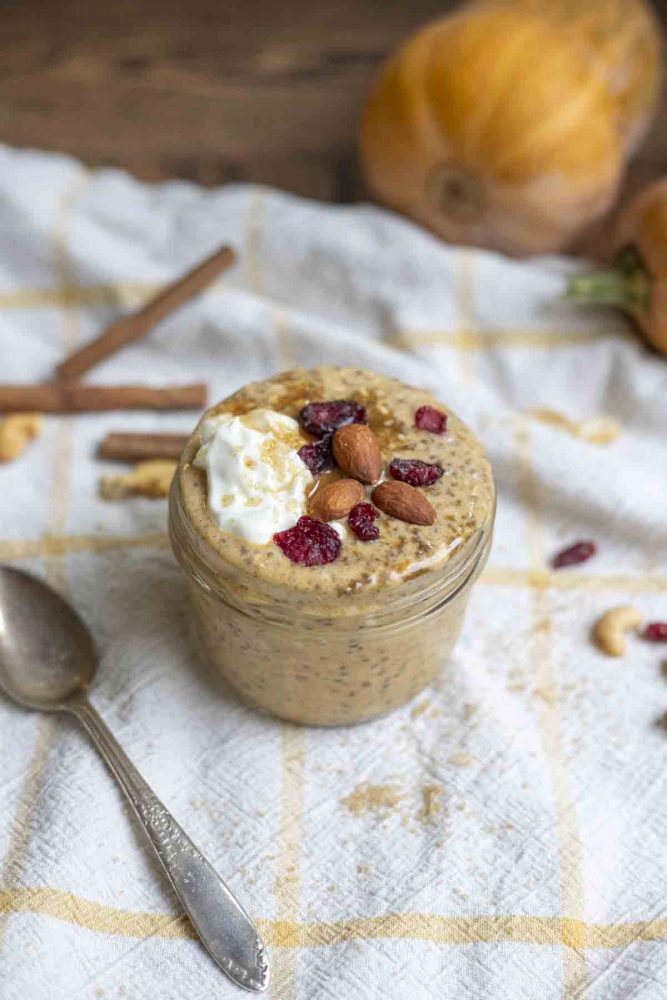 Is overnight oats actually healthy?
Yes. They are rich in fiber, minerals, vitamins, and healthy fats. Oats have been shown to reduce cholesterol. Pumpkin is also packed with fiber, antioxidants, vitamin A, potassium, and calcium.
Can I add pumpkin seeds to overnight oats?
Yes! Pumpkin seeds not only add some crunch, but also contain magnesium and protein.
Are overnight oats better for you than regular oats?
Yes. The nutrients are retained better without heating the oats.
Unfortunately, phytic acid isn't broken down much with overnight oats. In order to break it down, you would want to soak the oats at room temperature in water and an acid (apple cider vinegar, lemon juice, or whey) for 7-15 hours, drain, and then add the other ingredients.
Find More Easy Breakfast Ideas
If you try this recipe and love it, I would love if you could come back, comment on the post, and give it 5 stars! Please and thank you.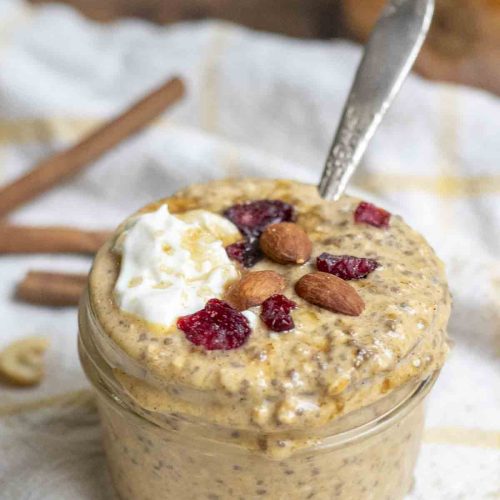 Pumpkin Pie Overnight Oats
Yummy, creamy, and full of pumpkin… It's like eating a bowl or cup full of fall. This sweet and savory this pumpkin pie overnight oats is sweetened with banana and maple syrup.
Print
Pin
Rate
Ingredients
1/4

cup

canned pumpkin puree

1

ripe banana

1/3

cup

oats

1

cup

milk

coconut, almond, or cows milk

1

Tbs

chia seeds

1.5

tsp

pumpkin spice

Touch of maple syrup or brown sugar

optional
Instructions
In a bowl or jar, mash the banana.

Mix together banana, pumpkin puree, and pumpkin spice until well combined.

Add in chia seeds, oats, and milk. Stir.

Cover and place in the refrigerator overnight or for at least 3-6 hours, or overnight.

Enjoy with a touch of maple syrup (or a lot if you're into that).
Notes
You can add other toppings like nuts or pumpkin seeds to this recipe. Or even a spoonful of nut or seed butter, yogurt, etc.
For more protein and to stay full longer, you can add some protein powder or collagen.
Make this vegan by choosing plant-based milk.
Nutrition
Serving:
1
g
|
Calories:
441
kcal
|
Carbohydrates:
69
g
|
Protein:
15
g
|
Fat:
14
g
|
Saturated Fat:
6
g
|
Cholesterol:
24
mg
|
Sodium:
113
mg
|
Potassium:
1015
mg
|
Fiber:
12
g
|
Sugar:
29
g
|
Vitamin A:
10003
IU
|
Vitamin C:
13
mg
|
Calcium:
397
mg
|
Iron:
4
mg