Peanut Butter Overnight Oats
Peanut Butter Overnight Oats recipe is a simple and easy breakfast, perfect for busy mornings. Prepare at night and it is ready to grab and go in the morning. Follow my tips for making this recipe below and some delicious variations, like peanut butter and jelly overnight oats.
Breakfast isn't my favorite meal by any means, and I would probably skip if allowed.
But alas, the kids demand breakfast every. single. day for some reason… so we comply. By we, I mean my husband, because I rarely ever make breakfast.
The only reason I would ever make it is if I accidentally make pumpkin muffins, granola, or blackberry bread in the afternoon and we happen to eat it the next morning for breakfast.
Then, being an awesome wife, I make my husband acknowledge the fact that I made breakfast. Haha. "See I make breakfast sometimes!"
Jokes aside, he makes breakfast so I can work before the kids are up. It's very sweet of him.
The best part about this recipe is that it can be prepped the night before, pulled out of the fridge in the morning and it is totally done! Score!
Tips For Making Peanut Butter Overnight Oats:
If you have a peanut allergy, swap out the peanut butter for sunflower butter or almond butter.
This recipe also works as a great snack. It needs a minimum of 3 hours in the fridge, so make it in the morning and you have a healthy snack for after lunch or school.
You can dress this recipe up a few ways. Find some of my favorite ways below.
You can use any milk you would like, whether it be a plant-based milk or cows milk. If you use a sweetened milk, than you may want to adjust the amount of maple syrup.
If you have celiac disease or are strict gluten free, make sure to use certified gluten free oats. Regular oats can easily be cross-contaminated with gluten due to using the same equipment.
The following are affiliate links. We are a participant in the Amazon Services LLC Associates Program, an affiliate advertising program designed to provide a means for us to earn fees by linking to Amazon.com and affiliated sites.
Tools you may need:
Jar or bowl. I like using mason jars.
Measuring cups and spoons
Liquid measuring cup – eventually you may just eyeball it.
Fork
How To Make Peanut Butter Overnight Oats
In a jar or bowl, mash a very ripe banana. The riper it is the sweeter it is, therefor the tastier this recipe is.
Add in chia seeds.
Add peanut butter and vanilla. And Mix together.
Pour in oatmeal and milk. Mix well.
Cover and refrigerate for at least 3 hours. Preferably overnight.
Take out, add in any extras you would like and enjoy.
Fun Add Ins For Peanut Butter Overnight Oats
Chocolate chips
A spoonful of strawberry, grape, or raspberry jam! Hello peanut butter and jelly oats!
Diced fresh fruit – bananas, apples, or pears would work wonderfully. I would wait to add them in the morning.
Add a scoop of collagen peptides for a extra boost of protein. If vegan, use a small scoop of your favorite vanilla protein powder.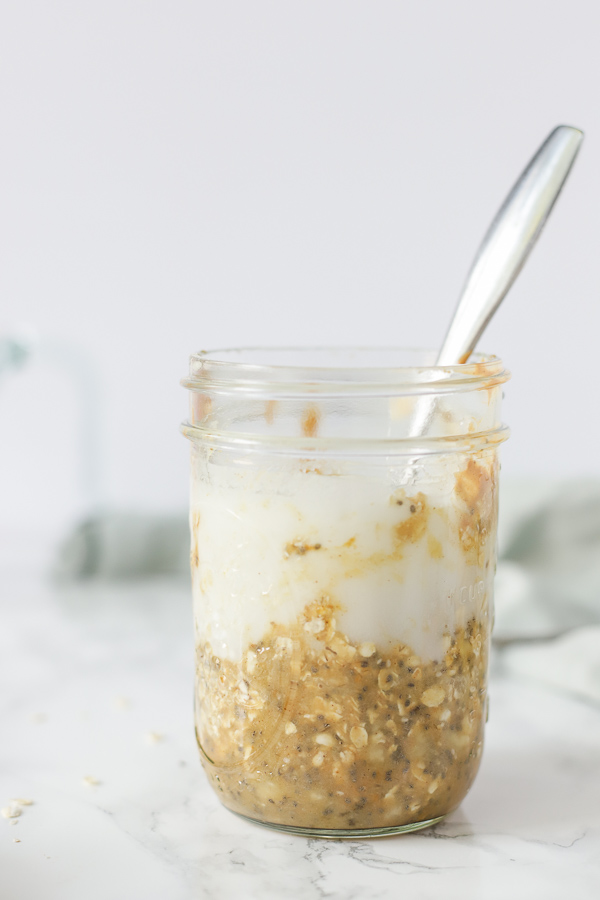 Peanut Butter Overnight Oats FAQ
What are overnight oats?
They are oats that have been soaked overnight in a liquid, usually milk (regular or plant-based), and then eaten.
Do you eat overnight oats cold?
You can eat them hot or cold. Usually they are eaten cold so you can just grab them to go, but you can easily heat them up to eat them warm. Totally get it if cold oatmeal doesn't sound appealing.
What types of oats can you use?
Rolled oats work best, but I will also use quick oats and they work great. Steel cut oats may be too thick and won't soften enough to eat. Instant oats will get too soggy and mushy, so I wouldn't recommend.
How long does this recipe last in the fridge?
This recipe will last 2-3 days in the fridge no problem. You can double or triple this recipe and have breakfasts prepped for a few days! It doesn't get much easier than that.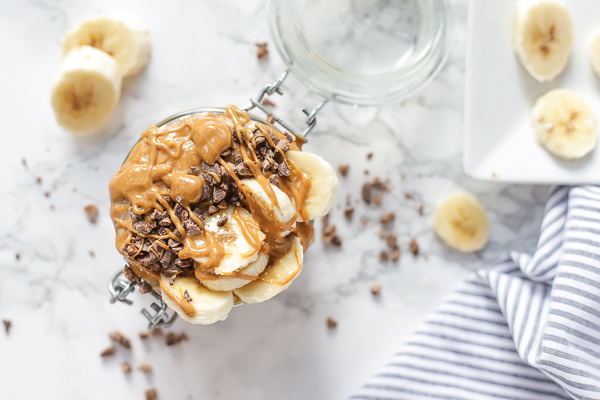 Are overnight oats healthy?
Yes! They may even be slightly more nutritious that regular oats. This is because they are soaked overnight which helps breakdown the phytic acid in the oats.
Phytic acid is a naturally occurring anti-nutrient that blocks the absorbing of certain nutrients, like magnesium. Soaking allows the nutrients in oats to be more absorbable to the body.
Soaking may also make them more easily digested. (source)
Plus, since bananas, chia seeds, and are milk included in the recipe it is packed with even more healthy ingredients. Protein, healthy fats, omega-3s, potassium, calcium, and much much more. There is much to love with this healthy breakfast.
Is adding peanut butter to oatmeal healthy?
Yes! Peanut butter is full of healthy fats and is a great way to add protein.
Is this recipe vegan?
If you use a plant base milk and add maple syrup (rather than honey), then yes it is vegan. If adding chocolate chips, make sure they don't contain milk or other non-vegan ingredients.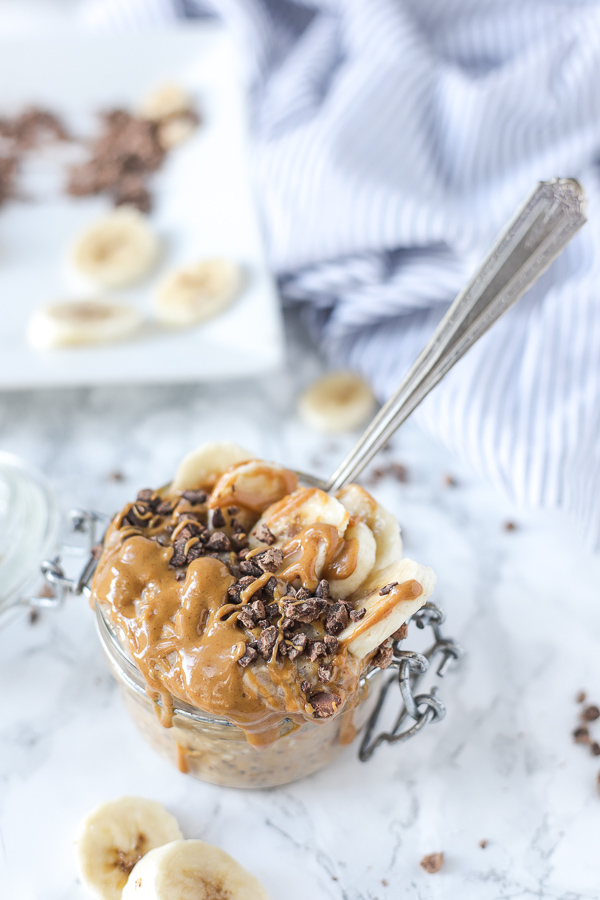 Find more delicious breakfast ideas:
Peanut Butter Overnight Oats Recipe
If you try this recipe and love it, I would love if you could come back, commented on the post, and give it 5 stars! Please and thank you.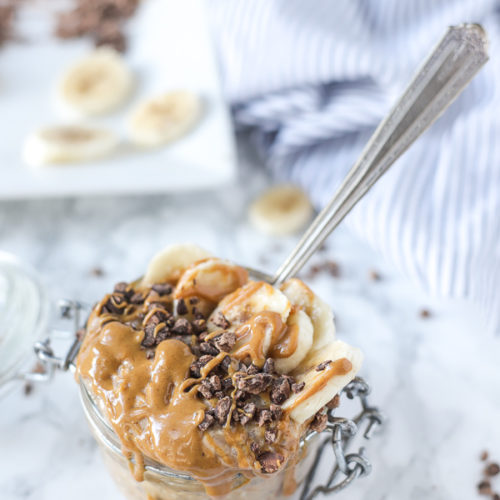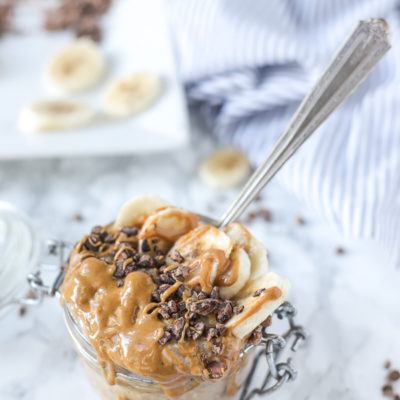 Peanut Butter Overnight Oats
Perfect on the go breakfast, these peanut butter overnight oats are packed with healthy ingredients to help you stay full and energized all morning long.
Print
Pin
Rate
Ingredients
1/3

cup

oats

3/4

cup

milk

regular, almond, coconut milk, etc.

1

banana

ripe

1

tbs

peanut butter

or more

1

tbs

chia seeds

1/2

tbs

maple syrup

or honey (honey is not vegan)

1/4

tsp

vanilla extract

1/2

tsp

cinnamon

optional
Instructions
In a bowl or mason jar smash a banana with a fork until finely smushed.

Add oats, chia seeds, peanut butter, and vanilla. Mix well.

Pour in milk and mix. Cover and put in fridge overnight.

Take out in the morning and eat. Serve hot or cold.

Nutrition
Serving:
1
g
|
Calories:
501
kcal
|
Carbohydrates:
70
g
|
Protein:
17
g
|
Fat:
20
g
|
Saturated Fat:
6
g
|
Cholesterol:
18
mg
|
Sodium:
157
mg
|
Potassium:
912
mg
|
Fiber:
11
g
|
Sugar:
32
g
|
Vitamin A:
372
IU
|
Vitamin C:
10
mg
|
Calcium:
319
mg
|
Iron:
3
mg
Are you a peanut butter lover?
Pin It For Later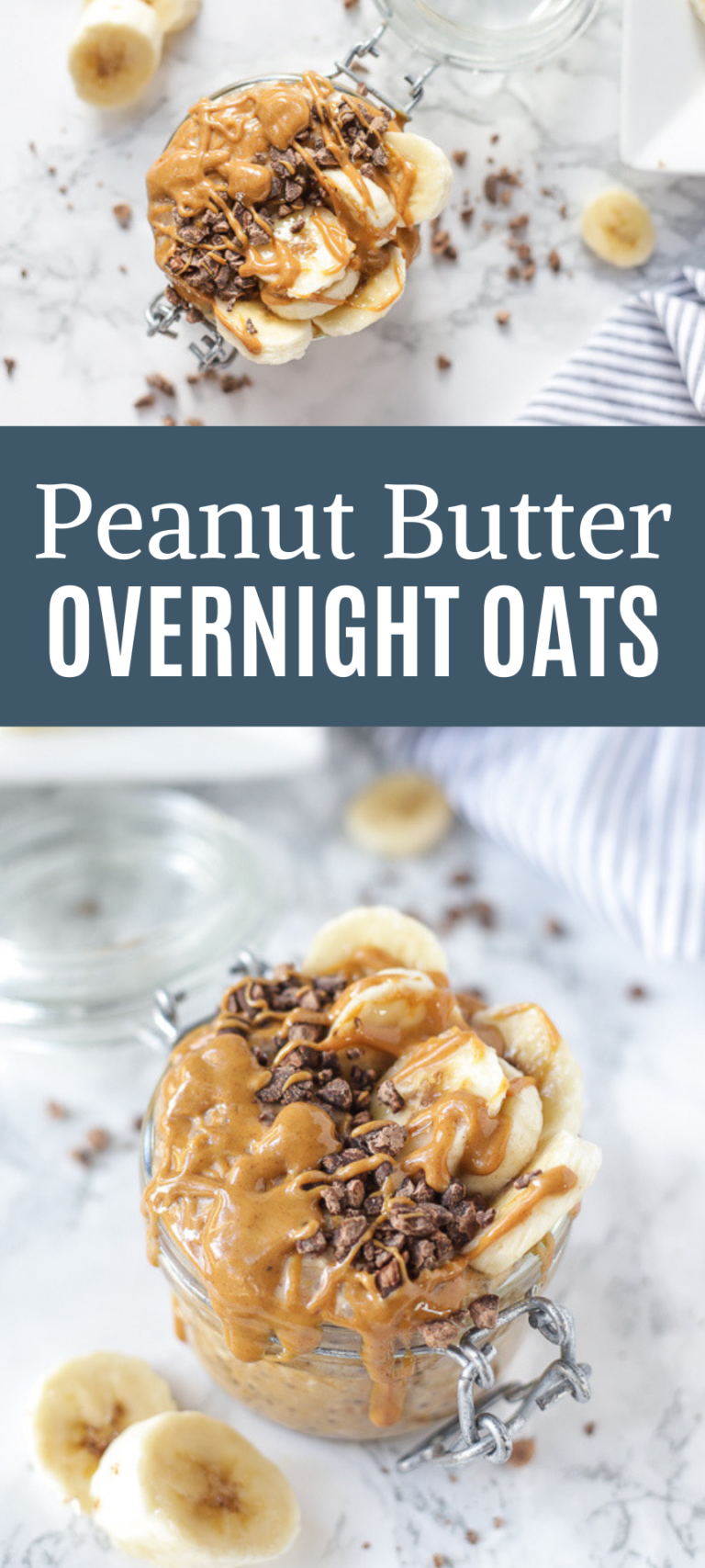 Originally published in August 2012. Updated October 2019.