Healthy Pumpkin Pie Smoothie Recipe
This creamy, protein-packed, and healthy pumpkin pie smoothie recipe is made with just a few simple nutrient-dense ingredients, all while capturing the essence of a traditional pumpkin pie.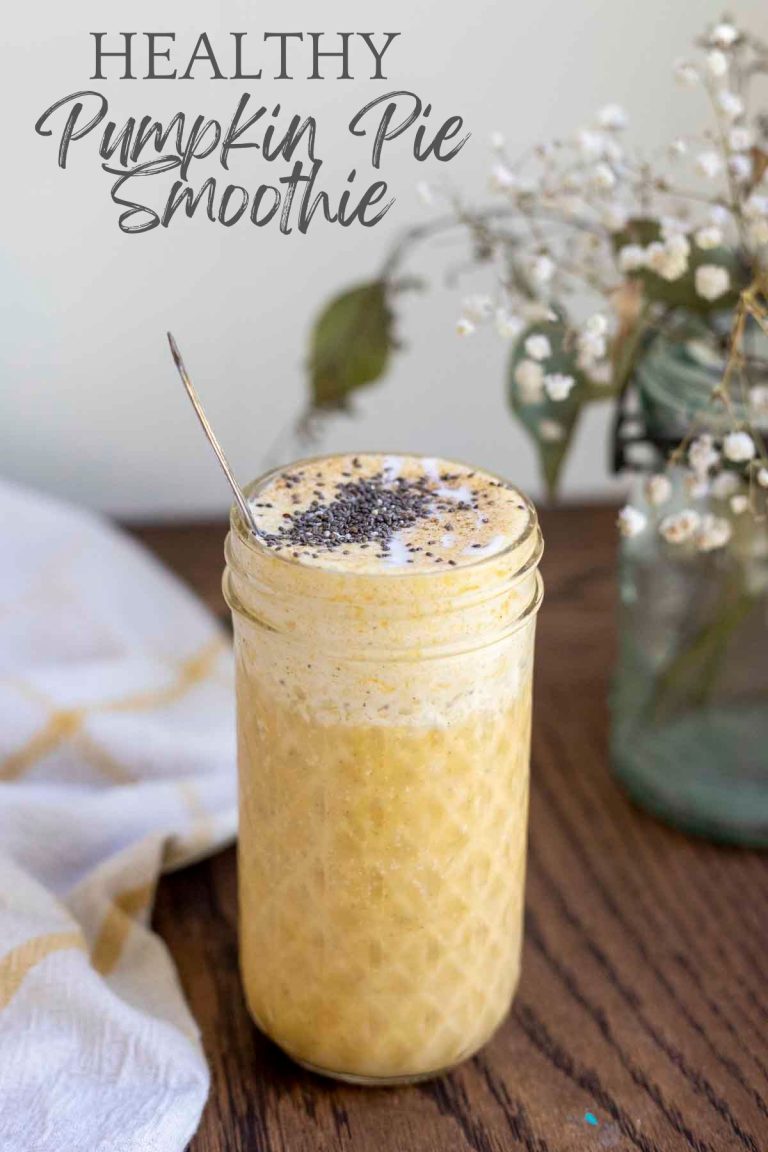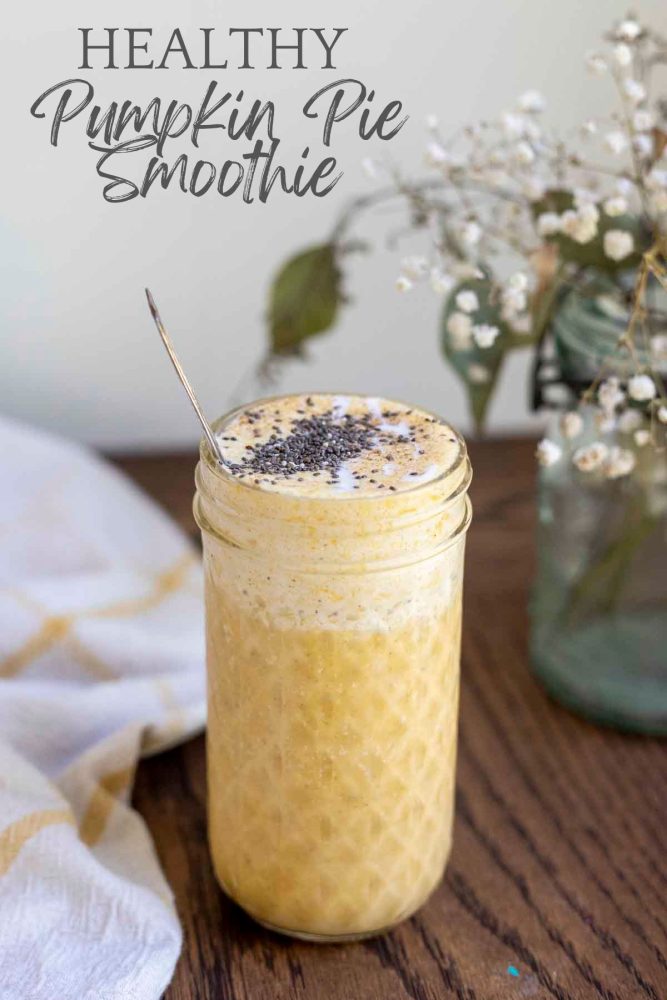 Pumpkin season may be my favorite time of year. It's not just the wonderful tastes of fall (hello pumpkin spice latte), but also the cool sweater weather, the mist over the mountains, and the wood stove roaring. The coziness the season brings.
This pumpkin pie smoothie recipe is the perfect way to hit that pumpkin spice cravings. Almost like drinking a slice of pumpkin pie, but a little bit healthier.
We drink a smoothie just about every single day in our house. It is such an easy afternoon snack that everyone loves and is an excellent way to get the kids to have some nutrient dense foods.
Plus, who can turn down a fun and tasty drink?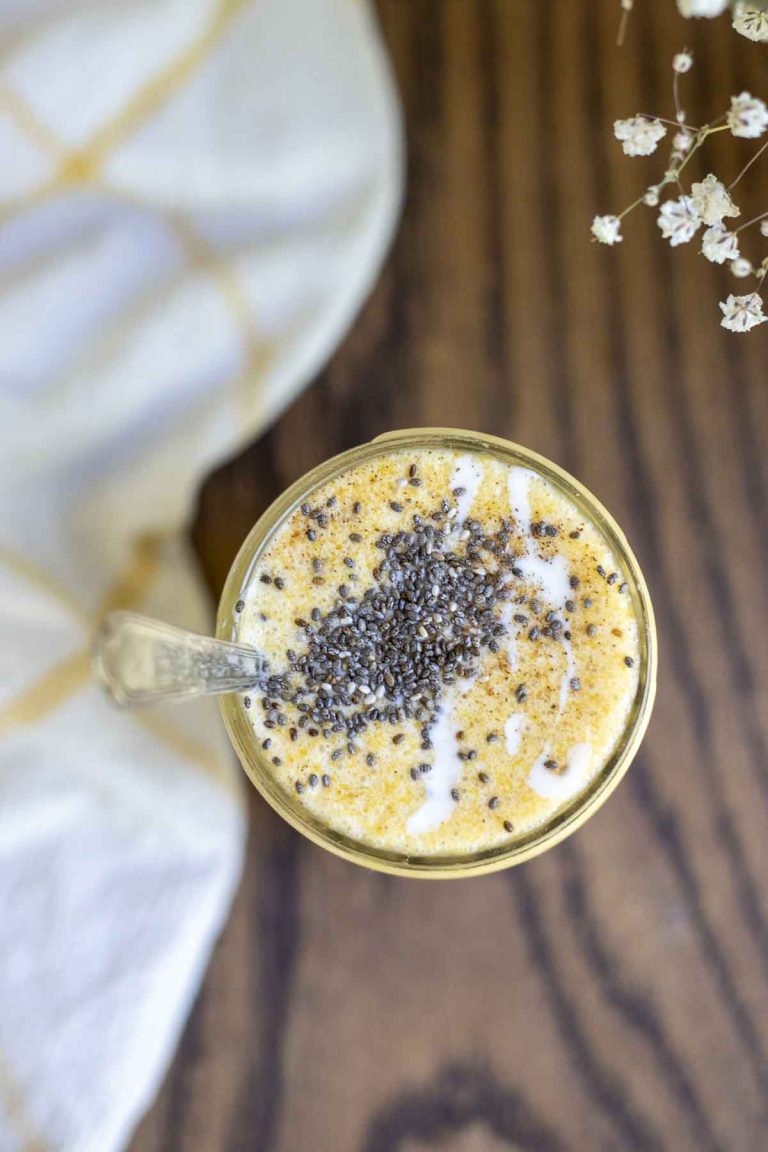 Why You Will Love This Healthy Pumpkin Pie Smoothie
Delicious: Creamy, sweet, and full of pumpkin spice flavors.
Simple: Just a few simple ingredients are thrown into a blender. It only takes a few minutes to whip up.
Healthy: Packed full of nutrients like vitamins, minerals, protein, and a boost of healthy fat. It's such a yummy and healthy drink.
The links in this post contain affiliate links and I will receive a small commission if you make a purchase after clicking on my link. See the full disclosure here.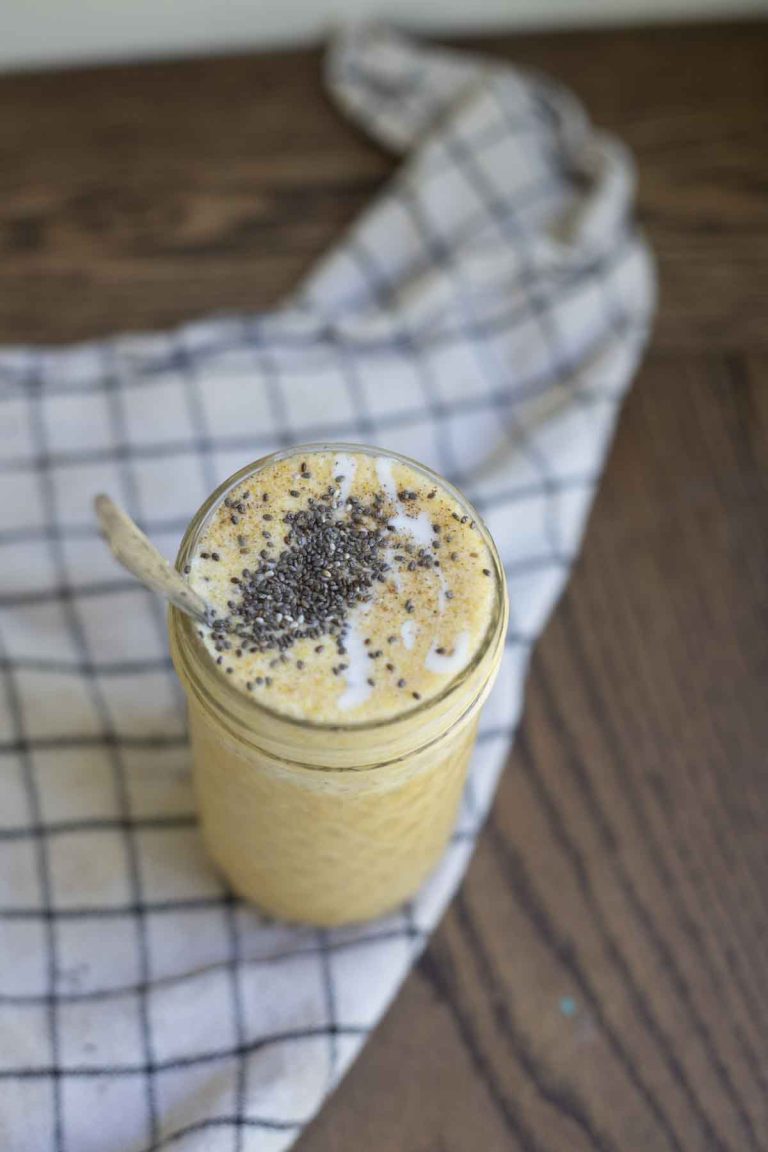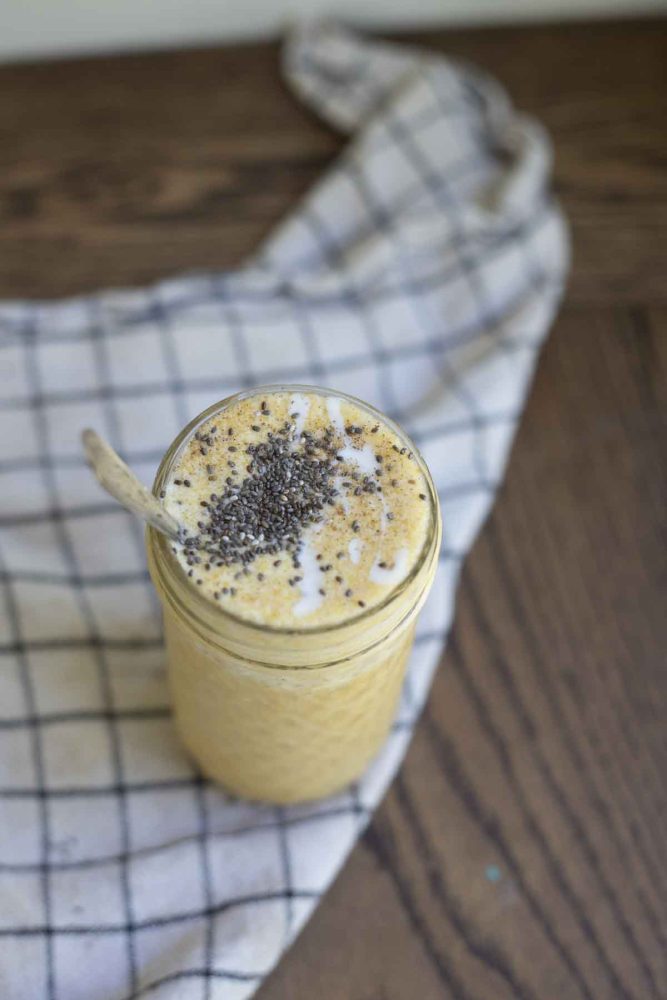 Tips:
Look for real pumpkin puree with no added sugars or preservatives. This will provide you with the most natural pumpkin flavor and ensure your smoothie is as wholesome as possible.
Canned pumpkin or make your own pumpkin puree from scratch by roasting a pumpkin. Avoid using pumpkin pie filling, as this typically contains added ingredients.
Pumpkin pie just wouldn't be the same without the warm, comforting flavors of cinnamon, nutmeg, and ginger. Start with a conservative amount and gradually add more to taste. Remember, you can always add more, but you can't take away. So, start small and build up until you achieve that perfect spiced flavor.
To take your pumpkin pie smoothie to the next level, consider adding a scoop of protein powder. Not only will this boost the nutritional value of your smoothie, but it will also keep you feeling satisfied and energized throughout the day. I love collagen peptides since they are flavorless, or opt for a vanilla or cinnamon-flavored protein powder to complement the pumpkin flavors.
Make it extra fancy by garnishing your pumpkin pie smoothie with a sprinkle of cinnamon, a dollop of whipped cream, peanut butter (or another nut or seed butter), . These little touches can make your smoothie feel like a truly decadent treat, while still keeping it relatively healthy.
If you like your smoothie a little sweeter, choose a super ripe banana and add a little pure maple syrup, brown sugar, or honey.
Health Benefits Of Pumpkin:
Pumpkin is rich in antioxidants, vitamins, and minerals, packing a nutritional punch that can help support a healthy lifestyle.
It's a great source of potassium, which is essential for maintaining normal blood pressure levels as well as aiding muscle and nerve function.
In addition to its high fiber content, which can help improve digestion, pumpkin is also an excellent source of vitamin A and C, which is essential for a strong immune system and can help eye function. (source)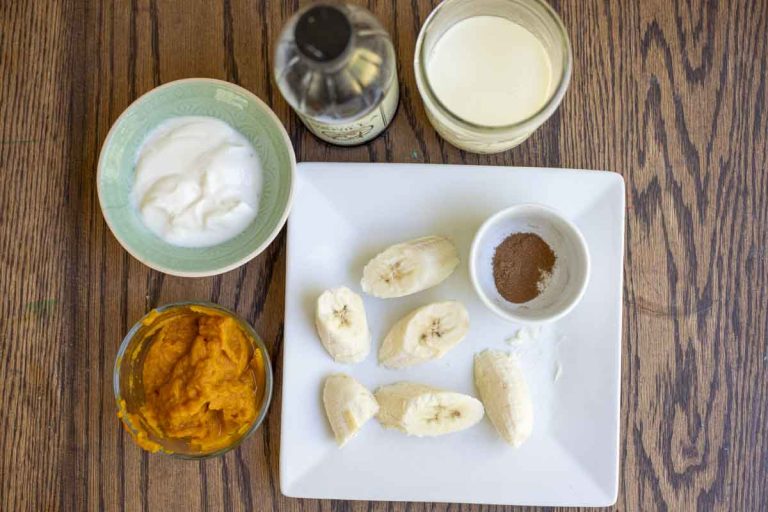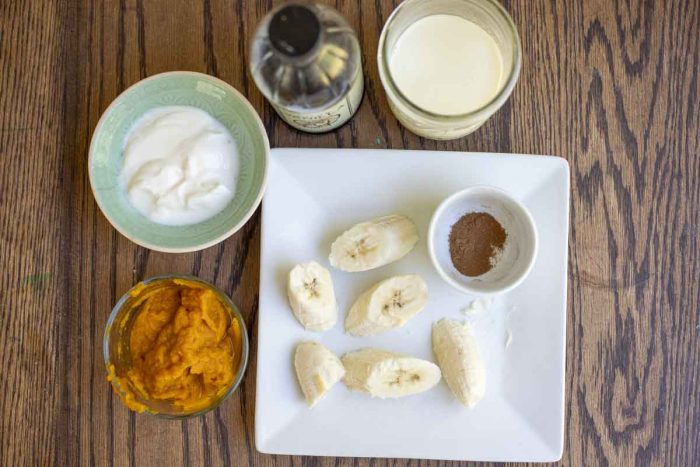 The Nutrient-Dense Ingredients:
Pure pumpkin purée: Packed with vitamins A and vitamin C, as well as fiber and antioxidants, pumpkin adds a rich and creamy texture to your smoothie while delivering a host of health benefits.
Its vibrant orange color is a clear indicator of its high beta-carotene content, which can support eye health and boost your immune system.
Vanilla yogurt: For more protein, you could use Greek yogurt. Not only does it contribute to the smoothie's velvety consistency, but it also adds a generous dose of protein. Protein is essential for building and repairing tissues, maintaining strong bones, and supporting overall growth and development.
Yogurt also contains live and active cultures, which can promote healthy digestion and boost your gut health.
Pumpkin pie spice: The essential ingredient to give it that pumpkin pie flavors. These warm and aromatic spices not only add a delightful taste, but also brings a range of health benefits to the table.
Cinnamon has been found to help regulate blood sugar levels, reduce inflammation, and even improve brain function.
Plus, its comforting aroma will transport you straight to the cozy ambiance of a pumpkin-filled kitchen. You could even make your own homemade pumpkin pie spice.
Milk: Choose whatever milk you like. Whole milk or favorite milk. For a vegan option, choose a non-dairy milk like oat milk, almond milk, cashew milk, etc. I usually opt for whole milk.
Frozen Banana: If you are crunched for time and don't have time to freeze the banana, just throw in a few ice cubes or frozen cauliflower (sounds weird, but you can't taste it).
Vanilla extract:​ Homemade or store-bought.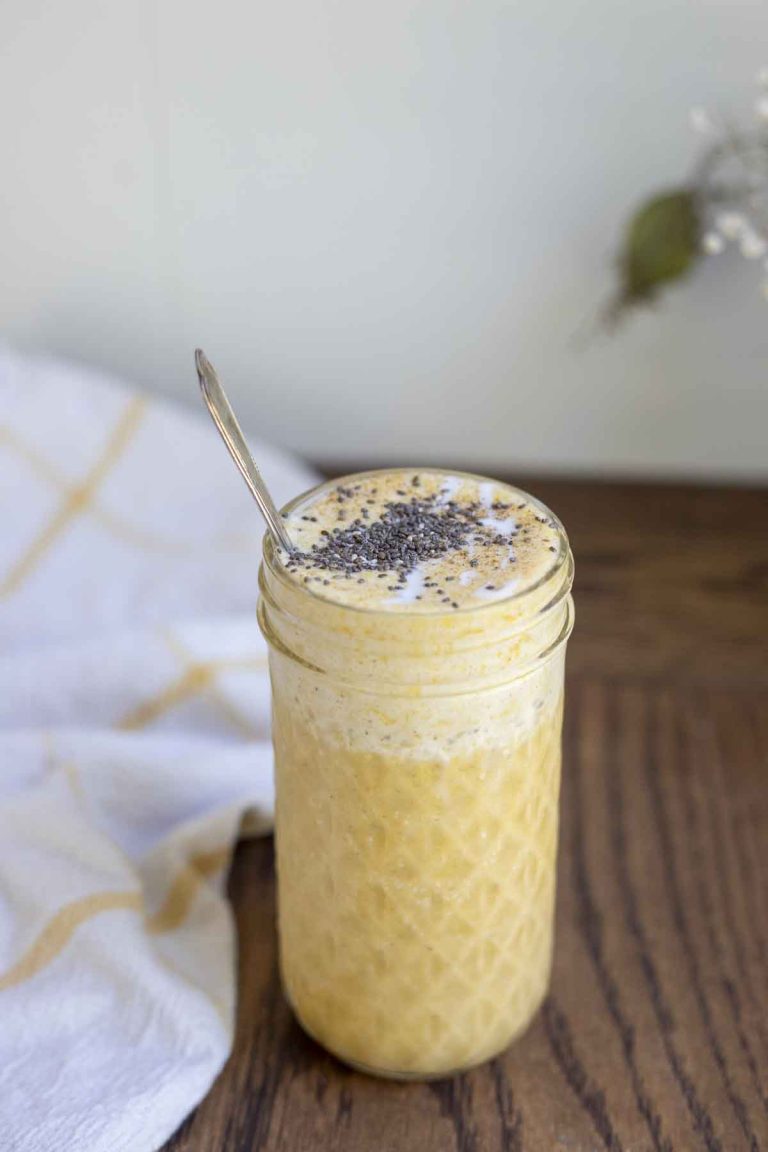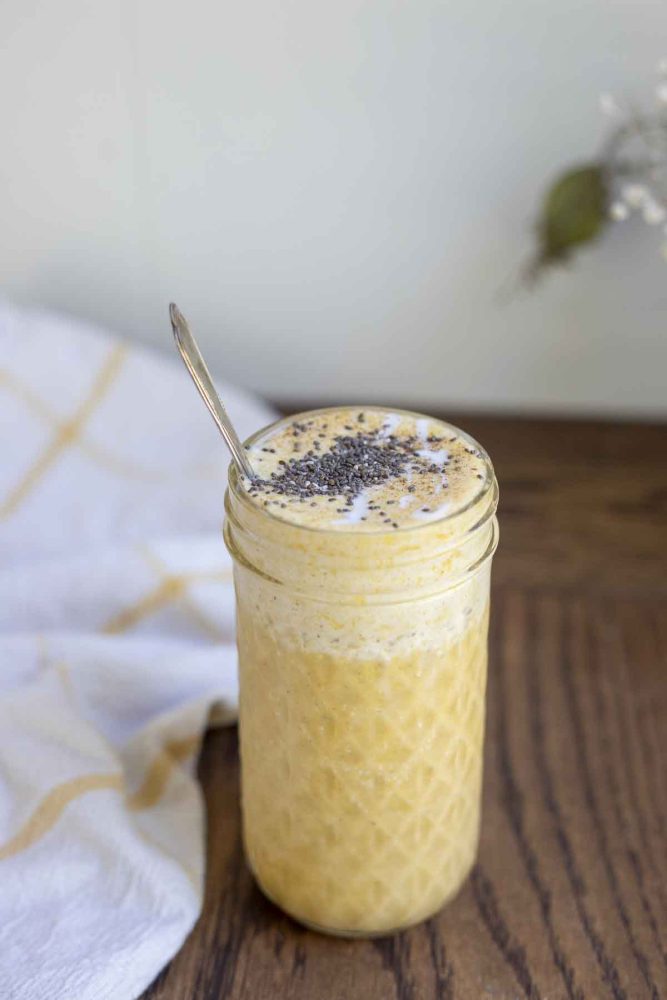 Other Add-Ins
Protein: I like collagen peptides, but vanilla protein powder would also work. If you choose vanilla flavor, I would suggest using plain yogurt or plain Greek yogurt.
​Frozen cauliflower: Don't knock it until you try it.
Nut butter: Add a dollop of almond, cashew, or peanut butter will make this super creamy and delicious.
Chia seeds: Great way to add fiber and some omega-3s.
Greens: I love adding a handful of spinach or a little bit of frozen spinach to my smoothies.
Seeds: Pumpkin seeds or hemp seeds are a great addition. You can just blend them right in.
Tools you will need:
Blender: I bought this one years ago (it was way cheaper back then) and I love it. I especially love that it has a glass jar.
Measuring cups and spoons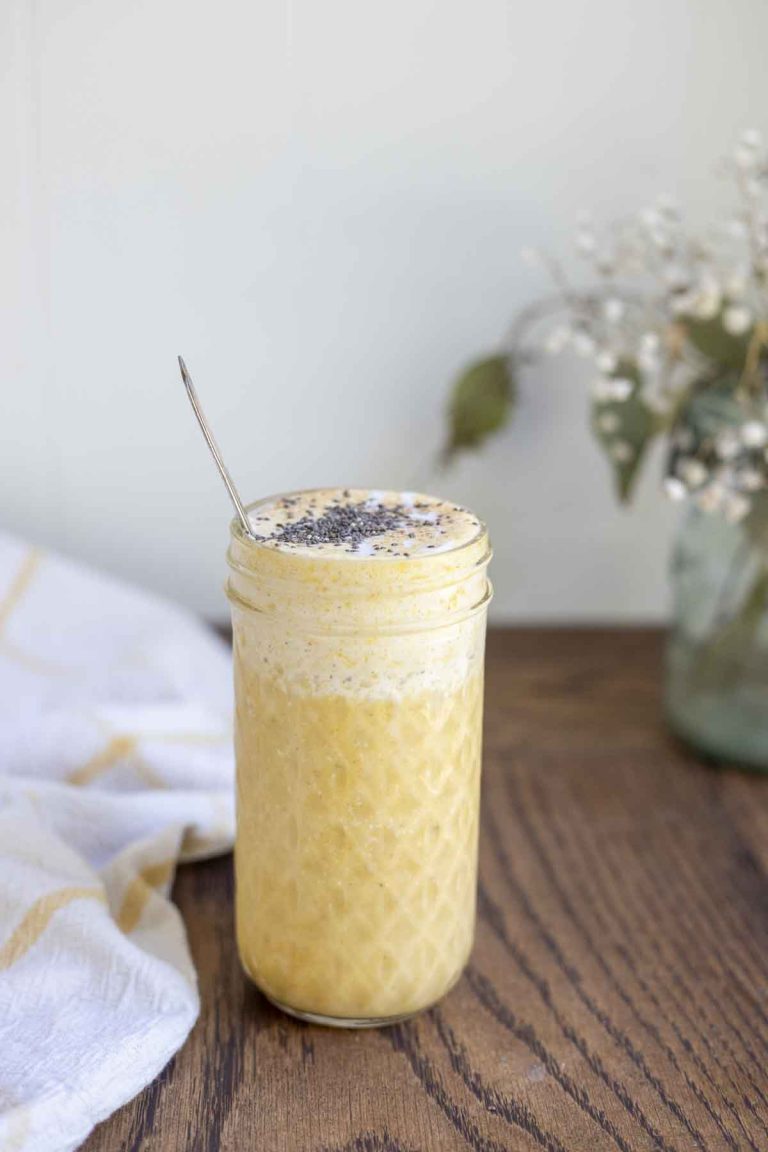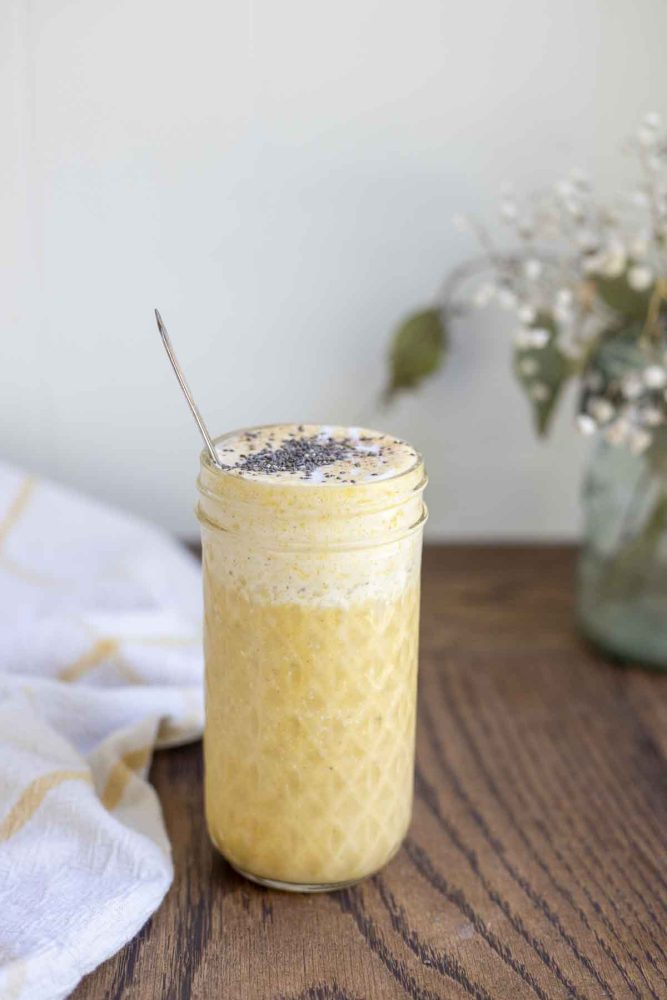 How To Make A Pumpkin Pie Smoothie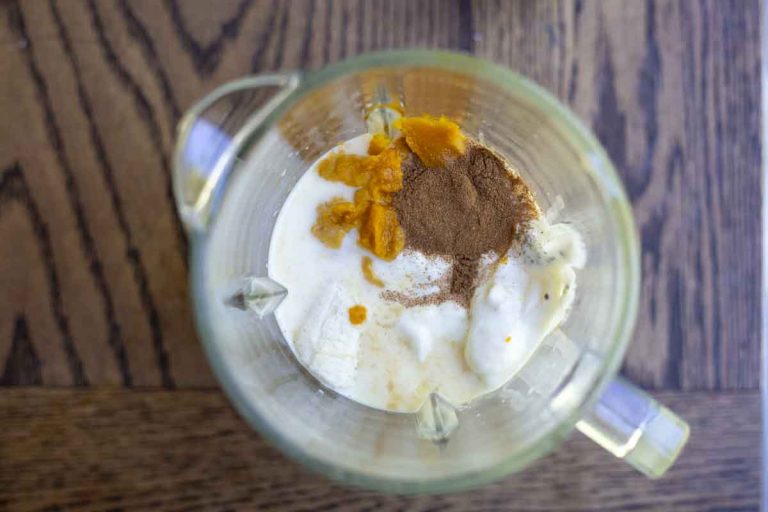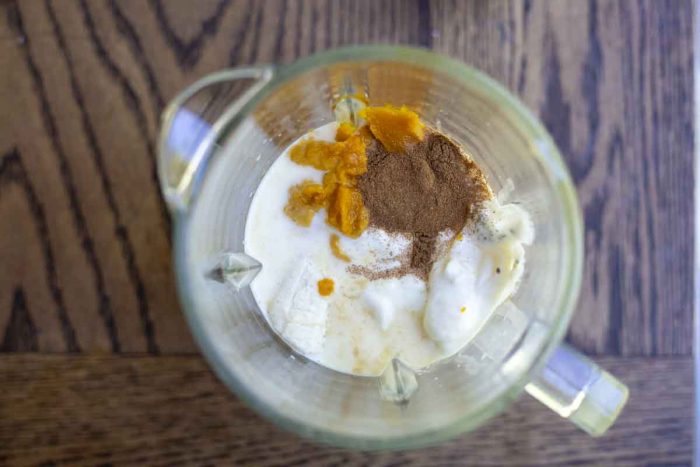 Add frozen banana, pumpkin puree, vanilla, pumpkin spice, milk, and any other add-ins. Blend until smooth.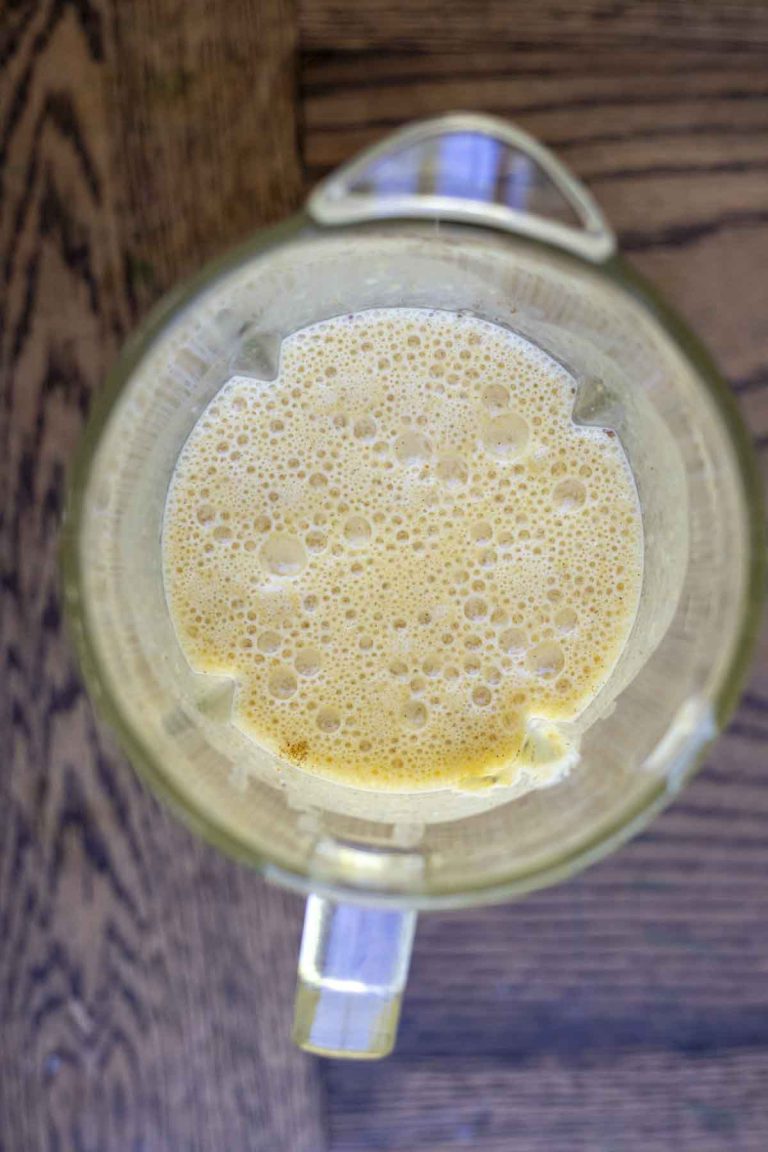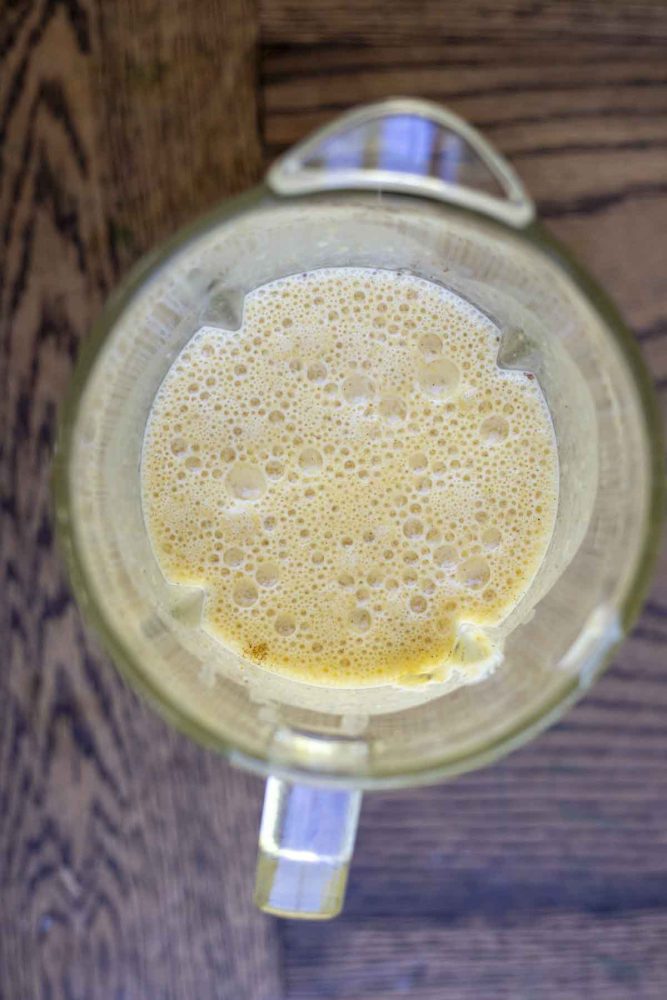 Pour into a glass and add any extra toppings you desire.
FAQ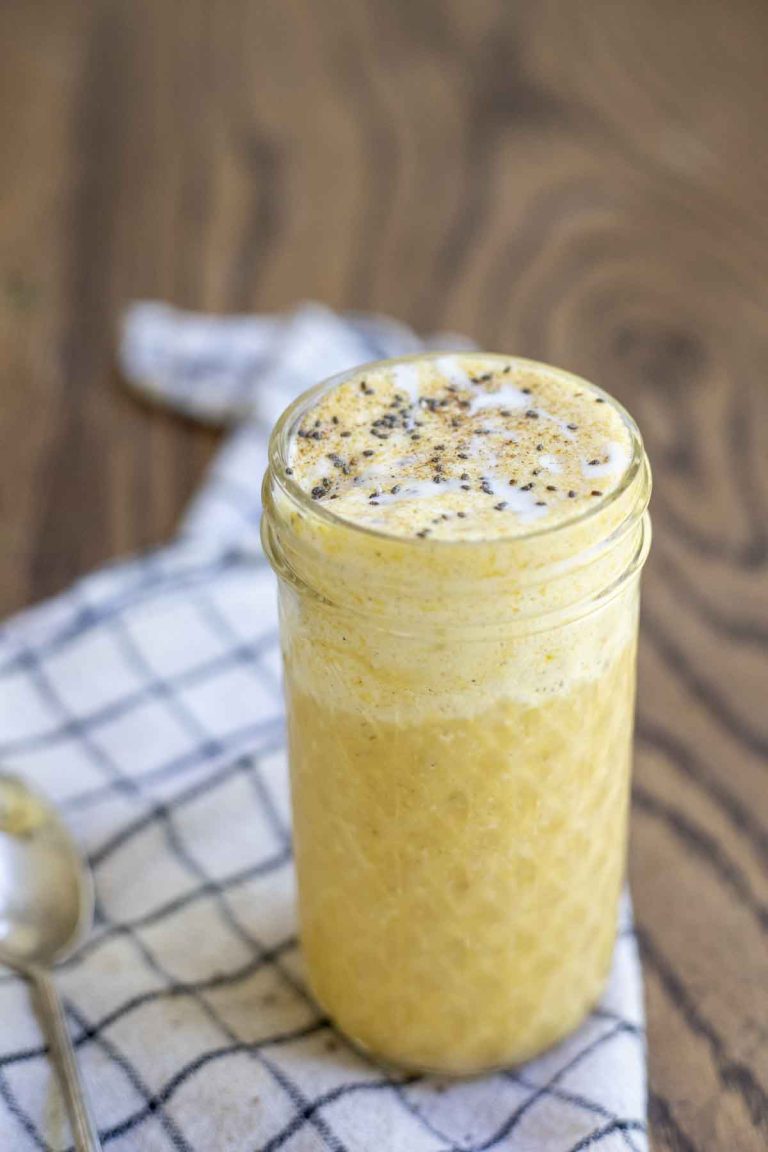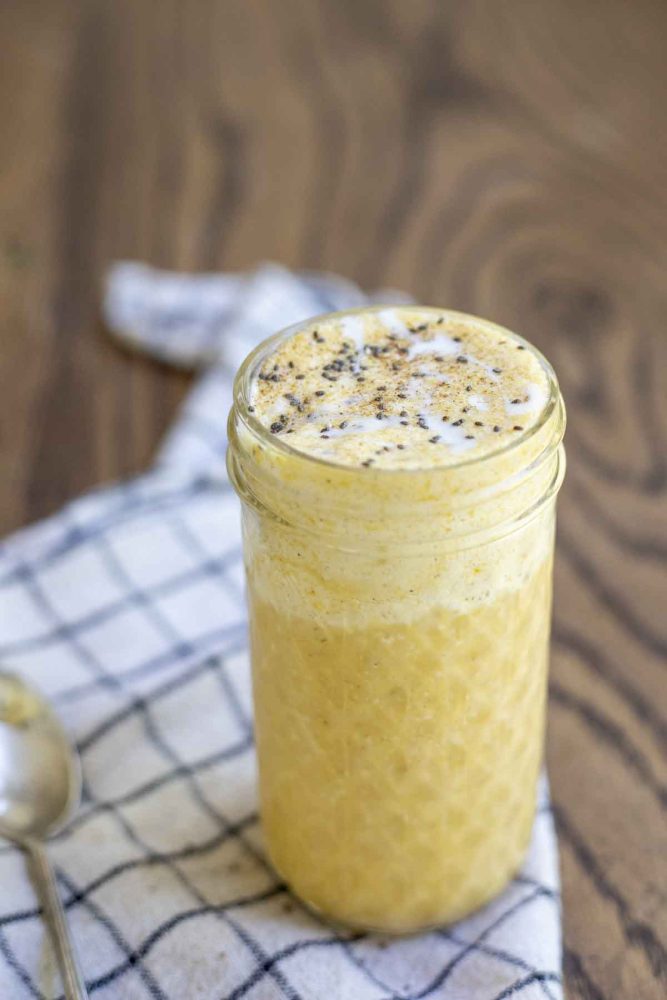 Can I use canned pumpkin instead of fresh pumpkin puree?
Absolutely! While using fresh pumpkin puree is a great option, canned pumpkin works just as well. Just make sure to choose 100% pure pumpkin without any added sugars or spices.
Can I use a dairy-free milk alternative instead of regular milk?
Yes, you can! This recipe is versatile and can easily accommodate different dietary preferences. Feel free to use almond milk, coconut milk, soy milk, or any other dairy-free milk alternative that suits your needs.
Can you make smoothies ahead of time and store it in the fridge?
It's best to enjoy the pumpkin pie smoothie immediately after preparing it to fully savor its flavors and textures. However, if you need to make it ahead of time, you can store it in an airtight container in the refrigerator for up to 24 hours. Give it a good shake or stir before drinking to ensure the ingredients are well mixed.
How do you make this recipe vegan?
Choose a non-dairy yogurt one of your plant-based milks to make this recipe vegan.
Can I adjust the sweetness level of the smoothie?
Yes, you can easily adjust the sweetness to your liking. If you prefer a sweeter smoothie, try adding a drizzle of honey, maple syrup, or a few pitted dates to the mix.
Can you eat pumpkin seeds in a smoothie?
Yes. This works better with a high powered blender, but works with a regular blender as well.
Find More Delicious Fall Recipes:
If you try this recipe and love it, I would love if you could come back, comment on the post, and give it 5 stars! Please and thank you.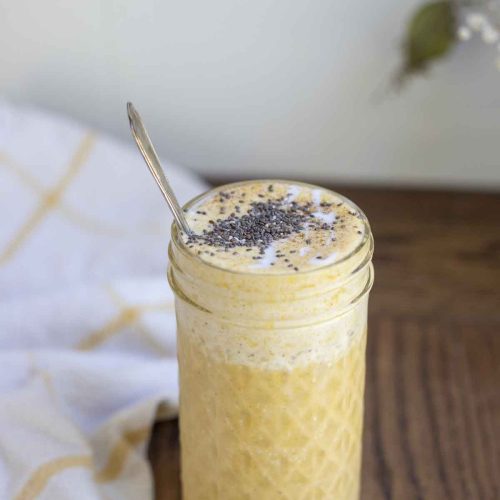 Healthy Pumpkin Pie Smoothie
This delicious pumpkin apple pie smoothie combines super antioxidant rich pumpkin to create a healthy dessert like drink.
Print
Pin
Rate
Ingredients
1

cup

milk of choice

whole milk, coconut milk, almond, etc

1

frozen banana

the riper the better

1/2

cup

pumpkin puree

1/2

tsp

pumpkin spice

1/4

cup

yogurt

I use whole milk vanilla. Plain and Greek yogurt would also be a great day.

1/2

tsp

vanilla extract

optional
Instructions
Place all ingredients in blender and blend until smooth.

Top smoothie with your favorite toppings: whipped cream, graham crackers or sprinkle on pumpkin spice (optional)
Notes
For a vegan and dairy free option, choose plant-based milk and yogurt.
Look for real pumpkin puree with no added sugars or preservatives.
Canned pumpkin or make your own pumpkin puree from scratch by roasting a pumpkin.
Avoid using pumpkin pie filling, as this typically contains added ingredients.
Start with a conservative amount of pumpkin spice and gradually add more to taste.
For a protein boost, consider adding a scoop of protein powder or collagen peptides.
Nutrition
Serving:
1
g
|
Calories:
340
kcal
|
Carbohydrates:
52
g
|
Protein:
13
g
|
Fat:
11
g
|
Saturated Fat:
6
g
|
Polyunsaturated Fat:
0.4
g
|
Monounsaturated Fat:
2
g
|
Cholesterol:
37
mg
|
Sodium:
129
mg
|
Potassium:
1145
mg
|
Fiber:
7
g
|
Sugar:
33
g
|
Vitamin A:
19599
IU
|
Vitamin C:
16
mg
|
Calcium:
419
mg
|
Iron:
2
mg
Do you love pumpkin? What's you favorite pumpkin recipe?