DIY Blanket Ladder – Simple Home Decor Project
DIY Blanket Ladder is a simple home decor project that will make a big impact. Follow my step-by-step tutorial to learn how to make your own blanket or quilt ladder, without any wood screws. Follow my tips below for constructing this simple home decor project that only costs around $15 dollars to make.
To make this project, you will need: 2-6 foot 2x2s, 1-inch dowel rods, drill, saw, hammer, wood glue, spade drill bit, stain or paint, paint brush and paper towels.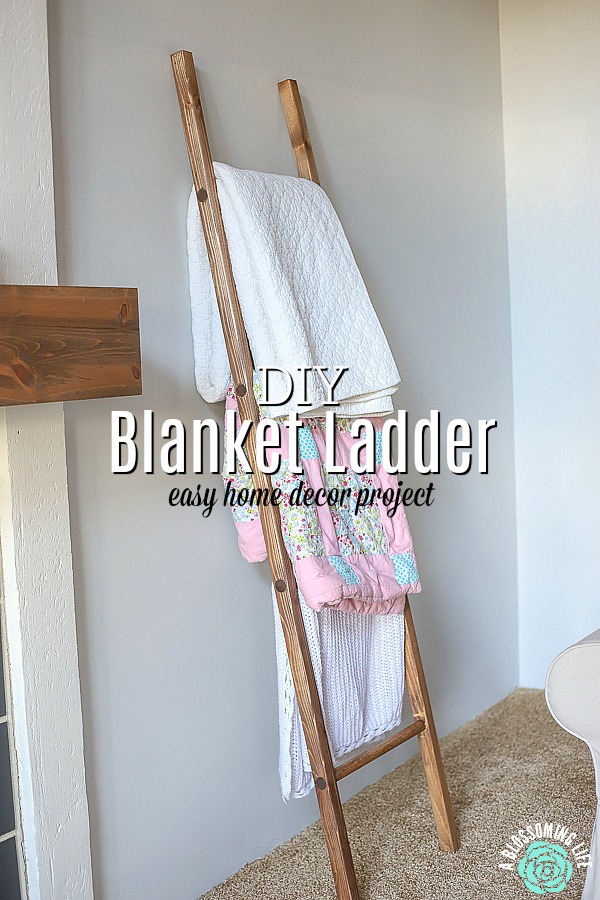 I had the idea to create my own blanket ladder after seeing multiple decor bloggers showcase their store-bought ones on their Instagram feeds. I love this fun, rustic way to showcase pretty blankets, or even wreaths.
But being a super cheap person, I couldn't justify paying a hundred dollars, or heck, even $30 on one.
So when my parents came to visit, I knew this project would be the perfect father-daughter project to complete. And now, we have a special keepsake that can be treasured for years to come, and the memory of creating something together.
It was such an easy project to complete, and it was fun having my dad show me how to make certain cuts (I was scared of saws until I finally jumped in headfirst and used one for the first time making a fireplace mantel).
When it comes to decorating this house, I really want to make it beautiful. The only problem is, we don't have a lot of extra cash.
So over the next few months, as we decorate this house and make it our own, we are going to be really stretching our creativity to spend as little as possible.
You should see how we updated our laundry room cabinets for $12.
Tips For Making This Project:
When drilling holes for the dowel rods, it was helpful to place a piece of scrap wood behind the piece of wood we were drilling. It helped it not split as much.
Use a scrap piece of wood between the hammer and the ladder when pounding the dowel rods into the holes so it won't damage the ladder.
Using wood glue on the part of the dowel rod that will be inserted into the drilled holes will help keep the dowel rod in place and tight.
Sand off the sides of the of the ladder well to give it a more finished look.
Make sure to sand off any extra glue so the stain will adhere.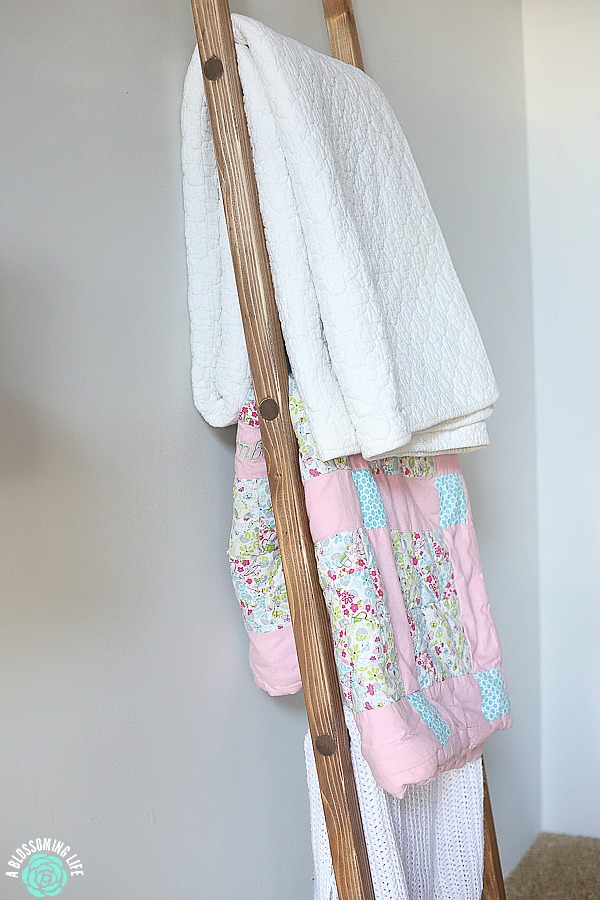 Need more DIY project inspiration? Check out some of my favorite tutorials:
DIY projects don't have to be hard or daunting. If you are willing to take a risk and do some hard work, you can make any space pretty without a lot of money.
The following are affiliate links. We are a participant in the Amazon Services LLC Associates Program, an affiliate advertising program designed to provide a means for us to earn fees by linking to Amazon.com and affiliated sites.
DIY Blanket Ladder Materials:
2-6 foot 2x2s
1 1/4 inch dowel rods
Spade drill bit (like this one) – the size of your dowel rods
Saw – I hate this miter saw.
Hammer
Stain or paint – I used Minwax Special Walnut
Paper towels
Paint brushes
Okay, so are you ready to start building your own DIY Blanket Ladder?
Grab your hammer and let's get to it. If you have about 30 minutes to an hour and a few materials, you can totally make this project.
By the way, this project turned out super cheap because I used stain and other supplies we already had on hand. The only thing we needed to purchase was the wood.
How To Make A DIY Blanket Ladder: Step-by-Step Tutorial
Step 1 – Cut the wood:
Gather materials. Cut two 2×2 pieces of wood to desired height. We made a six-foot ladder, so we cut two pieces of wood six feet long.
Cut 4 dowel rods to size; we cut them 18 inches each.
On the 2x2s, evenly space out where you want your dowel rods to go and mark. We did ours every 12 inches.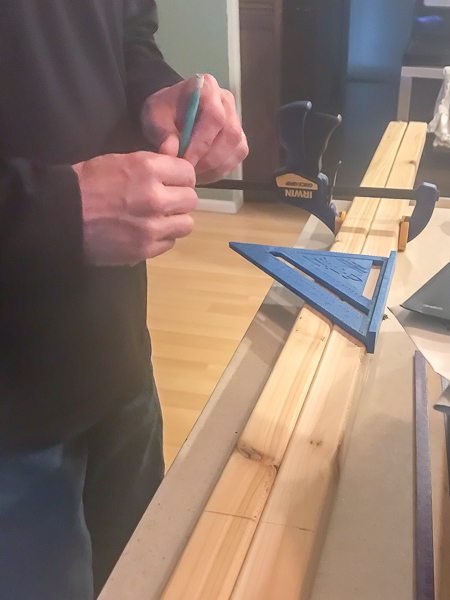 Step 2 – Drill The Holes And Put It Together
Drill holes using spade drill bit all the way through the 2×2. It is helpful to place a piece of scrap 2×2 behind the wood when drilling to help prevent it from splitting.
After all of the holes are drilled, add a touch of wood glue about a quarter inch from the ends on the dowel rods and place dowel rods into holes. Gently hammer into place if needed.
We did all the dowels on one side of the ladder first before placing the other side of the ladder onto the other dowel rods.
Add wood glue again to the dowel rods about 1/4 inch from the end and place the other 2×2 side piece on top of the other dowel rod ends, wiggling into place. Using a scrap piece of 2×2, place on top of the ladder 2×2, and gently hammer into place.
Use a level to make sure your project is level.
Wipe any extra glue off. Once dry, sand the ladder down, and sand the edges with the exposed dowel rod to make it flush.
Step 3 – The Finishing Touches
Stain or paint ladder and allow to dry.
Place in a room and hang pretty blankets on top.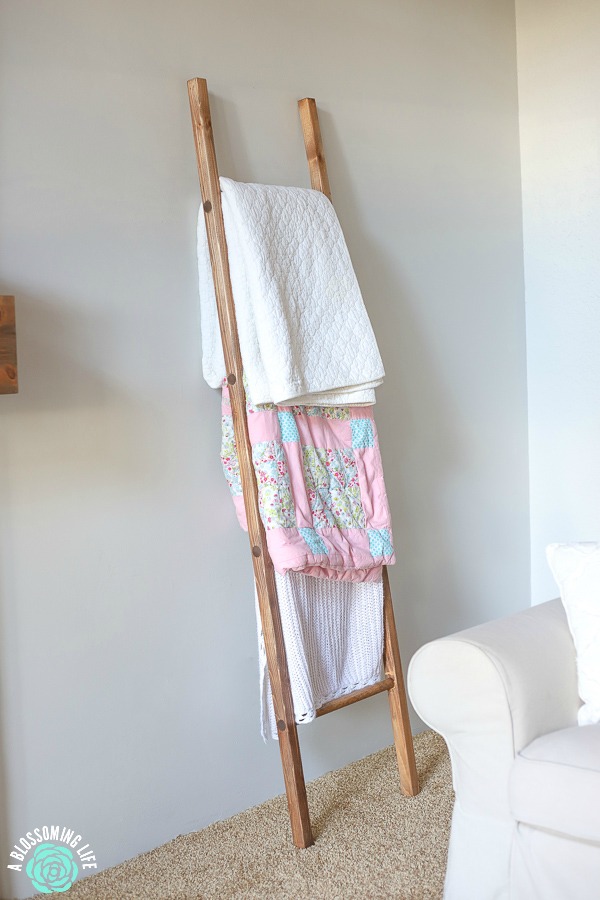 See that totally wasn't hard right? If we can make this project, so can you.
I'm thrilled at how it turned out, and now we have a family keepsake to hand down to the kids… 'cause I'm sentimental like that.
How Do You Make A Rustic Ladder?
You can make this a rustic by picking a more rustic stain color. You're not stuck to just using stain either!
Try a pretty white paint, black, gray, whatever farmhouse color pallet calls to use and then distress the wood using the ideas below.
You could also distress it by banging it with chains or a hammer, and sanding some sports more.
How Tall Should A Blanket Ladder Be?
You can change the size of this project to meet your needs. This tutorial shows a 72 inch ladder, but you can make it 80 inches or more if you would like. Just make sure to adjust where your dowels will be. They should be evenly spaced between each other.
Have you ever tried your hand at a DIY project before?
This post was updated March 2020.