Natural DIY hand sanitizer is a recipe made from simple ingredients that have been shown to kill germs. This homemade hand sanitizer is gentle enough for kids. Follow my tips below to make this DIY hand sanitizer.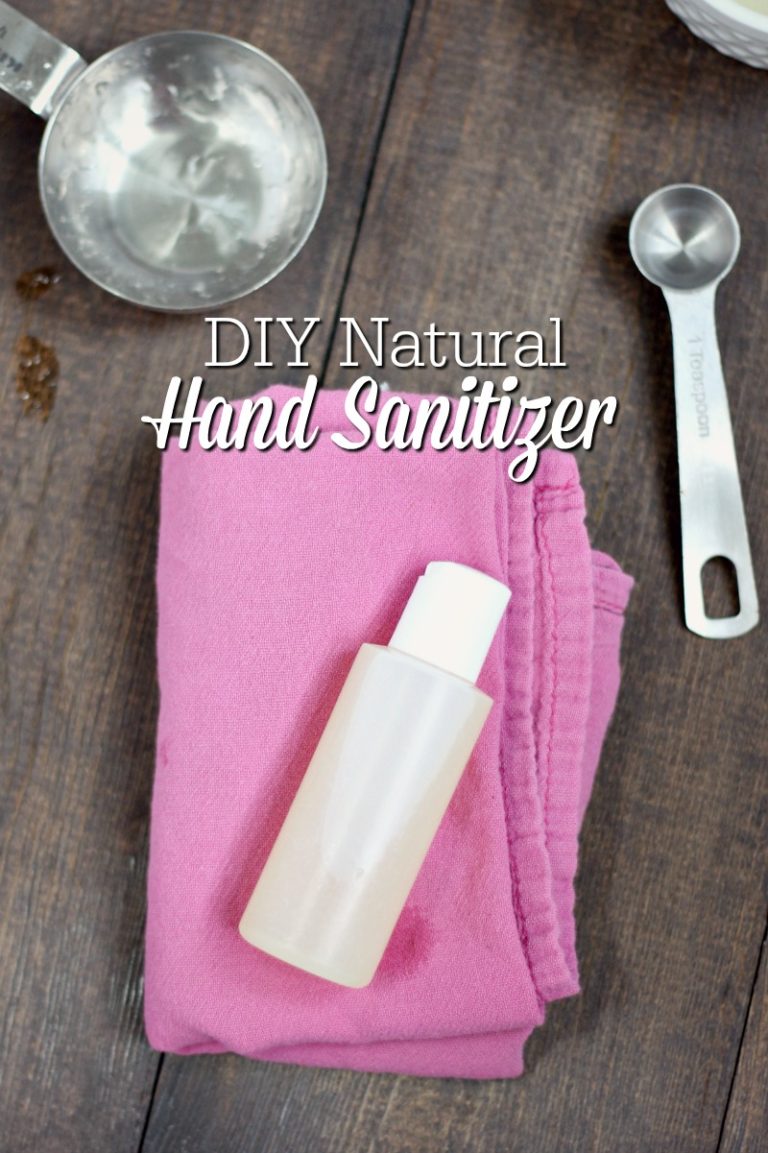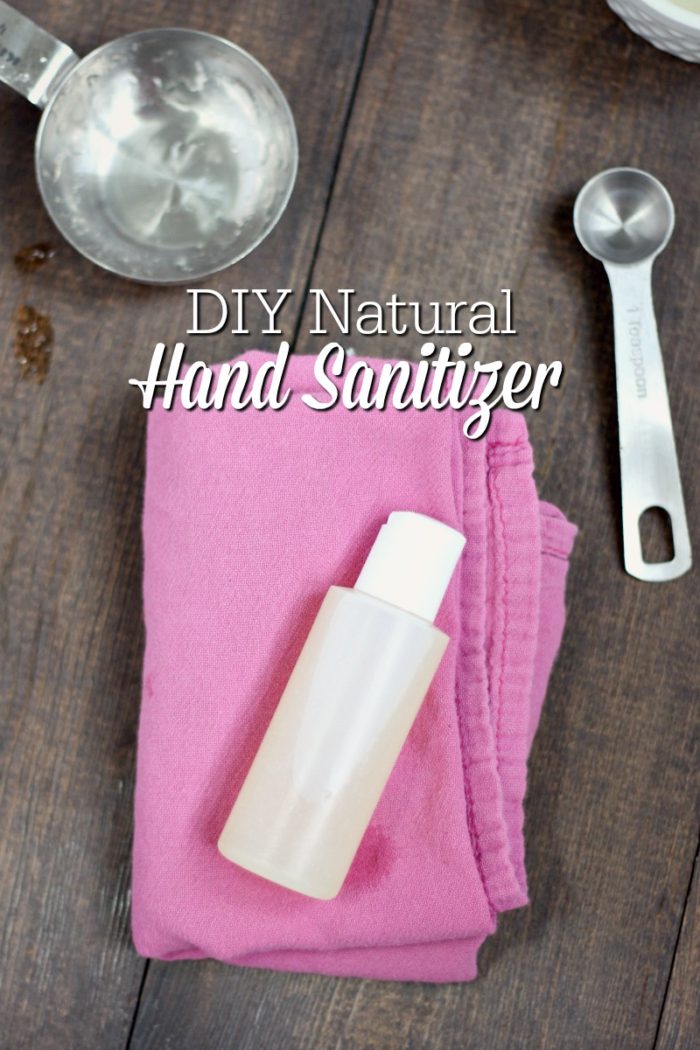 This post was updated March 2019
DIY Hand Sanitizer Backstory
Oh, clean hands. I don't know what those are anymore. Between changing dirty diapers, dealing with our chickens (how they even get poop in some places boggles my mind), boogers, craft projects, cleaning the house, and cooking (anyone else despise touching raw meat?), my hands never feel clean.
While we don't need to be absolute germ-a-phobes because some germs are good, but sometimes you just need a good and natural hand sanitizer.
Like when you're traveling back home for the weekend and have to stop at a crusty gas station to change a poopy diaper, and of course they have run out of soap in the bathroom. Yea, that would be a good time.
My hubby is self employed, drives around the area, and sees lots of people every day. His car is his office and he literally does everything in there – including eating. So, the man needs this homemade sanitizer.
Seeing lots of people, touching lots of doors, and eating (constantly, I might add.
Seriously, all he does is snack all day longso good hand hygiene is a must, and he can't always make it to the bathroom to wash his hands.
The problem with being too hygienic and conventional hand sanitizer:
You don't need to sanitize all of the time, which scientists believe is helping create super bugs. Especially, if you are using regular hand sanitizers that are full of harmful chemicals (see here) that have been linked to endocrine disorders, cancer, and more.
Fragrances: you now how I feel about these… fragrances are a broad term that can mean 1000's of potentially harmful ingredients and something you should try your best to stay away from. Fragrances have also been linked to endocrine disruption.
Triclosan: is an ingredient used in anti-bacterial products like hand sanitizer and soap. It has been linked to hormone disruption and scientists believe that it maybe contributing to the super bug problem (aka antibiotic resistant bacteria.)
Did you know the chemicals in regular hand sanitizer show up in breast milk (

source

)? Not something I want to be using while I'm breastfeeding, which seems to never end.
Tips for making homemade hand sanitizer:
To make this recipe germ busting kid safe essential oils like melaluca
Also, use alcohol-free witch hazel in place of rubbing alcohol for a kid-safe version.
Since you are using essential oils make sure the plastic bottle is compatible since essential oils can degrade some plastics.
You could make a spray version of this by using equal parts aloe vera spray with alcohol or witch hazel.
The following are affiliate links. We are a participant in the Amazon Services LLC Associates Program, an affiliate advertising program designed to provide a means for us to earn fees by linking to Amazon.com and affiliated sites.
Ingredients you will need Natural DIY Hand Sanitizer:
*Note: If you are pregnant, nursing, or have young children, always check before using essential oils. Some are not appropriate for those groups. For instance, peppermint should not be used on or around young children (can cause breathing to slow) or breastfeeding women (can dry up milk). You can check these lists from Mommypotomus for safe essential oils during breastfeeding and pregnancy, and this list for infants and children.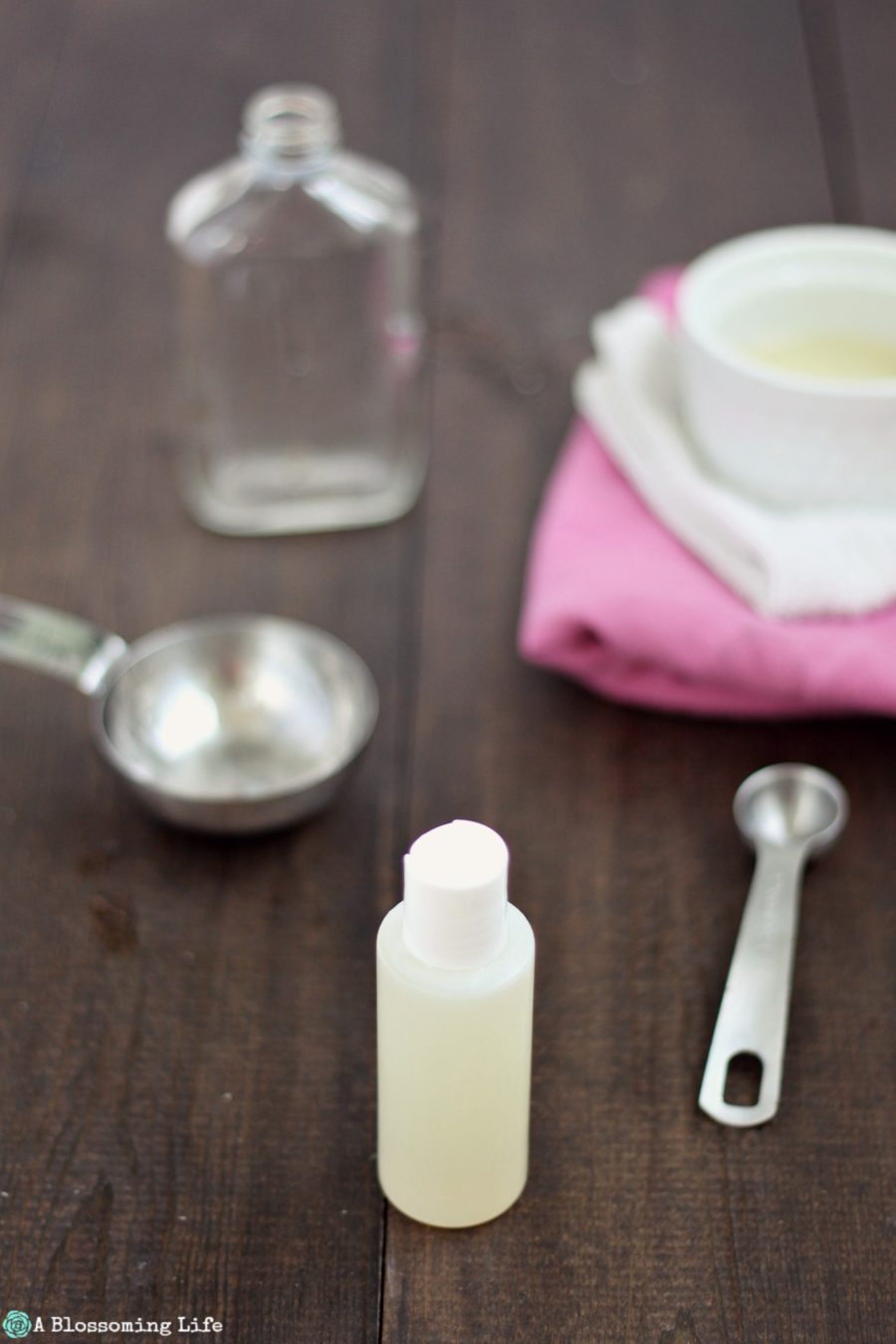 DIY Natural Hand Sanitizer Recipe
Ingredients:
Directions: Mix together ingredients and add to a small, squeezable container (like these)
. I just used one I had on hand because I'm cheap resourceful.
To use:
Apply a dime-size amount to hands and rub together.
Allow to dry. Keeps for 1-2 months.
Of course, keep out of reach of children.
Super simple and you can whip it up in a minute. Do you use hand sanitizer a lot?
Note: These statements have not been evaluated by the FDA or tested in a lab. Please consult a doctor and conduct your own research before trying.