This Homemade Air Freshener is a natural way to eliminate odors naturally. No one wants a stinky house, learn how to make your own DIY air freshener with just a few simple ingredients. Follow my tips below to take away odors in your home.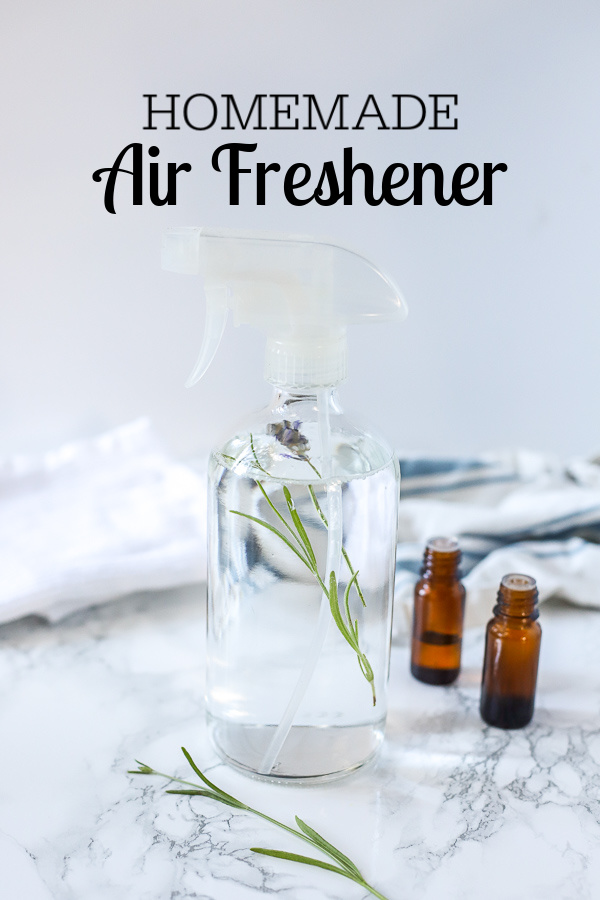 Homemade Air Freshener Backstory
I don't think I've made the official announcement on the blog yet, but we got a new puppy, Zucchini (we call him Zucchi for short). Yep, when you allow 3 year olds to name animals.
My husband has been begging for a year and I finally gave in. Luckily, Zucchini is cute because I forgot how much trouble puppies are. Like babies that bite and don't wear diapers.
They are also smelly. At this point, I'm not sure how people like puppy breath. I swear it just smells like skunk.
We are still working on potty training, so let's just say that this homemade air freshener is a must.
As I sit here typing, this sweet pup is cuddling in my lap giving me kisses. Distracting, yes. Adorable, also yes.
I have to soak this is before he gets too big that he can't fit on my lap anymore.
Ok enough about sweet puppies, back to making our own DIY air freshener.
Why should you switch to natural products and the problem with conventional air fresheners…
My problem with conventional products are the same… most of them contain fragrances which is a name for thousands of toxic ingredients. Fragrances also usually contain parabens which are known hormone disrupters.
Doing a quick search on EWG website, most of the commercial products have a C-F rating which harmful ingredients such as methylparabens, fragrance, sodium borate, propane, isobutane, and more.
These commercial products also give me and many others asthma, and leave your home environment with poor air quality. The air you breath in your house is important, and constantly breathing in these harmful chemicals can really have an impact on your health.
Trust me I know this first hand, and struggled with many health issues before switching to natural products.
Here's the thing, you don't need these toxic chemicals. You can easily make these products at home. Like my homemade
Tips for making homemade air freshener:
Add different essential oils to change up the smell.
Essential oils effect mood, so if you need an uplifting smell add citrus oils, or if you want a more motivating air freshener add peppermint.
Make a sleepy time room spray, with lavender and chamomile, and spray rooms before bedtime.
Use glass bottles. Essential oils can break down certain types of plastics.
The following are affiliate links. We are a participant in the Amazon Services LLC Associates Program, an affiliate advertising program designed to provide a means for us to earn fees by linking to Amazon.com and affiliated sites.
Tools you will need:
Spray bottle (I love these ones)
Funnel (optional)
Essential oils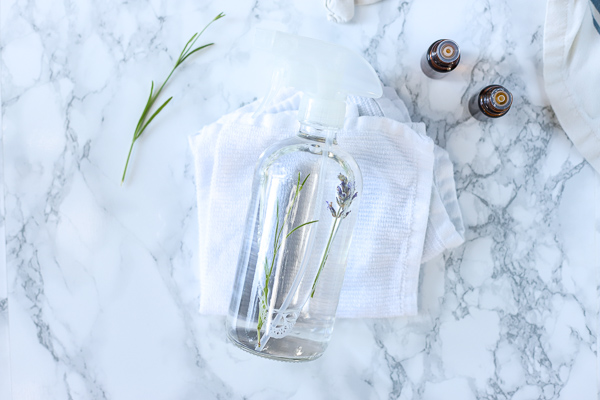 How To Make DIY Air Freshener
In a spray bottle, add vodka (or rubbing alcohol).
Add essential oils of your choice. My personal favorite is grapefruit and lemon, or lavender and peppermint.
Fill with water.
Check out some of our favorite homemade products:
Homemade Air Freshener Recipe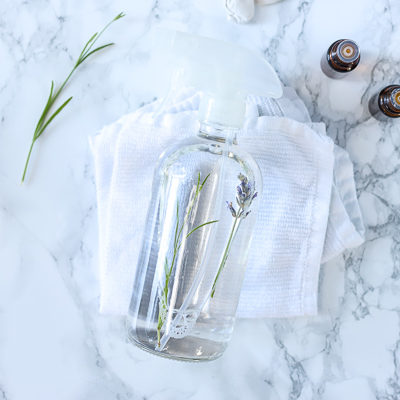 Ingredients
1.5

tbs

rubbing alcohol

or vodka

1

cup

water

about 25-40

drops

your favorite combination of essential oils

more or less depending on the type of EO. See notes
Instructions
Mix into spray bottle and spray in stinky rooms.
To Use:
Shake bottle and spray in smelly room.
My favorite DIY Air Freshener Combinations
Citrus Blend
10 drops lemon
15 drops grapefruit
10 drops orange
Uplifting Calm
10 drops peppermint
20 drops lavender
Super Calm
15 drops lavender
10 drops chamomile
10 drops wild orange
How can I make my house smell good naturally?
Use the homemade air freshener above
Baking Soda Deodorizer: Directions: Add 1/4 cup of baking soda to a small jar. Add essential oils and mix. Cover jar with fabric, or lid that has holes poked into it. Place into a smelly room (like the bathroom). You can actually find this super old recipe here… so old it doesn't have pictures anymore.
Diffuser – releases essential oils into the air filling them with beautiful natural "fragrance".
Beeswax candles – actually release negative ions which can bind to toxin in the air and then helps remove them.
Getting rid of kids, dogs, and husbands will also help the stanky situation… just kidding. The joy they bring lets them earn their keep.