The Ultimate Homemade Body Butter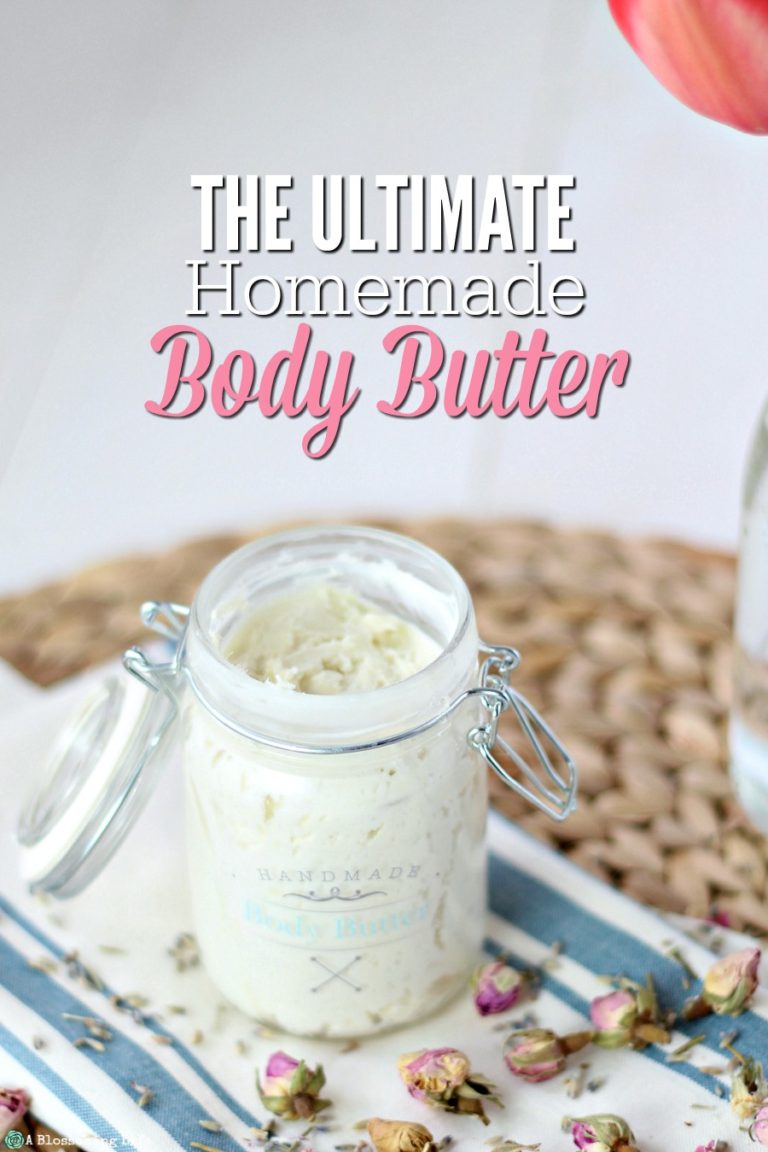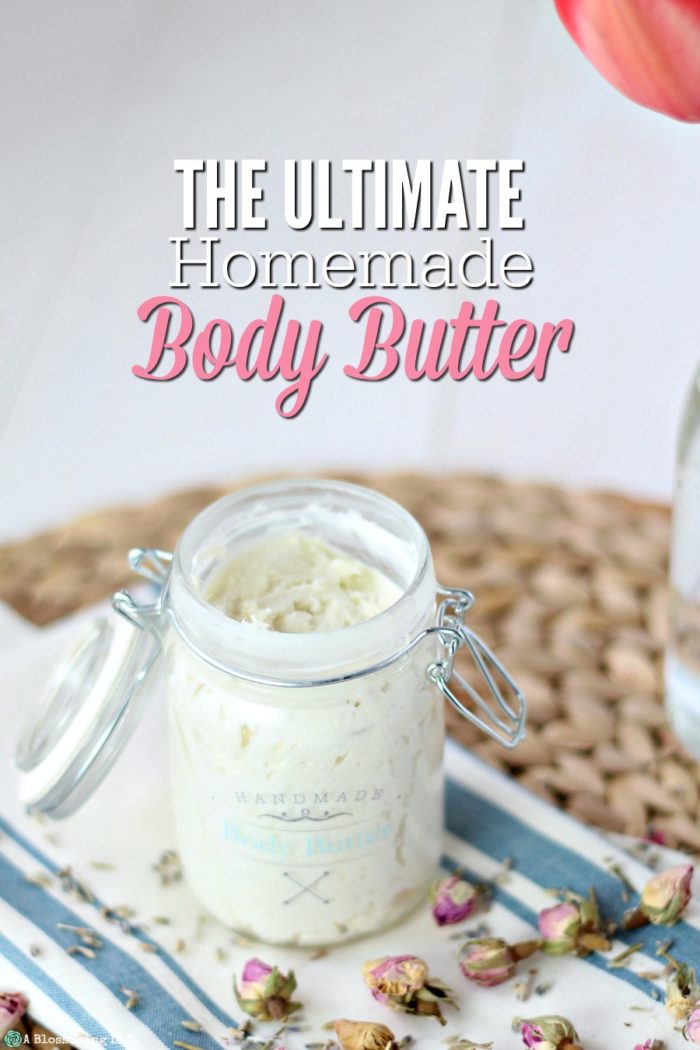 This is a sponsored post, written by me for Sticker You. All opinions are 100% mine.
You know when you just have one of those days? Photo shoot day for this homemade body butter was THAT day. My in-laws are visiting, making it the perfect opportunity to blog. Oh you know, just have them watch my precious two-year-old while I try to get something or anything done. August never cares about my blogging things, but this day she wanted to give me a run for my money. Everything is set up and I have all of the ingredients ready to go. So, I start pouring them in the bowl, and bam!… here comes a flying toddler on top of my reflection boards spilling cocoa butter all over the background. Of course my mother-in-law felt terrible, but I reassured her that ingredients spilled all over the place looks cool in photos.
See photos below.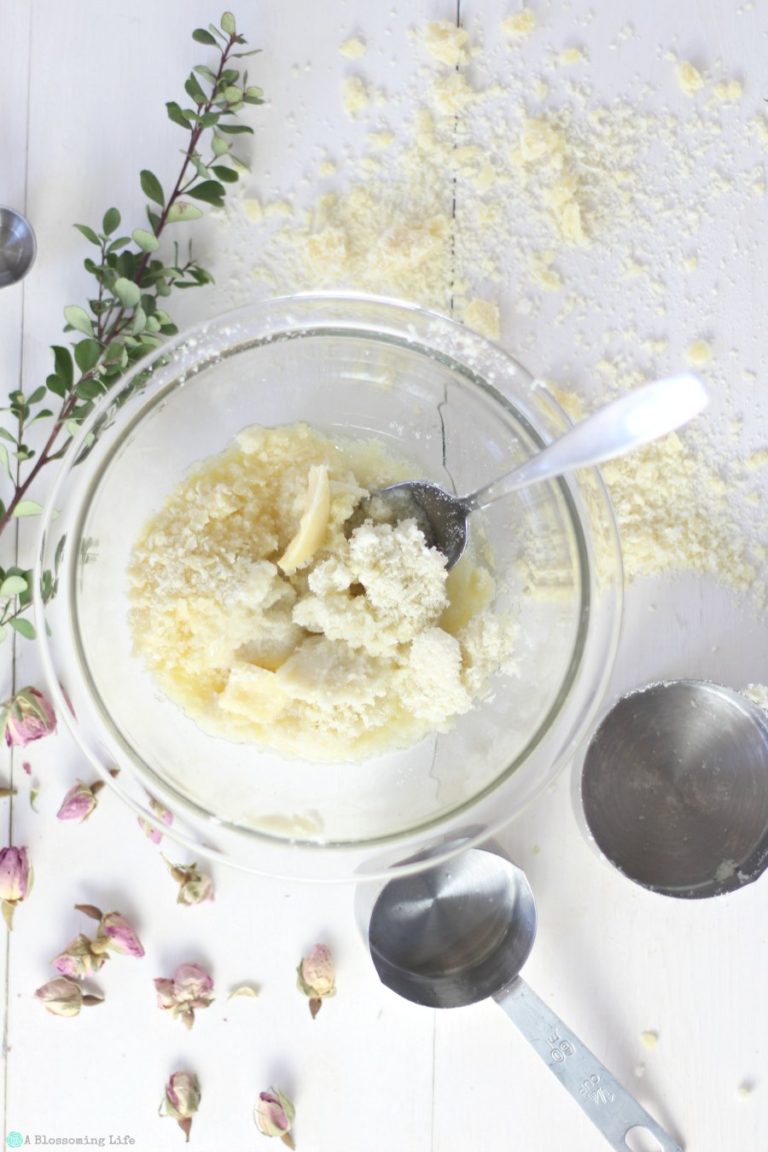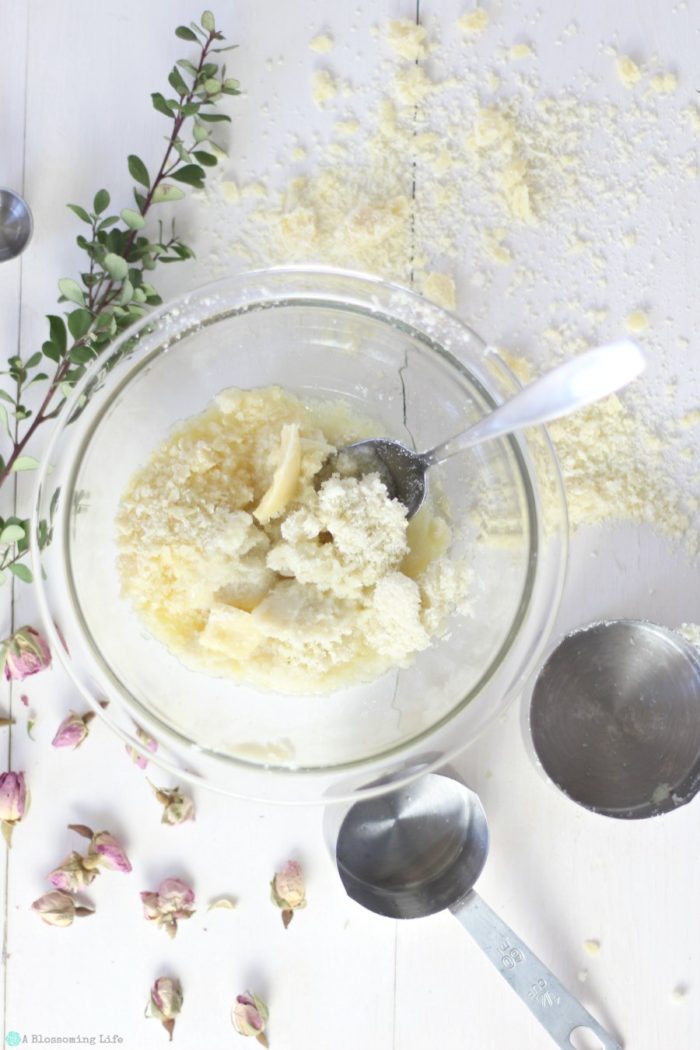 Then, as I'm trying to get everything melted, I hear my father-in-law yelling at our husky who is eating the cocoa butter off the background. She wouldn't leave it alone. That dog has a thing for eating lip balms, crunching on the tube and all. But, the body butter did eventually get done, placed in the adorable jars, and labeled with these custom farmhouse chic labels from Sticker You! By the way, nothing was harmed in the making of these body butters, except maybe my mental stability.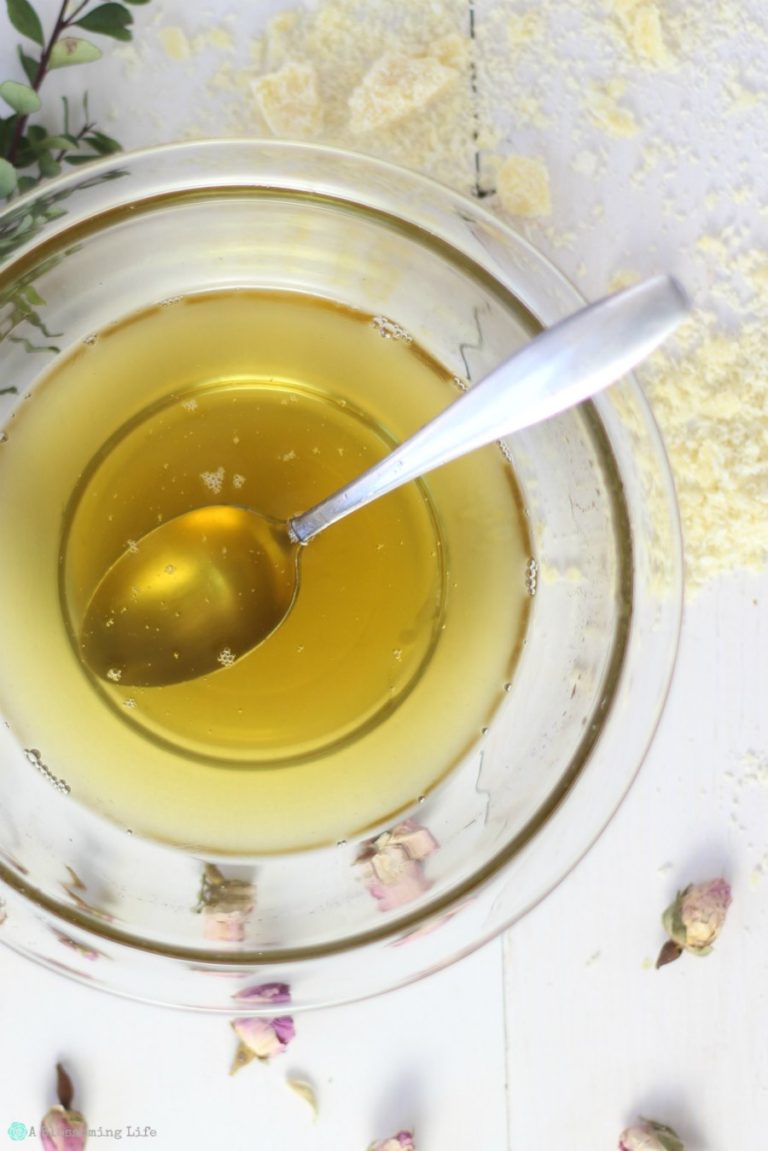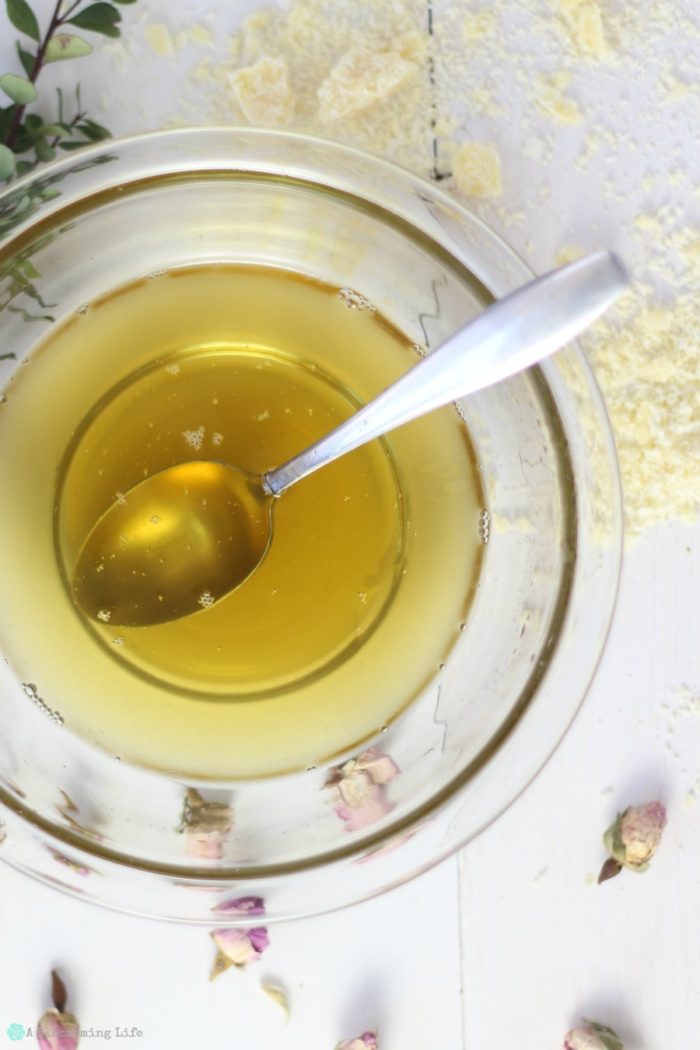 How adorable are those labels from Sticker You, though? The custom-made vinyl labels are waterproof, dishwasher safe, and even microwave safe. You can custom design your own or even upload any picture to create labels in any size and any shape. These would work great for weddings, birthday parties, or even if you are planning to start your own business. Here we used them for these homemade body butters, and I can't wait to give them to family and friends. They really add a personal touch to the handmade body butters and look so much more professional!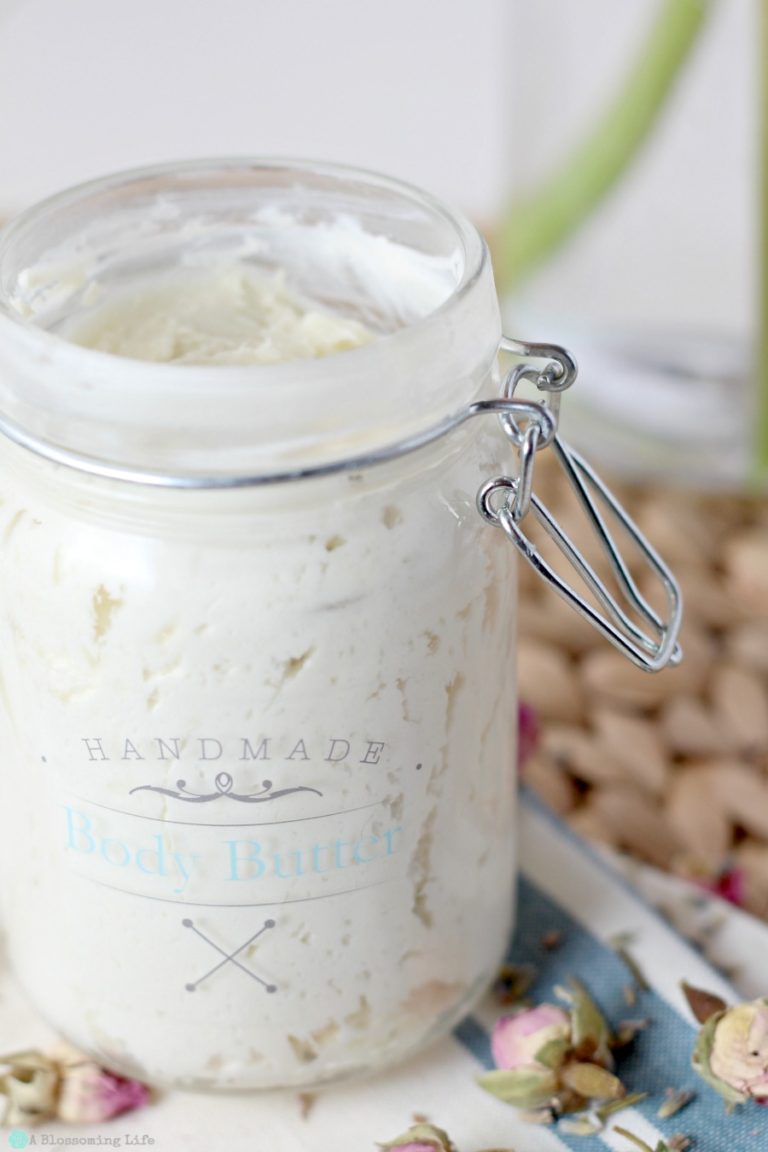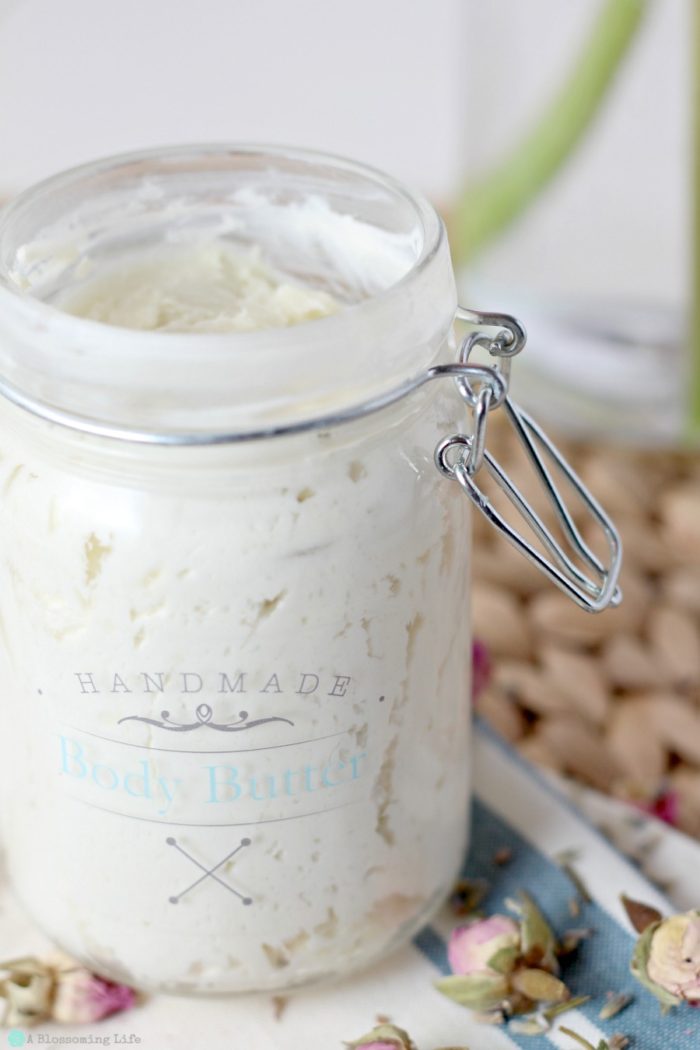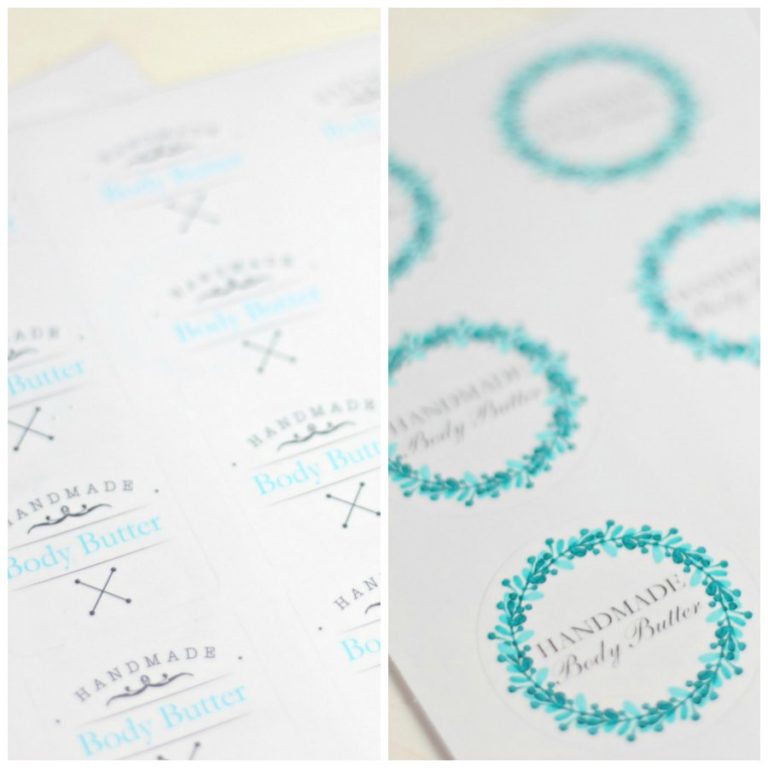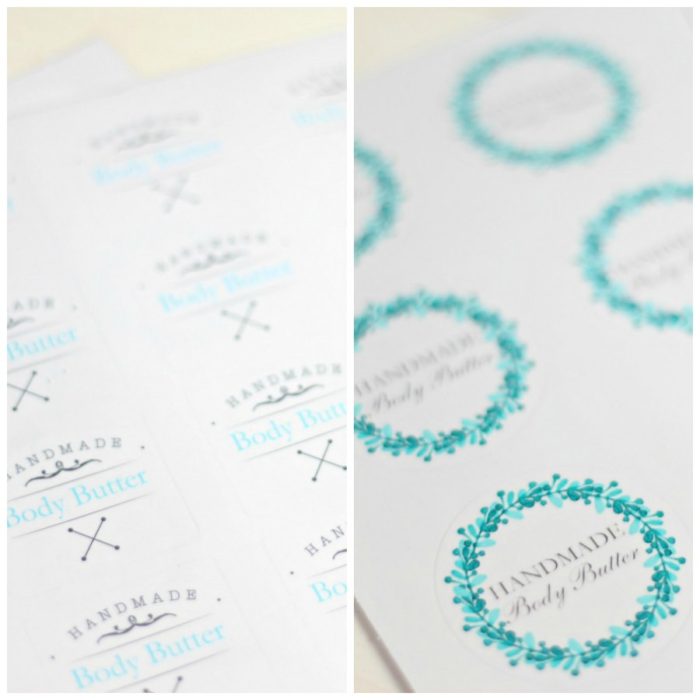 Use the code BLOSSOM10OFF to get 10% your order!
This body butter is rich and luxurious, yet light and fluffy. This is perfect for dry, chapped skin or part of your pampering routine. As you see above, sometimes you just need a mom break to pamper yourself. Take a hot bath, relax, use a face mask, and apply this homemade body butter, then return to the crazy chaos we call toddler life.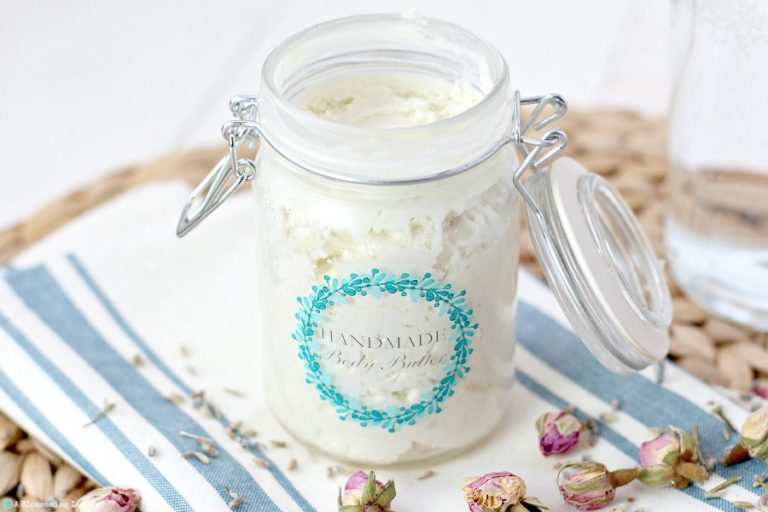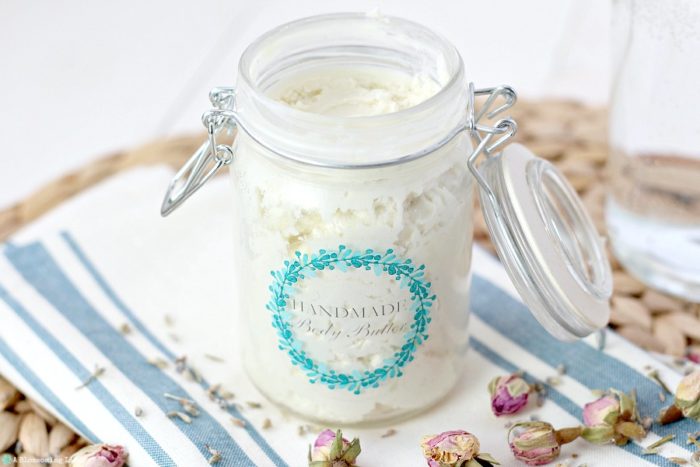 The Ultimate Homemade Body Butter
Ingredients
1/2 cup shea butter
1/4 cup cocoa butter
1/4 cup oil (I used apricot, but olive, jojoba, grape seed, avocado, etc. would all be good choices)
1 tsp vitamin E oil (optional)
40 drops essential oils of choice (lavender and peppermint blend is my favorite – add 3 parts lavender to 1 part peppermint)
Directions:
Add cocoa and shea butter to a glass bowl and place bowl over a saucepan filled with a few inches over of water to create a double boiler. Place saucepan over medium heat. Allow the butters to melt. Take off heat and mix in 1/4 cup oil and vitamin E oil. Allow the mixture to cool for about 30 minutes to an hour – until it becomes less translucent, but before it becomes hard. Place in fridge for a faster cool down. Add in essential oils. With a hand mixer or in your stand mixer, whip up the mixture until nice and fluffy. Put into a container and label with your adorable label from Sticker You!
To use: A little goes a long way. Once it hits your hands, it will start to melt and you can rub on dry spots.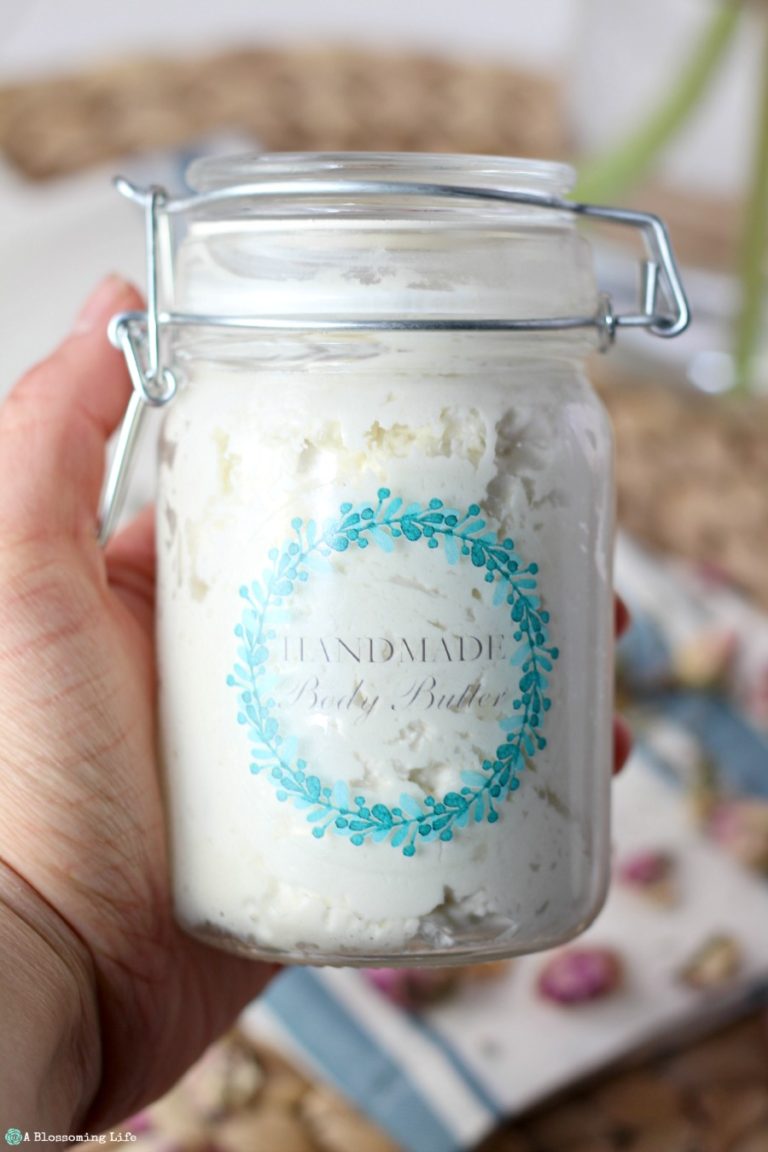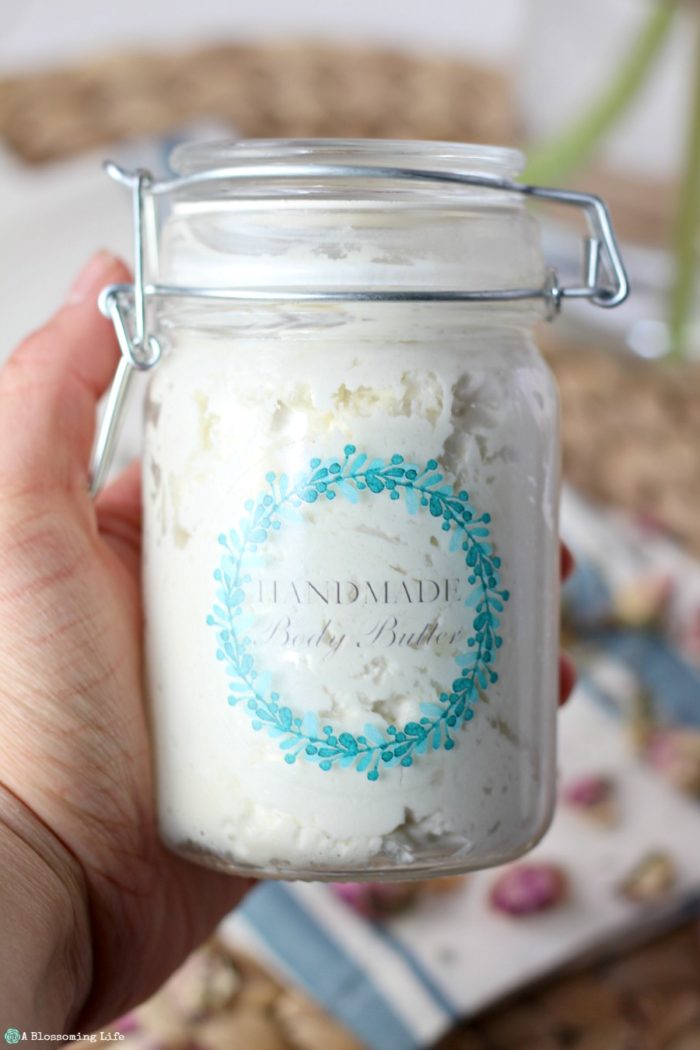 Thank you to Sticker You for sponsoring this post! All opinions are 100% mine, and I would never recommend something that I didn't believe in.