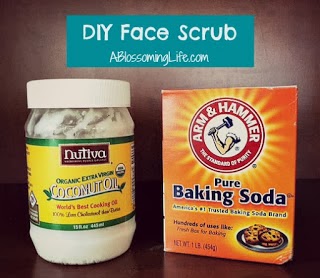 Winter is definitely upon us… Although some days are like 55 degrees here, my skin is getting really dry and flaky even though I'm using tons of moisturizer. This face scrub will do wonders for your skin. It will feel amazingly soft and supple! I am definitely adding it to my regular routine. It's super simple to make and you probably have all the ingredients in your kitchen. With Christmas 2 days away this would be a great time to take 30 minutes to yourself, relax, and have at home spa time!
Moisturizing Face Scrub
Ingredients
1 tsp baking soda (you may adjust the amount to your liking)
1/2-1 tbs coconut oil, or I prefer to use whipped coconut body butter (super moisturizing)
Directions: Mix the two ingredients together. Wet your face with warm water. Gently take the scrub in your hands and rub in small circles all over your face. Rinse the scrub off with warm water, dry, and feel your amazingly soft skin.
It cant get much simpler and inexpensive as that. Being on such a tight budget there is little room to squeeze in things that are not really necessities. Luckily doing this fixes that. I don't need to buy anything special since the ingredients are right in my kitchen and you use such small amounts of the ingredients it only costs pennies! Go ahead and try it. I bet you will be amazed by the results!
I party here…