DIY Hand Soap: Easy Moisturizing Recipe
Easy DIY hand soap made from a few natural ingredients. This moisturizing homemade hand soap is easy to make and won't dry out your skin. Follow my tips below to make the best liquid hand soap.
Ingredients you will need: castile soap, distilled water, olive oil, essential oils, and vitamin e oil.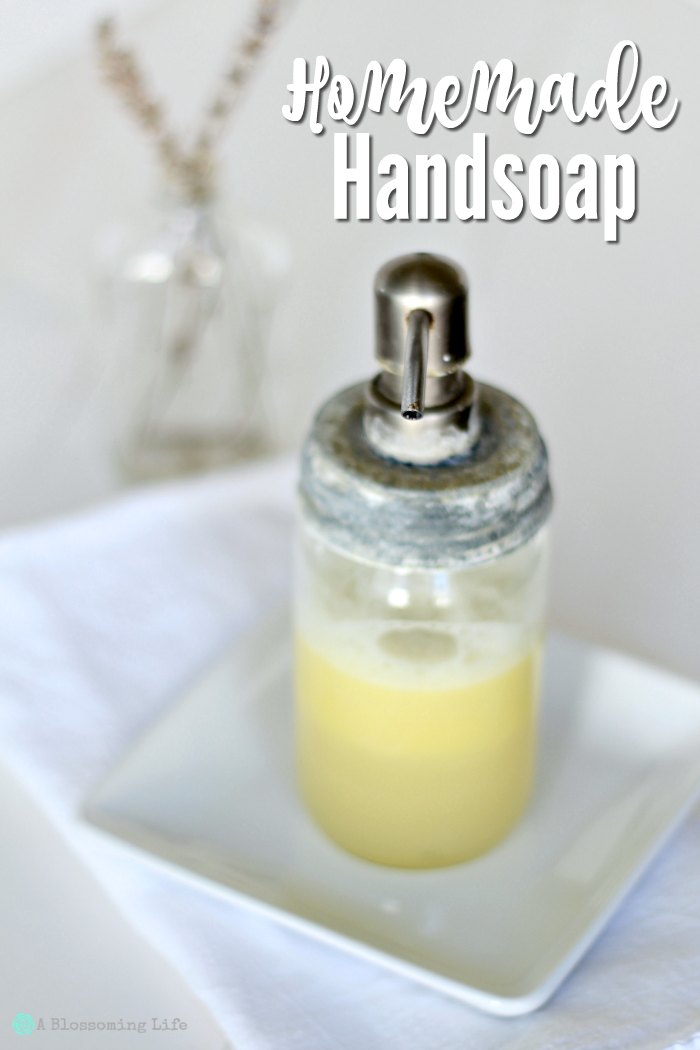 This post was updated February 2019
DIY Hand Soap Backstory
Friends I have ,a problem. A washing hand problem. I told myself I wouldn't be that person that became a germaphobe after I had a baby, but with all the diaper changes and pumping at work, (which is a clinical setting with kids) I became slightly OCD with washing my hands. Granted, I have a reason to… or at least I'm trying to justify my problem.
My hands are constantly cracked and in pain, and constantly I'm applying healing butter to them which makes them feel oh so happy. So I created this natural hand soap with moisturizing oils like olive oil and vitamin E to help nourish and heal these bad boys (imagine me showing you my gross hands in a spirit finger fashion).
I'm excited for the day when I no longer have to pump when I'm at work. I tell myself this will be the day my hands will start to heal. We shall see though.
Update… This post was written almost 3 years ago and my hands continue to be dried and cracked. We added a second cute little butt to wipe, so my hand washing habits have continued.
The following are affiliate links. We are a participant in the Amazon Services LLC Associates Program, an affiliate advertising program designed to provide a means for us to earn fees by linking to Amazon.com and affiliated sites.
Tips for making DIY Hand Soap
It it normal for the homemade hand soap to separate, just give it a shake.
Add your favorite essential oils: my go-to is usually lavender, On Guard.
The vitamin e is optional. Add it for extra moisturizing and to help it keep.
Use distilled water to help prevent bacteria growth, especially if you know it will take you awhile to use it up.
DIY Hand Soap Ingredients:
Castile Soap: this is always in my natural living pantry. Castile soap is great to keep on hand for cleaning and making hand soap of course. I even use it to make a homemade dog shampoo.
Olive oil and vitamin E: are used to moisturize and protect the hands.
Water: castile soap is concentrated and usually needs to be diluted. Use distilled water to help against bacteria growth that may be present in tap water.
Essential oils: Find my favorites here. I love using germ fighting essential oils like On Guard.
How To Make DIY Hand Soap
Gather ingredients.
Mix castile soap, water, olive oil, vitamin e oil, and essential oils together.
Pour into soap dispenser and use.
Want more DIY natural products? Check these out.
DIY Hand Soap Recipe
Simple, natural, and effective moisturizing homemade hand soap .
DIY Liquid Hand Soap
This homemade hand soap is moisturizing and made from all natural ingredients. Most you probably have right in your pantry.
Print
Rate
Ingredients
3/4

cup

castile soap

1/2

cup

water

3

Tbs

olive oil

1

tsp

vitamin e oil
Instructions
In a bowl mix ingredients together and place in a soap dispenser. Wash hands as you normally do, but with this awesome natural hand soap
Notes
Seperation is natural. Shake occasionally before use.
Have you ever made your own homemade hand soap?