Homemade Buttermilk Recipe (Buttermilk Substitute)
Learn how to make homemade buttermilk at home with just two ingredients you already have. Next time you come across a recipe that calls for buttermilk, use this buttermilk recipe instead of running out to the store.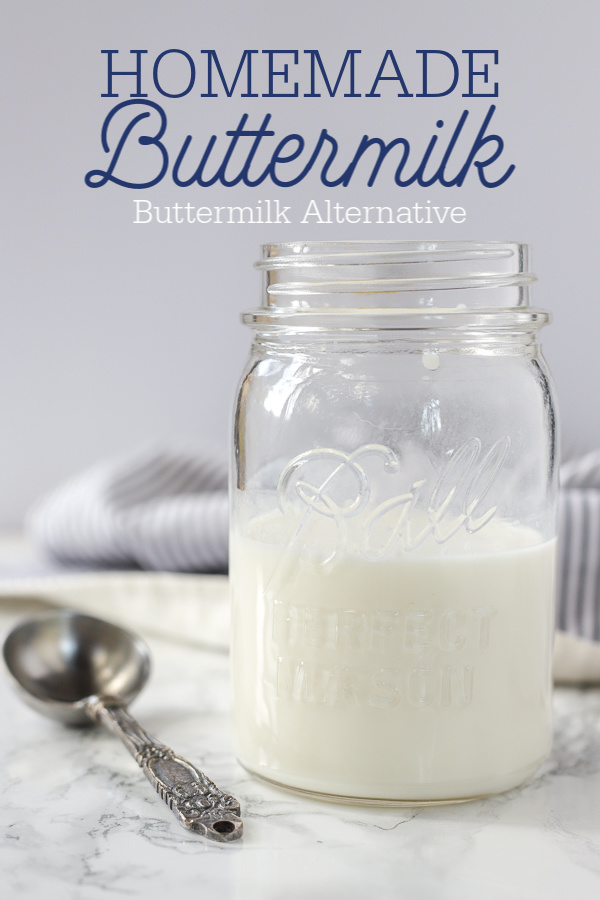 Don't you hate it when you are making a recipe and it calls for something specific, only for you to realize you don't have the ingredient?
Or, it calls for a small amount, and you don't want to buy way more than you need. Buttermilk seems to be one of those things that I never have on hand, and only need a couple of tablespoons.
Here's the thing, though. Buttermilk is awesome. From pancakes, to muffins, to biscuits, buttermilk can add a delicious, tangy flavor. I just don't want to have to buy way more than what I need.
Well, here is a great way to make homemade buttermilk from just two ingredients you have, and the best part is that you don't have to head out to the store for a single thing.
That always seems to happen to me. I go to make something, and I get halfway through the recipe before I realize I'm missing that one different ingredient.
Recently, I was recipe testing for a new blackberry cobbler recipe (recipe soon to come!), and wanted to use just a little bit of buttermilk. I knew that the tangy flavor would balance out the sweetness of the berries so well, but I only needed a few tablespoons.
I didn't want to leave in the middle of my recipe to get some from the store, and I didn't want to buy more than I needed, so I made some using this recipe, but made only 1/4 the amount, since that is all I needed. It worked perfectly, and gave it that little bit of extra tang.
Let's get to making this simple recipe.
How is buttermilk made?
Traditionally buttermilk is made from the liquid that comes off of butter when it is churned.
Nowadays, it is usually made by adding a bacterial culture to milk and allowing it to ferment until it becomes thick and tangy.
The key to buttermilk in recipes is the flavor, and this homemade buttermilk alternative gives you that tangy flavor you need, plus it thickens up the milk a bit.
Tips For Making Homemade Buttermilk
You can use regular milk or plant-based milk.
Make it vegan by using coconut, almond, or cashew milk. These alternatives work just as well for recipes calling for buttermilk, but you want to make dairy-free.
Apple cider or white vinegar will work.
Double or triple this recipe depending on how much you need for a recipe.
The following are affiliate links. We are a participant in the Amazon Services LLC Associates Program, an affiliate advertising program designed to provide a means for us to earn fees by linking to Amazon.com and affiliated sites.
Tools you may need:
Measuring spoons
Ingredients You Need:
1 cup milk
1 tablespoon of vinegar or fresh lemon juice
Homemade Buttermilk Recipe Video Tutorial
How To Make Homemade Buttermilk
Pour milk into a measuring cup.
Add vinegar, stir, and let it sit for 5 minutes. It should start to curdle nicely as seen below.
Now you've got yourself a buttermilk alternative to use in recipes.
How simple was that?
Can you make smaller amounts of buttermilk?
Yes. You can easily cut this recipe in 1/2, 1/3 or even 1/4 to make less buttermilk.
Cut the amount of milk and the amount of vinegar in equal ratios. So if you use 1/4 cup milk, use 1/4 tbs of vinegar.
Can you make vegan homemade buttermilk?
Oh yes! Almond milk and coconut milk work great with this recipe. I've personally tried both of these and can vouch for their success. Cashew, oat, hemp, etc. should also work, but I have not personally done them.
What type of milk should I use to make buttermilk?
You can use whatever milk you have on hand; you can even use half and half, heavy whipping cream, or non-dairy milk.
I usually prefer to use whole milk, because it has a better texture and mouthfeel since it has more fat.
How long does buttermilk last?
It will stay good in the refrigerator for 2-3 days. Usually, if I need some buttermilk, I will make it and use it right away. If you have extra or need it the next day, just store it in an airtight glass container. I like using mason jars.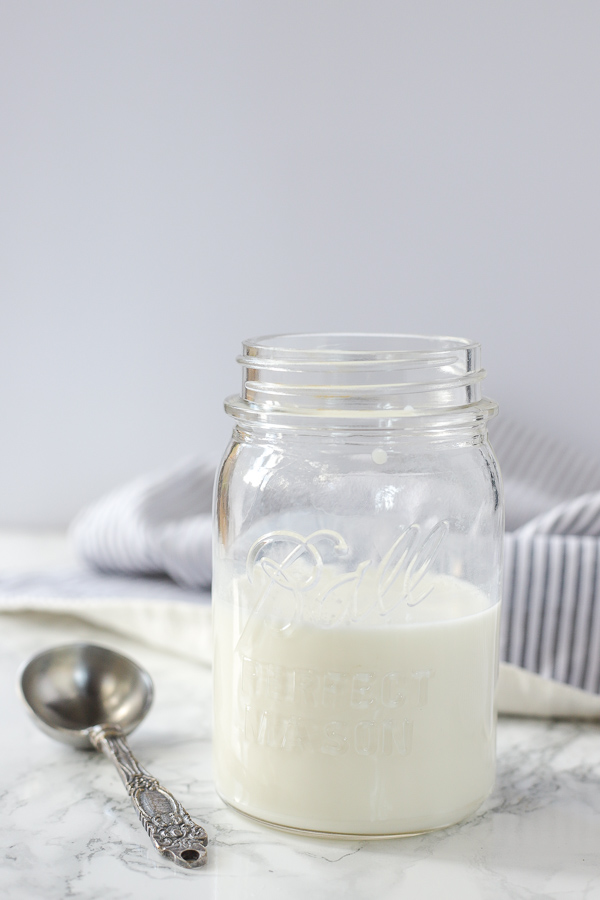 Find more easy recipes:
Homemade Buttermilk Recipe
Tried this recipe and loved it? I would love if you would come back and give it 5 stars. Please and thank you!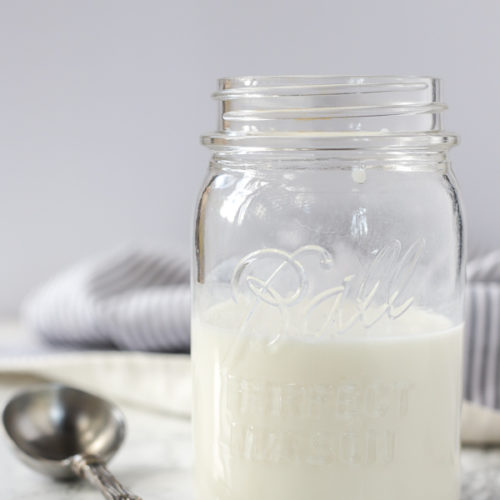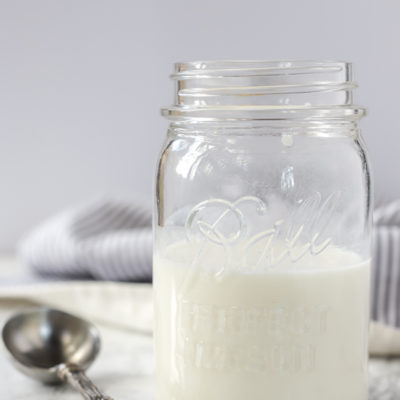 Homemade Buttermilk
Simple buttermilk recipe made from ingredients you already have in your pantry.
Print
Pin
Rate
Ingredients
1

cup

milk

1

tbs

vinegar

or fresh lemon juice
Instructions
Measure 1 cup of milk in liquid measuring cup.

Add vinegar, stir, and let it sit for 5 minutes.
Nutrition
Serving:
4
g
|
Calories:
38
kcal
|
Carbohydrates:
3
g
|
Protein:
2
g
|
Fat:
2
g
|
Saturated Fat:
1
g
|
Cholesterol:
6
mg
|
Sodium:
26
mg
|
Potassium:
81
mg
|
Sugar:
3
g
|
Vitamin A:
99
IU
|
Calcium:
69
mg
Pin It For Later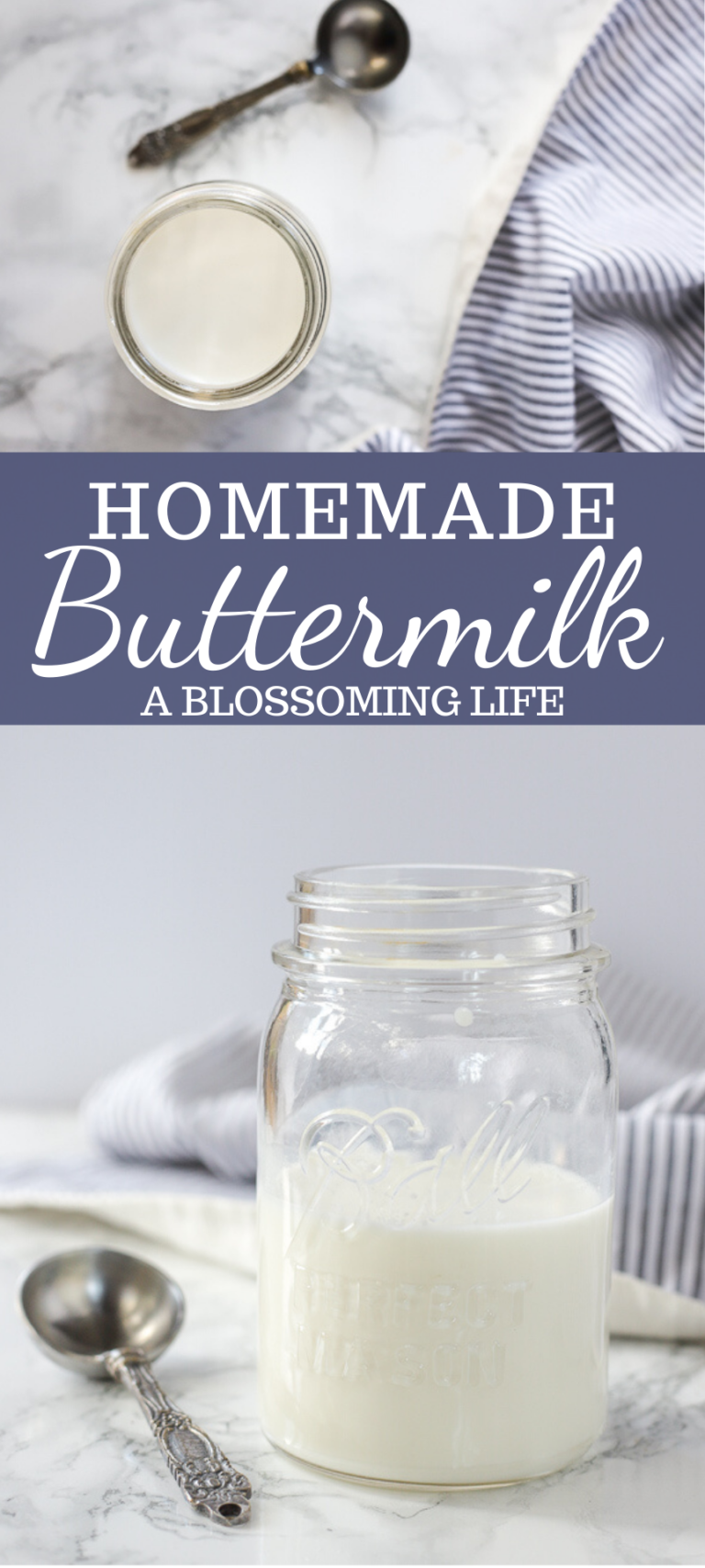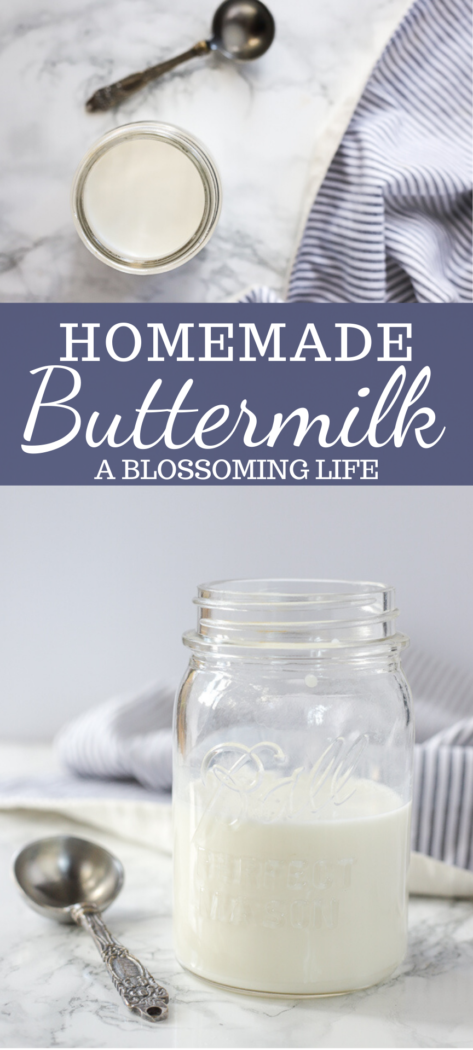 This post was updated November 8, 2019