Learn how to freeze zucchini so you can enjoy your harvest for months to come. Add frozen zucchini to soups, stews, rice dishes, sauces, a more. This easy step-by-step tutorial will show you everything you need to know.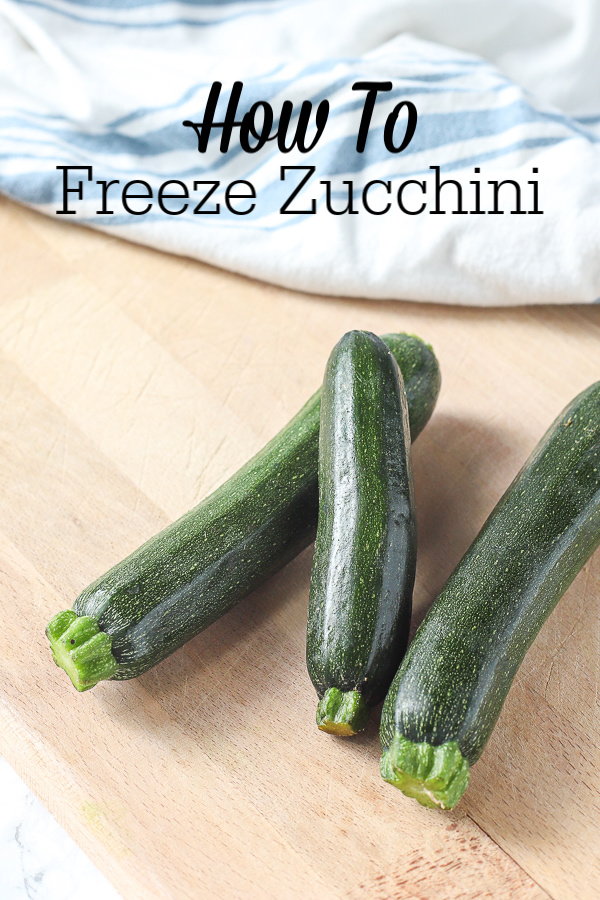 This post was updated June 2019
It's harvest time! It as been amazing to think about what to have for dinner and then just head out to the garden to pick some fresh zucchini, carrots, broccoli, etc. I can easily throw together a few ingredients to make a wonderful healthy meal.
One of the goals on our little homestead is to preserve a lot of food so we can enjoy it all year long! Also, to become more self reliant and save a ton of money on food!
Organic fruits and vegetables aren't usually cheap, so growing your own is such a relief. That rhymed… so I'm sorry :).
If you have ever grown squash you know that at a certain point it seems like you have it coming out of your ears. Eventually, after eating it for breakfast, lunch, dinner, and even dessert you're a little over it!
Well freezing some of your harvest can help you enjoy it throughout the year rather that just a month or so during the summer! Hello saving money!
Can you freeze fresh zucchini?
You can freeze squash without blanching, but you have to use it within 4-6 weeks or else it may turn bitter. So if you know you are going to be eating it rather quickly you can.
Do you have to blanch zucchini before freezing?
Technically no (see note above), but zucchini that has been blanch will keep better, hold its texture better, and will keep it's flavor better. Plus, blanching can help retain vitamins (source). Freezing squash that has been blanched will last up to 12 months.
Can you freeze shredded zucchini?
Yes! Shred zucchini in a food processor (I love this one) or with a cheese grater. Separate into freezer bags – I usually like to freeze one to two cups at a time. Than freeze flat (to save storage space). Since it is not blanched, you should eat frozen shredded zucchini within 4-6 weeks.
How do you use frozen zucchini?
Frozen zucchini is ideal for soup, stews, and sauces. Just add it in the dish frozen, you do not need to thaw it beforehand. The high moisture content in zucchini doesn't make it the ideal veggie for a side dish, raw, or in a stir fry. That should be left to the raw zucchini.
Pro Tips For Freezing Zucchini:
Cut the zucchini in different shapes depending on how you want to use them. Slice them in circles, chunks, or longer thinner pieces.
Don't add salt! Adding salt to the zucchini can leave you with a mushy texture when you go to reheat it.
Replace the ice as needed.
Line your cookie sheets with silicon baking makes to make it easy to get them off without sticking.
Freeze them on the cookie sheets before placing them into the freezer bags so you don't wined up with a giant block of frozen zucchini.
How to Freeze Zucchini
Follow these simple step-by step instructions below to take full advantage of that huge zucchini harvest.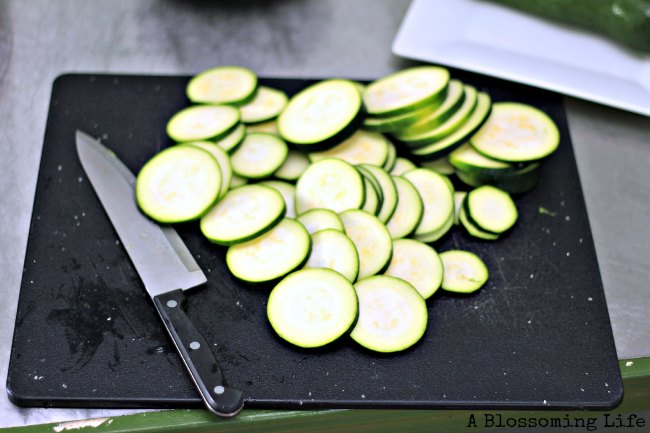 Step 1: Fill a large pot with water and bring to a boil. Rinse your freshly picked squash well, and slice or dice with a sharp knife.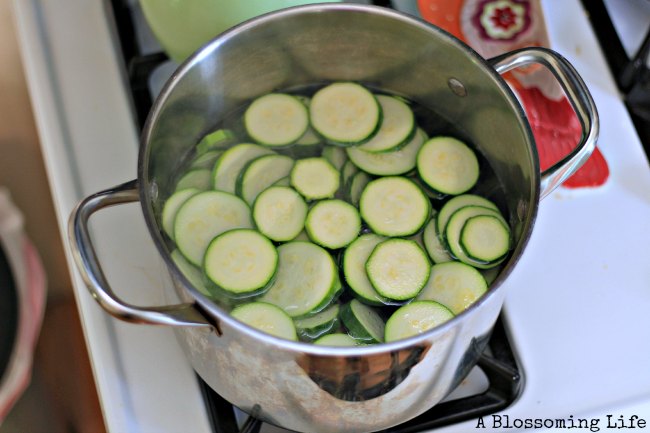 Step 2: Place cut squash into the boiling water for 1-2 minutes to kill enzymes and to discontinue oxidation.
Step 3: Next, transfer squash from boiling water into a bowl full of ice water for 2-3 minutes to stop the cooking process. (You should have more ice, but by the time I grabbed my camera and took a decent photo a lot of the ice had melted.)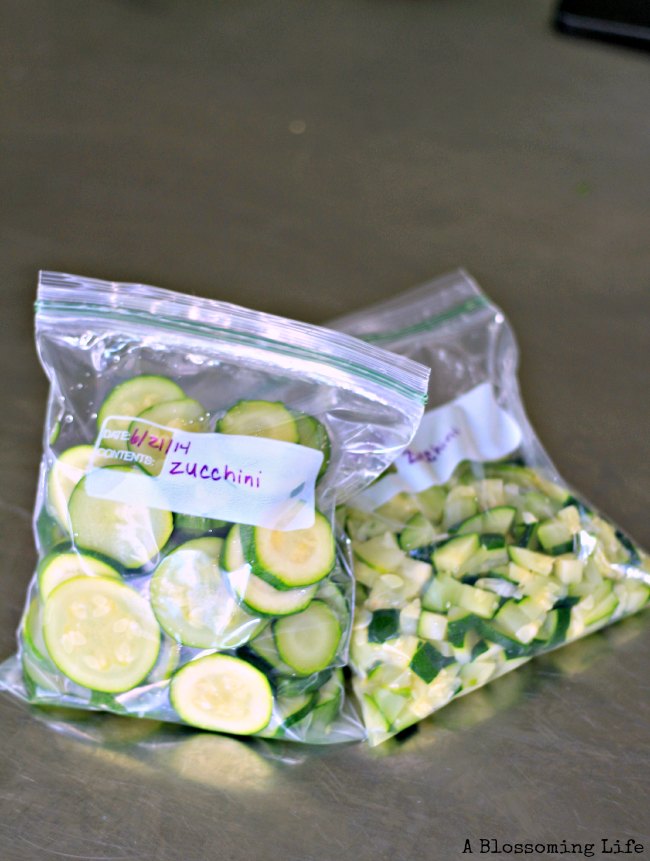 Step 4: Spread squash on a cookie sheet trying not to overlap as best you can, freeze completely (about 2 hours).
Step 5: Place frozen squash into freezer bags for storage, removing any access air, and place back into freezer. Keep up to 12 months in the freezer.
That's it! Not to shabby. Now you can eat your squash harvest all year long. I can't wait to add the squash into soups, stews, or just a pan fry for a easy and healthy side dish!
What is your favorite way to enjoy squash?
Want more preserving posts? Check out our favorites!
Pin For Later