DIY Face Scrub is a simple, two-ingredient recipe that will leave your skin feeling refreshed and moisturized. This easy, homemade face scrub for glowing skin takes two minutes to make. Follow my tips below to make my favorite homemade face scrub.
To make this face scrub you will need: baking soda, coconut oil, and essential oils (optional).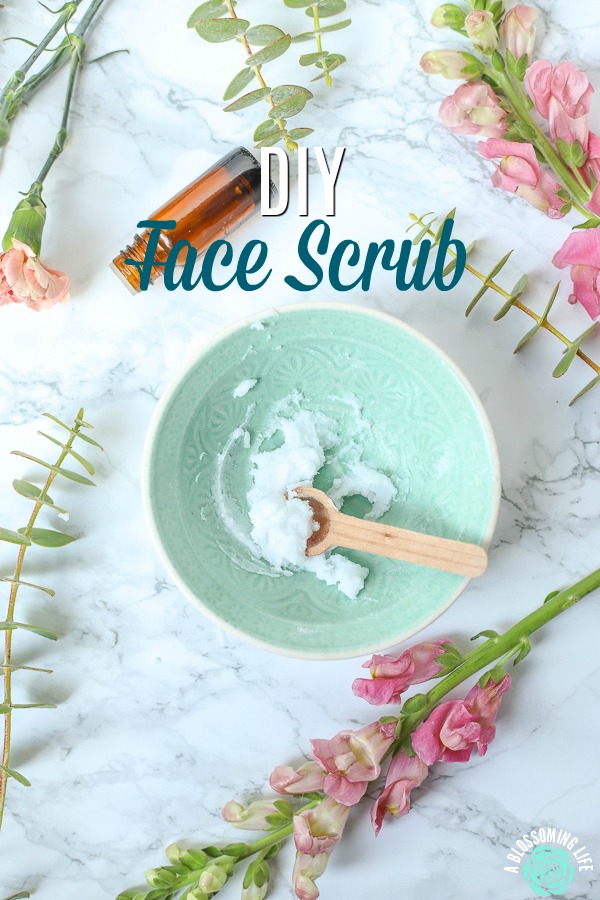 This post was updated January 2019
Winter is definitely upon us. Although some days are like, 55 degrees here, my skin is getting really dry and flaky, even though I'm using tons of moisturizer. It's time to incorporate an exfoliator. If the dry air is doing to your face what it's doing to mine, this face scrub will do wonders for your skin. It will feel amazingly soft and supple! I am definitely adding it to my regular routine.
It's super simple to make, and you probably have all the ingredients in your kitchen. Like literally, I cook and bake with these two items, so we always have them. With Christmas 2 days away, this would be a great time to take 30 minutes to yourself, relax, and have some at-home spa time!
Baking Soda as an Exfoliator
Baking soda is the main exfoliator in this DIY Face Scrub. It is a super fine exfoliant that helps remove dead skin cells without being too abrasive to cause irritation. It reminds me of a gentle microdermabrasion. Baking soda can also help with acne, and while it can be a great exfoliator, there is some caution with it.
According to some sites, baking soda can cause your skin to be to alkaline, and we want it to more acidic. So if you are worried, don't use this everyday. You shouldn't be exfoliating everyday anyhow. See how often you should be exfoliating below.
The following are affiliate links. We are a participant in the Amazon Services LLC Associates Program, an affiliate advertising program designed to provide a means for us to earn fees by linking to Amazon.com and affiliated sites.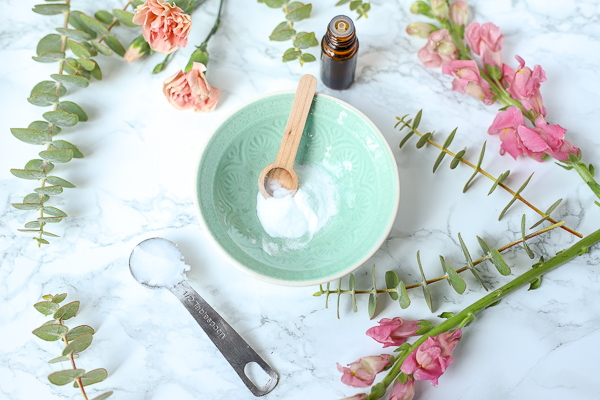 Tips for Making and Using DIY Face Scrub
Add your favorite blend of essential oils. I've listed some of the best essential oils for your face below.
If you don't have coconut oil or it doesn't react well with your skin, you can choose a different oil. It just may not make a paste.
Only use this 1-2 times per week to prevent over-exfoliation. See below on why.
Warm your face with warm water first before applying this face scrub to help open your pores.
If you want more information on essential oils and which ones are great for your skin, check out my Essential Oils Beginners Guide
How To Make DIY Face Scrub

Ingredients
Directions: Mix the two ingredients together and add essential oils if desired.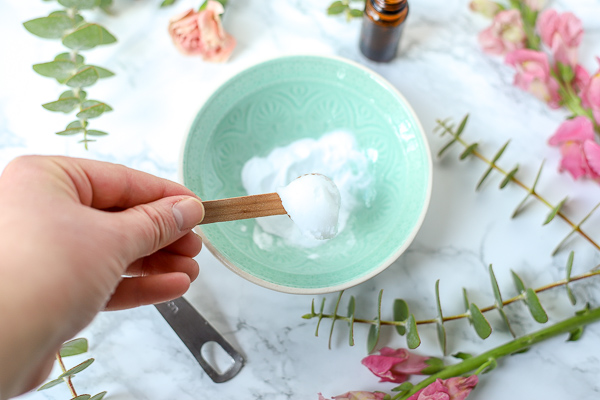 How To Use DIY Face Scrub For Glowing Skin
Wet your face with warm water.
Gently take a small amount of the scrub in your hands and rub in small circles all over your face.
Rinse the scrub off with warm water, dry, and feel your amazingly soft skin.
Apply regular facial moisturizer.
What Essential Oils Are Good For Your Face And For Face Scrubs?
Frankincense – great for aging skin and can help tighten skin
Lavender – anti-inflammatory
Geranium – can help balance oily skin and decrease wrinkles.
Ylang Ylang – helps balance oily skin and increase cell turnover.
Chamomile – anti-inflammatory and great for dry, sensitive skin.
Clary Sage – can help reduce puffiness
How Often Should Exfoliate Your Face?
You should only exfoliate 1-2 times a week. Over exfoliation is not good for your skin, and can cause redness, irritation, and inflammation. It can also cause you to get a rash and infection (source). So definitely don't over exfoliate. It's not good for anyone.
Want More Natural Skincare Recipes? Check these out!
DIY Face Scrub Recipe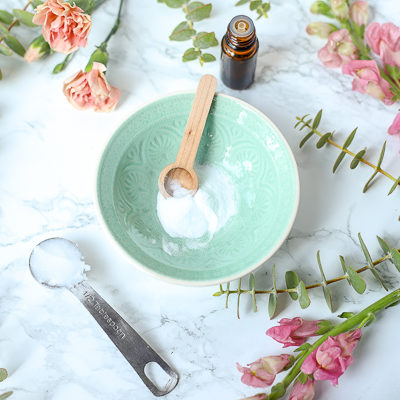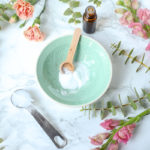 DIY Face Scrub For Glowing Skin
Simple, two ingredient DIY Face scrub to exfoliate and reveal smoother skin.
Ingredients
1

tsp

baking soda

you may adjust the amount to your liking

1/2-1

tbs

coconut oil

or I prefer to use whipped coconut body butter (super moisturizing)

3-4

drops

essential oils

frankincense, lavender, geranium etc.
Instructions
Mix the two ingredients together.
To Use:
Wet your face with warm water. Gently take the scrub in your hands and rub in small circles all over your face. Rinse the scrub off with warm water, dry, and feel your amazingly soft skin.
Other DIY Face Scrub Recipes
Seriously, one of my favorite homemade face scrubs. The caffeine helps decrease inflammation.
Honey Sugar Scrub
1 Tbs Sugar
1 tsp honey
1/2-1 tsp oil – avocado oil, olive oil, jojoba oil or apricot oil.
Directions: Mix together and apply to wet skin. Scrub gently in circular motion and rinse off.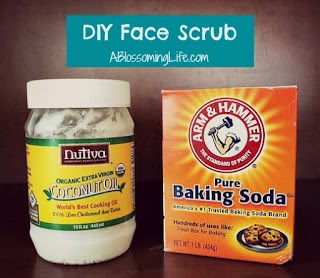 It can't get much simpler or more inexpensive than that. Being on such a tight budget, there is little room to squeeze in things that are not really necessities.  Luckily, doing this fixes that. I don't need to buy anything special since the ingredients are right in my kitchen, and you use such small amounts of the ingredients it only costs pennies! Go ahead and try it. I bet you will be amazed by the results!