DIY Hand Scrub: The Ultimate Nourishing Recipe
Super nourishing DIY hand scrub is the perfect way to exfoliate and moisturize cracked hands. Olive oil, shea butter, and vitamin E are combined to make the best scrub for dry hands.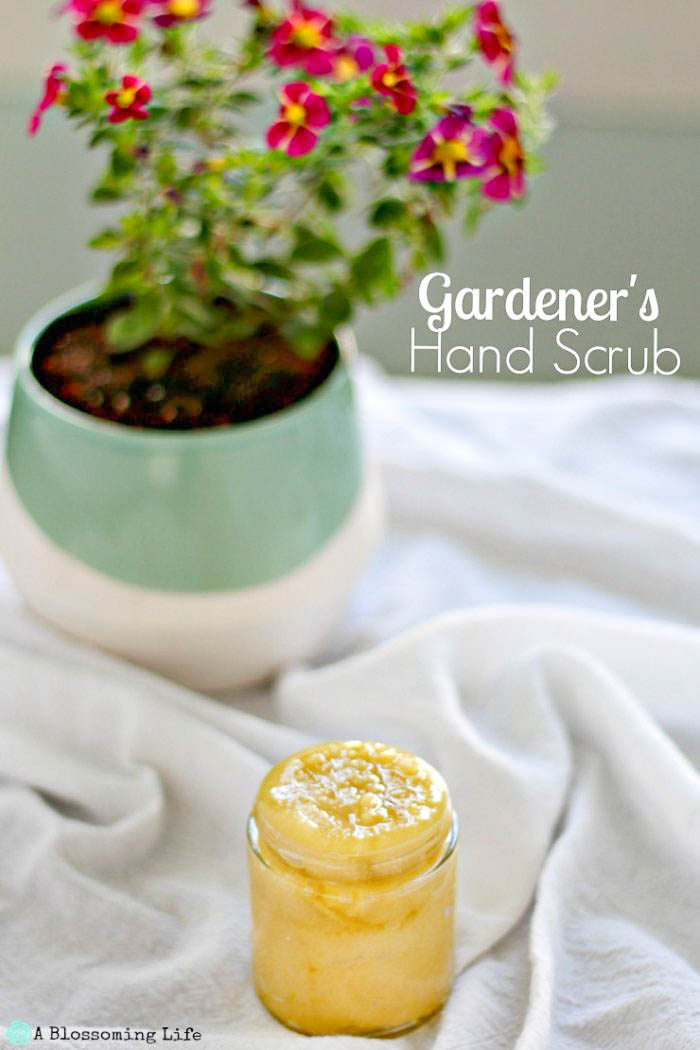 Summer is here, and I don't know about you, but summer means lots of gardening and dry, cracked hands.
Even though this year's garden is much smaller since baby girl is due any time now (you can find her birth story here), it is still a lot of hard work.
With hard work comes rough and dry hands. But there also comes great joy with growing your own food!
So, back to the dry hands part. Working the ground is difficult and makes your hands oh-so-dry. So, I created this moisturizing and natural, gardener's hand scrub.
After a long day in the garden, it feels nice to treat yourself to a little spa treatment like this homemade hand scrub.
Why You Will Love This DIY Hand Scrub Recipe:
It is really simple to make. Throw all the ingredients in a blender and push a button. That's it.
It's super moisturizing. It will give you ridiculously soft skin and leave your skin feeling hydrated. Shea butter + olive oil + vitamin E make a winning combination to beat dry hands.
This is the best recipe for cracked hands. My hands are constantly cracked and dry, and this recipe is my go to. It really helps soothe and start repairing those cracks. Pair it with this healing salve.
The ingredients are simple, and you probably have many of them in your pantry. If you don't have shea butter, you can skip it, but it is totally worth it.
The following are affiliate links. We are a participant in the affiliate programs including Amazon Services LLC Associates Program, an affiliate advertising program designed to provide a means for us to earn fees by linking to Amazon.com and affiliated sites.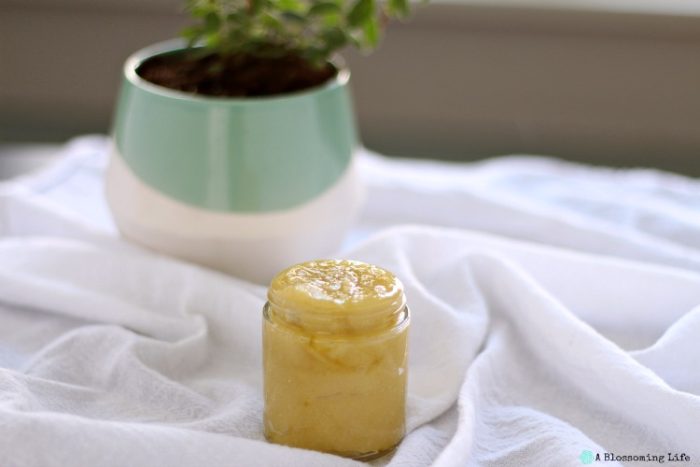 Ingredients you will need:
3/4 cup sugar – Used as an exfoliate to help remove dead skin. It is also a humectant, drawing moisture from the air to the skin. It also has much smaller granules than salt, which can be harsh and drying.
4 tbs olive oil – Very moisturizing and can help calm inflamed skin. It contains oleocanthal, which can help reduce irritation.
1/2 tbs vitamin E oil

(Like this one)

– Can help moisturize dry, itchy skin and help promote wound healing. (source)
1 tsp shea butter

(Like this one)

– Has anti-inflammatory properties and helps soften skin with its high fatty acid content.

10-15 drops of essential oil of your choice (optional). My favorite is a mix of lavender and peppermint.
How To Make DIY Hand Scrub
Place ingredients in a blender and blend until combined.

Since this contains shea butter, it would be really difficult to combine without using a blender. It may also work with an immersion blender

Place in a jar and seal tightly.
To use:
Dampen hands with warm water. Place a quarter sized amount of the scrub in hands and rub together for a minute or two.
Rinse hands with water and enjoy your super soft hands.
Super simple, and you probably have most of the ingredients in your pantry. Your hands will thank you, I promise!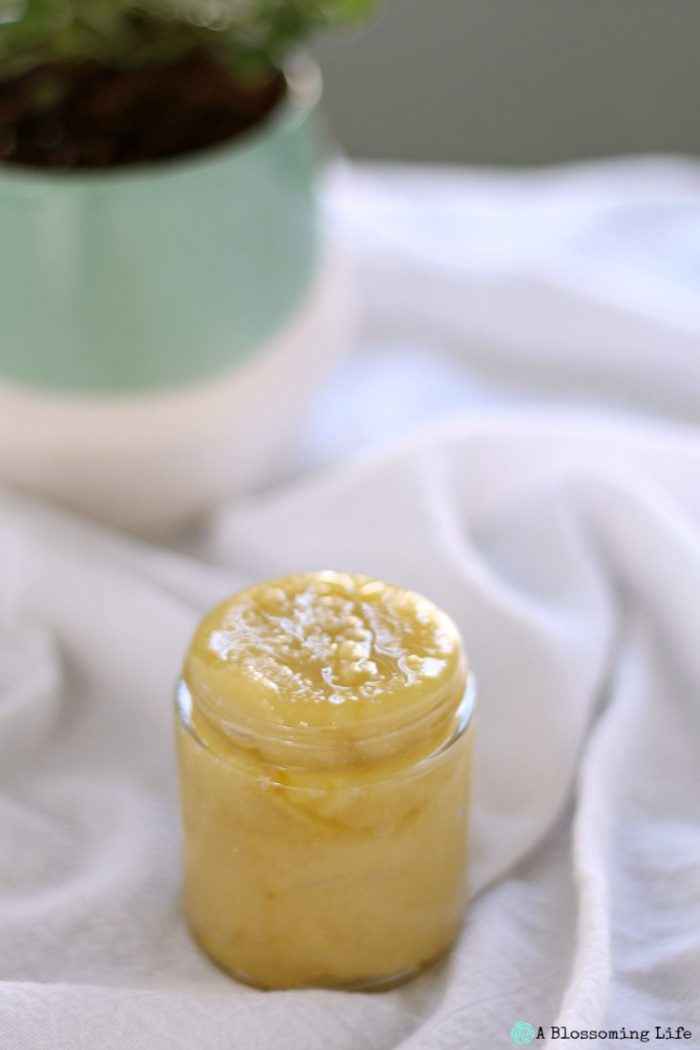 Find more of my favorite homemade products: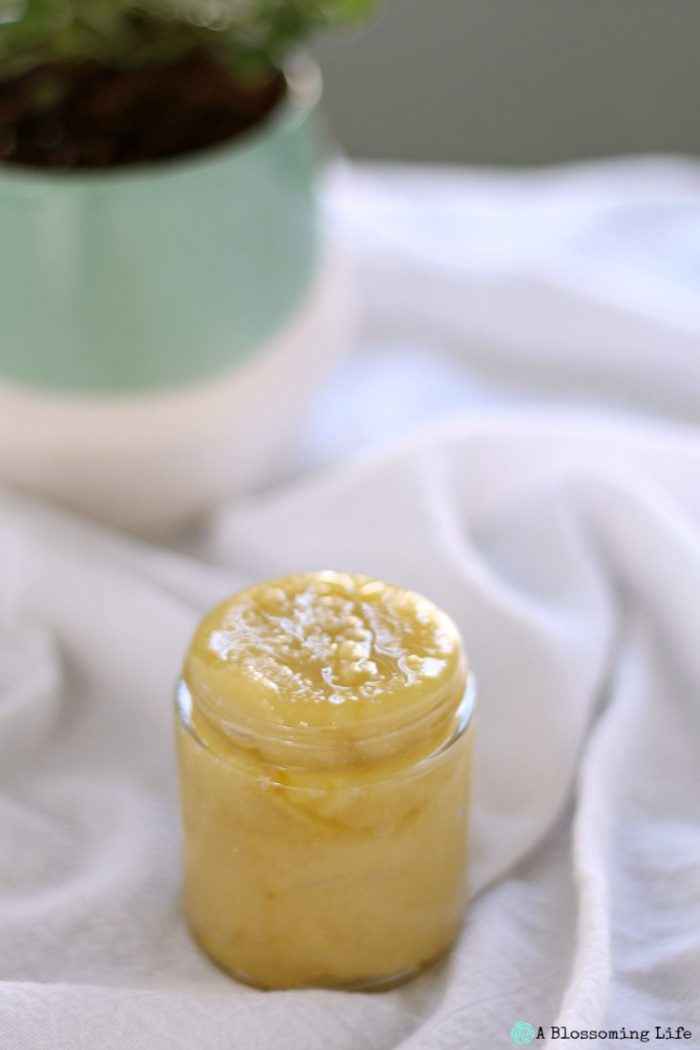 DIY Hand Scrub
Super nourishing homemade hand scrub will leave your hands feeling soft and moisterized
Print
Pin
Rate
Instructions
Place ingredients in a blender and blend until combined.

Place in a jar with a lid. Done. Simple, right?
To Use:
Dampen hands. Place a quarter sized amount of the scrub in hands and rub together for a minute or two. Rinse hands with water.
Notes
A blender is pretty essential to make this scrub because of the shea butter.