Y'all homemade marshmallows! Need I say more?
Homemade marshmallows are a super fun and easy dessert your kids will love. They sound way more complicated then they are. It's fun to see how big and fluffy they get too. Okay okay these may not be the most nutritious post I've ever done. Yes there is refined sugar in these…. But it's ok to splurge every once in awhile right? I mean we can't eat perfect 100% of the time. If you can hats off to you. Your willpower is much stronger than mine.
These are delicious to top hot cocoa with! You may have seen a picture from last week on Instagram and Facebook of my delicious homemade hot cocoa topped with these bad boys. Yeah it was beyond awesome! I savored every single drop and I love how these marshmallows melt. Have I convinced you yet?

Homemade Marshmallow Recipe
Homemade Marshmallows
Ingredients
3

Tbs

gelatin

unflavored preferably grass fed 

1

cup

water

cold and divided

1

cups

sugar

1/2

cup

honey

1/4

tsp salt

1 1/2

tsp

vanilla extract 

powdered sugar and GMO free corn starch

for coating the marshmallows
Instructions
Whisk together 1/2 cup cold water and gelatin in the bowl of your electric mixer. Allow to sit for 15-20 minutes.

Combine sugar, honey, 1/2 cup water and salt in a saucepan over low heat. Stir until the sugar dissolves.

Increase the heat to high and cook without stirring until the temperature reaches about 240º. Immediately remove the pan from the heat.

Turn your stand mixer to low. Using the whisk attachment, slowly pour the hot honey mixture into the softened gelatin. Once combined, increase the speed to high and beat for about 15-20 minutes. Add in vanilla extract during the last 2 minutes of whisking.

Generously grease a 9x13 inch baking dish. Pour marshmallow mixture into pan and smooth out flat. Let sit for at least 4 hours to overnight. Turn out onto a cutting board and cut marshmallows using a knife. I found it easiest to cut the marshmallows if I ran the knife under hot water before cutting each row.

Break apart cubes and roll in powdered sugar and cornstarch mix to keep from sticking.
Recipe Notes
Lightly cover to keep fresh. Will stay fresh for 1-2 weeks.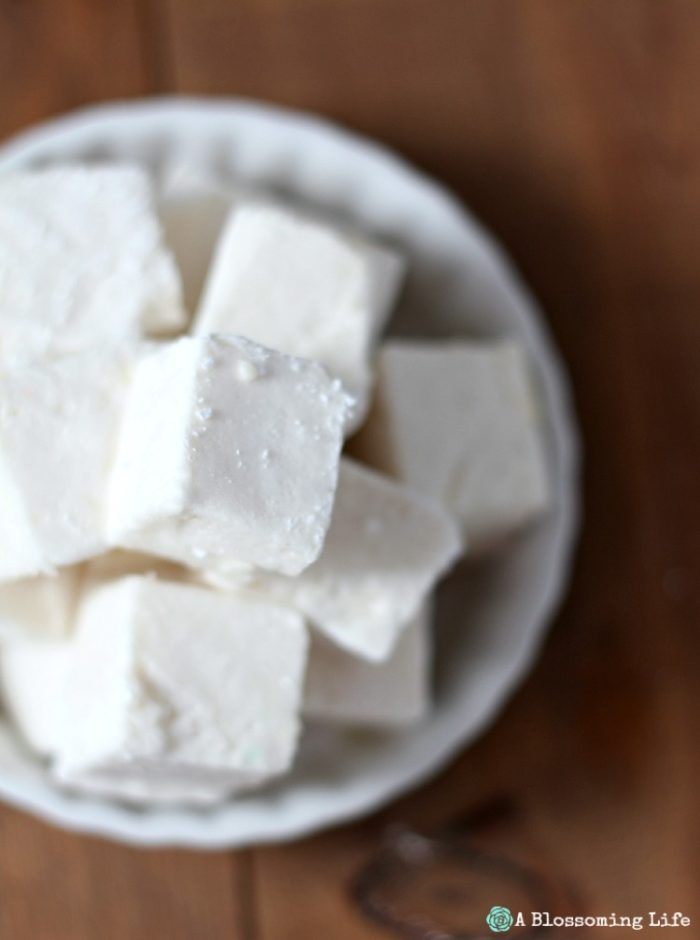 Have you ever made homemade marshmallows before?
This post contains affiliate links to support A Blossoming Life