10 Healthy Smoothie Recipes
These healthy smoothie recipes are packed full of nutrients to help sustain your energy throughout the day. Perfect for breakfast, a quick lunch, or a snack, try out some of these yummy drinks for quick, healthy, on-the-go nutrition.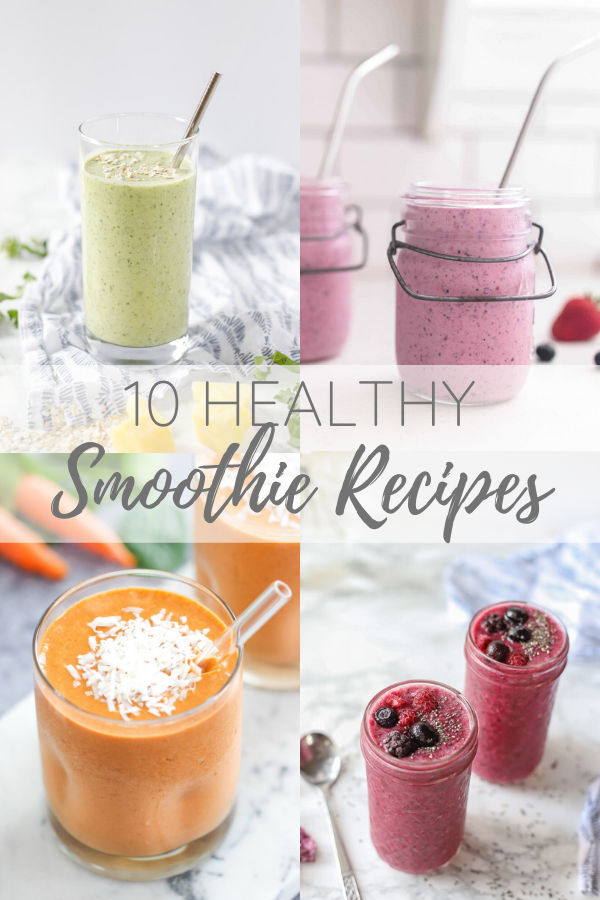 Smoothies are one of my favorite afternoon snacks. Full of healthy, real food ingredients, a smoothie is a great way to get in lots of nutrients while enjoying a sweet treat. Dare I say, almost a dessert (almost).
I tend to start getting pretty sluggish by the afternoon. The coffees wears off, and I've spent the day with two amazing and amazingly high-energy kids who siphon the energy out of my soul.
Just kidding. I love them dearly, but I would love to harness just a tenth of the energy they have. Think of everything that would get done! My house would be clean literally all of the time.
Until I can figure out a way to share my kids' high energy, smoothies are my perfect pick-me-up to get me through my afternoon.
Tips For Making Healthy Smoothie Recipes:
Smoothies are so versatile and customizeable. You can use whatever milk you have, swap out fruits, add in veggies… you're only limited by your imagination.
Add a serving of veggies by adding in a handful of spinach or kale. You can even substitute some ice for cauliflower.
To give your smoothie a boost of protein without changing the flavor, add in a scoop or two of collagen peptides. You can also add nut butter, but this will change the flavor.
Try to add just about all the food groups to your smoothies. I always aim to make mine with a fruit, veggie, protein, and healthy fat. You can even add a grain by adding a bit of oatmeal. You can find my oatmeal smoothie recipe down below.
10 Healthy Smoothie Recipes:
Veggie-Loaded Healthy Smoothie Recipes: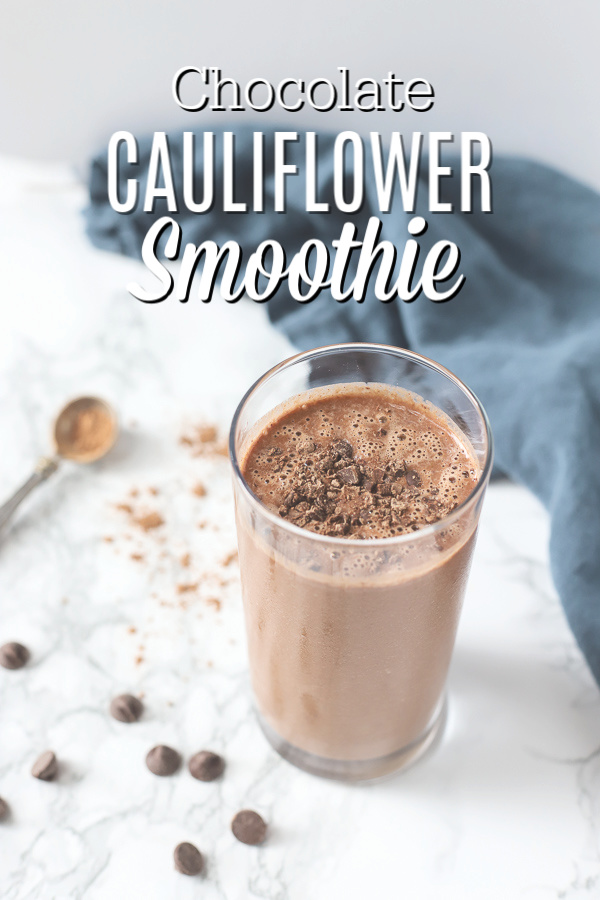 This is possibly the best way to eat, or should I say, drink, cauliflower. Not my favorite vegetable by any means, but put it in a smoothie and cover it up with delicious flavors like chocolate? It's seriously so good.
Cauliflower in smoothies may sound strange, but you really can't taste it, and it adds an icy creaminess to it. You have to try it.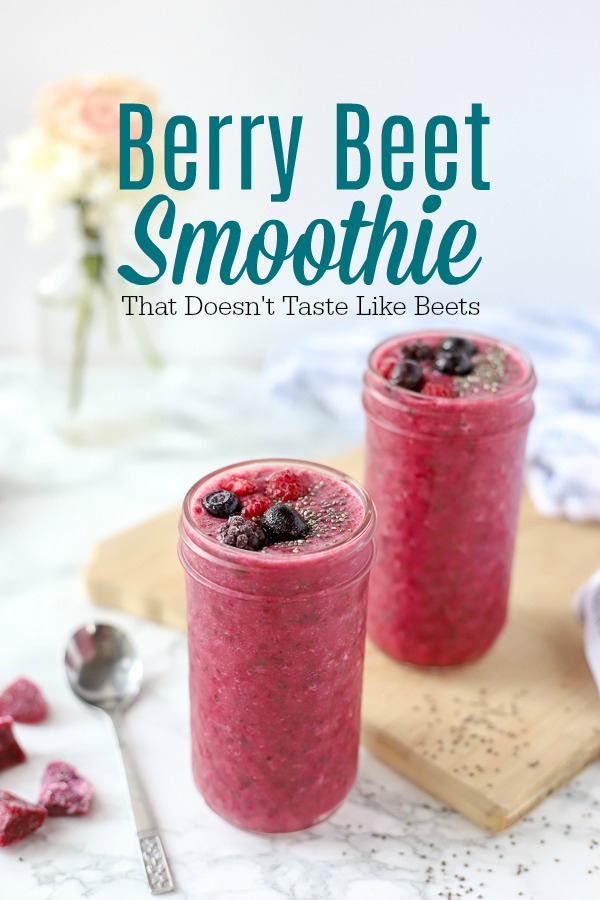 Beets may be one of my least favorite vegetables, but I also know that they are packed full nutrients. So how does one enjoy such an "earthy" vegetable without it tasting like dirt? A smoothie, of course.
This berry-beet smoothie recipe is packed full of hidden veggies, and includes more ways to boost the nutrition. Plus, look at that gorgeous color!
A green smoothie that is actually purple, you will never know it is packed with veggies. Blueberries, kale, and bananas are blended up to make this delicious, sweet, and healthy smoothie recipe.
It is also the perfect snack for kids! They won't even know they are eating something green!
How good does this Carrot Cake Protein Smoothie look? My friend Katie over at Purely Katie made this veggie-loaded smoothie recipe with lots of healthy fruits and veggies.
This smoothie is loaded with protein, and tastes exactly like a slice of carrot cake.
Oatmeal Smoothie Recipe:
Who would've thought a breakfast smoothie packed with veggies could taste so good? This smoothie is so filling that you will feel full for hours. For reals.
Oatmeal, coconut milk, spinach, and fruit are combined to make a smooth and delicious smoothie, chock-full of healthy ingredients. You really can't go wrong.
Fruit Packed Healthy Smoothie Recipes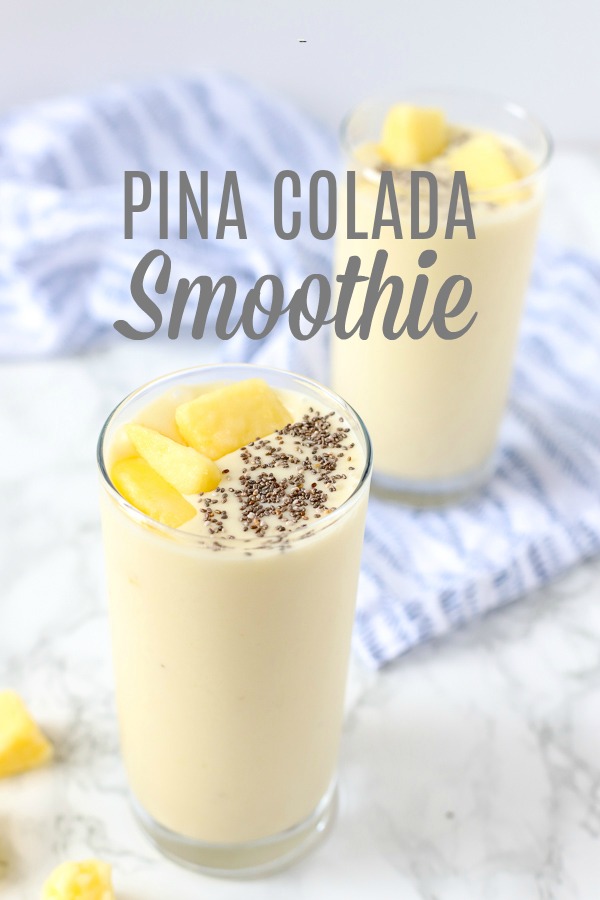 Full of tropical flavors like pineapple and coconut, this natural pina colada smoothie recipe is simple and takes just four ingredients.
Add a handful of spinach (if you do this, you'll have five ingredients) for a veggie boost.
This smoothie recipe is so yummy. Creamy, tangy, and sweet, it's made with orange juice, milk, and frozen mango and raspberries. Yum! This is one of my favorite smoothies.
We don't do a whole lot of juice in our house, but when we have orange juice in the fridge, you can bet your bottom dollar I'll whip this healthy drink up.
Healthy Smoothie Recipes With Probiotics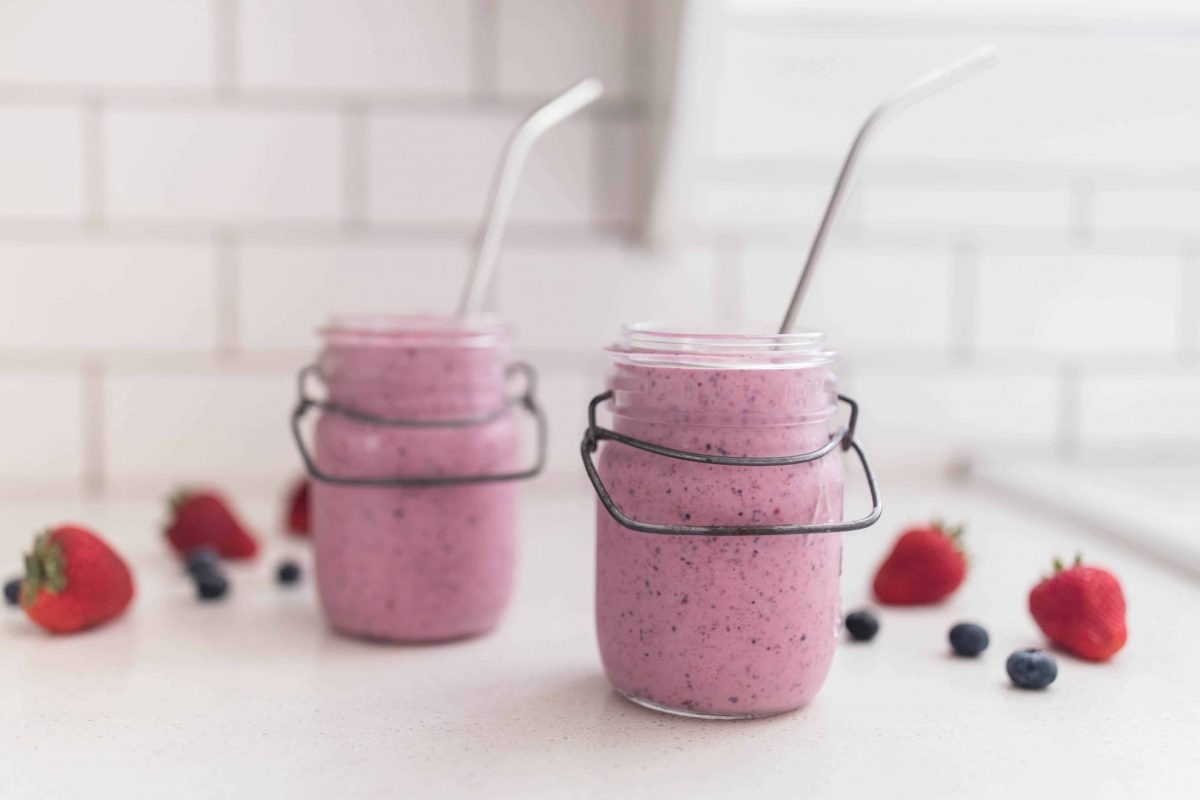 Berry Kefir smoothie is a probiotic-rich smoothie perfect for breakfast. Frozen fruit makes it really easy to whip up, and gives it the consistency of a thin sorbet.
The best way to incorporate homemade milk kefir into your daily life is with a morning smoothie.
This is another great recipe that includes probiotics. This refreshing berry-peach smoothie is made with kombucha for a sweet and sparkly probiotic punch.
It is also packed with other nutritious ingredients, like blackberries, peaches, and chia seeds. Add a handful of greens to add a veggie, or swap out some of the ice cubes for a 1/2 cup of frozen cauliflower.
Yogurt is a great way to add probiotics and protein to smoothies. This spiced pear smoothie adds greek yogurt for a thick and protein-rich drink. I am a full-fat type of gal, so switch it to whole milk greek yogurt for a healthy fat.
Bananas, pears, yogurt, milk, and spices are combined together to make a delicious drink.
Want more healthy drink ideas? Check these out:
Pin It For Later